You have been tasked to acquire the following 50 cars to me within 7 days.
Below is a list of 50 cars to be delivered to me (this thread) by 1500 GMT (1:00 PM in sunny England, or 11:00 AM in beautiful Miami, or 11 PM in Singapore) next Friday.
Delivery can be made by a single photo with the model and a hand written note stating the cars code name (the female name associated with the car)
Only 1 car at a time per person. This means you can only post on car at once and then have to wait until someone else posts a car.
Only 1 car per photo. Do not take a photo with half the list and just reuse that photo. They will not be accepted. And I do not want extra cars, so if there is a car that is not on the list, but is in the photo, I will not accept it.
The order does not matter, but the Eleanor must be LAST.
Condition, size, and color does not matter to me. The year only counts if that year is specific in style. Example: 1959 Cadillac has a body style that is unique to only that year, but the Aston Martin DB5 was essentially the same for a few years. If I am not satisfied, I will be sure to let you know. This might be tricky on a couple of models, but I think we all know pretty much what is actually made as a model. So, use your best judgement.
I am requesting the cars, so I will not be participating. I am here to make sure the list is completed.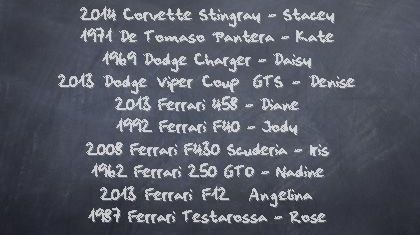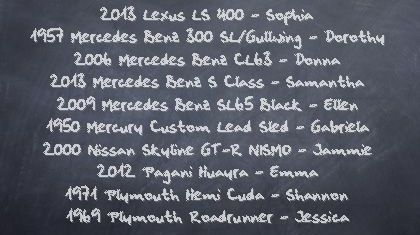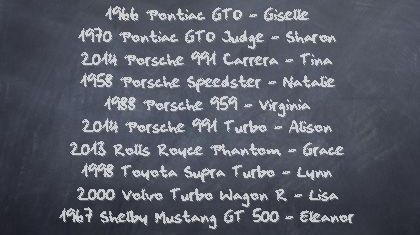 This is all for fun.
I think we can complete the list in 7 days. If this goes well and people like the game, I can have one going each month with different cars. Rules and timeline can be adjusted depending on how everyone does completing this list.
Enjoy!!!!
And your time starts NOW
Cars collected - 20 out of 50
Bugatti Veyron Super Sport - Bertha (30 minutes in)
Ferrari F12 - Angelina (31 minutes)
Hummer H1 - Tracy (40 minutes)
Mercedes 300 SL Gullwing - Dorothy (50 minutes)
Aston Martin DB9 - Mary (58 minutes)
Porsche 959 - Virginia (1 hr 10 min)
Ferrari 458 - Diane (1 hr 37 min)
Lamborghini Aventador - Gina (1 hr 53 min)
Nissan GT-R Nismo - Jammie (2 hr 3 min)
Pagani Huayra - Emma (2 hr 26 min)
Ferrari F40 - Jody (2 hr 38 min)
Rolls Royce Phantom - Grace (2 hr 53 min)
Acura NSX Type-R - Scarlett (2 hr 54 min)
Corvette Stingray - Stacy (3 hr 3 min)
Lexus LFA - Kylie (5 hr 40 min)
Ferrari Testarossa - Rose (6 hr 1 min)
'66 Pontiac GTO - Giselle (6 hr 36 min)
Jaguar E-Type - Olivia (7 hr 12 min)
Jaguar XKR-S - Deborah (7 hr 41 min)
Ferrari GTO - Nadine (8 hr 20 min)
AC Cobra - Ashley (15 hrs 1 min)
'69 Dodge Charger - Daisy (17 hrs 30 min)
Ford GT - Cameron (19 hrs 8 min)
Ferrari F430 Scuderia - Iris (21 hrs 14 min)
Aston Martin DB5 - Barbara (1 day 0 hr 16 min)
De Tamaso Pantera - Kate (1 day 6 hrs 46 min)
'71 Plymouth Cuda Hemi - Shannon (1 day 15 hrs 56 min)
Merc SL65 AMG - Ellen (1 day 21 hrs 41 min)
Lamborghini Miura - Pamela (1 day 22 hrs 14 min)
'70 Pontiac GTO Judge - Sharon (2 days 2 hr 27 min)