I got a ww countach a couple years ago on discount as it had issues, someone had tried to pry the headlights up(which were stuck due to an extra lens jambed in there, and some rash. So tore it down to repaint, more then I bargained for!
Post from another thread I chimed in on regarding disassembly, I later created a topic and can no longer find it:
Wow, taking mine apart was an exercise in futility! It has screws hidden in and under the spare tire and the copious amounts of glue make it nearly impossible to avoid damaging something. The parts count is also amazing for this car. The center caps of the wheels were a nightmare alone. The slightest pressure on the delicate lips of the wheels damages them, and two were glued in so tightly I had to drill them out to avoid any further damage. Wheel removal is required to get to the screws in the fender wells. Mine is a WW red that had damaged pop-ups so I decided what the heck. After all the frustration getting it stripped down with all the new repairs required, this one is shelved for a while until I find some new patience to start working on it. This one I didn't care much for as you could see a lot of the assembly glue and the paint wasn't great. It was the newest version of the WW and the quality control was horrid compared to my earlier ones which are all essentially perfect. On top of everything, the front bonnet hinges are spot welded to the frame, making removal very difficult as well. Not easy to repaint with a hinged panel!
I did get it very cheap(under $70) so I can live with it if it is a sacrifice. No way in hell am I attempting to take apart my nicer ones. If I get around to it, it will now need delicate wheel repair, some interior part touch ups, tons of glue removal, and repairing/reworking some of the plastic body parts. I'll also have to make new center caps for the wheels. I added 20+ hours of work while taking it apart. Reassembly will require all kinds of fiddling to fit the opening body panels while not damaging what will be fresh paint.
I highly recommend leaving them alone :) This thing has more parts then an auto art signature lemans car, all in a ~$120 model. Pretty amazing actually. The body is so woven into the model's layered construction it is very difficult to break this car down. If you own one with any issues, just display it with the best side showing
Alas, here she was before, doesn't look so bad all things
considering(it looks much better in a low res pic):
Here's some breakdown pics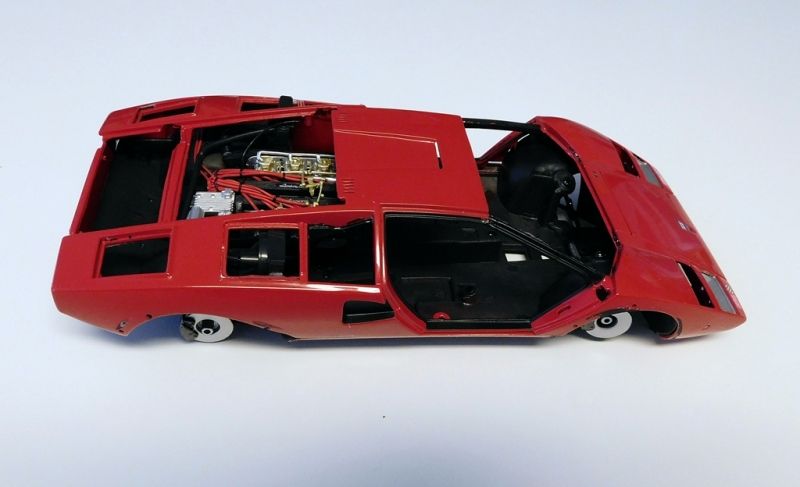 The damaged headlight
The incredibly frustrating front hinges
How they get this to work is beyond me.
So after over a year of being broken down to parts, here's the list:
Delete rear wing and fill holes
Delete rear hatch straps and fill holes
Delete the plates?
Hopefully repair the damage I did to the super delicate wheels removing them(it's not easy finding replacements)
Fix headlights as squarely as I can and fix permanently in place
Fix hood permanently in place(hinges are a lost cause)
Repaint with all body kit, front bumper, and rear hatch slats all body color
Within a few hours this week I had her stripped down, re-fitting/repairing headlight covers, checking the fit. The diecast metal is so soft you can bend parts looking at them wrong. getting ready to work some of the plastic body parts, they are covered in glue, really shoddy late release.
At least I have 5 other ones as reference material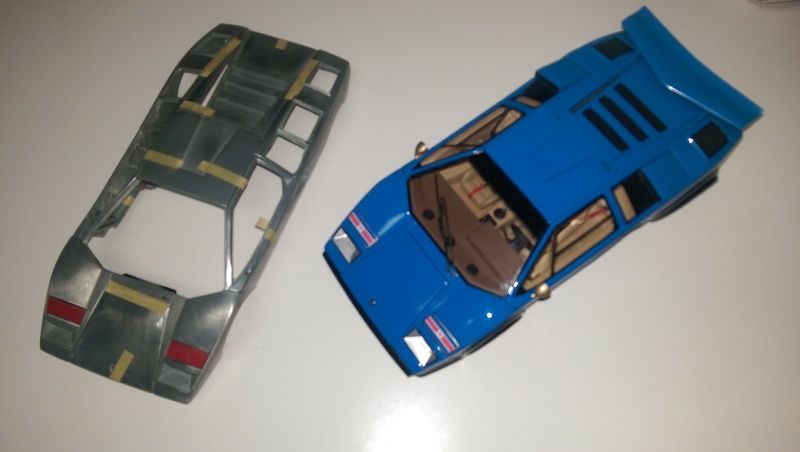 Edited by kevinb120, 02 June 2017 - 12:00 PM.