I ordered from a seller a pair of his 'mint' condition cars, the #9 Vaillant 934 and the #9 Budweiser 935.
I worked something out directly through paypal for a decent price, and he shipped them yada yada yada.
I got the cars in and they were damaged and dirty. I was going to send them back but particularly the 934 are very hard to find and after looking them over I figured I can fix them up. The discussion was over shipping damage was a bit more then then that. We worked out an adjusted price, however and I've tinkered with them and got them straight. Overall they look pretty darn nice now, took a bit of work, so it ended up being a good deal. And I finally had the Vaillant. I'll not talk price, but the pair ended up where I would pay just for the Vaillant if it were in the condition I restored it to(not anywhere near mint in box pricing by any means). So sometimes you just gotta get dirty. I should of documented it but I'll put up some pics later.
They came in as follows:
#9 Budweiser 935 Complete no box.
-Hood graphics were scratched
-Car had a hard to remove film/grime that was like smoke film but not smoke
-knocked off splitter and bent
-Front mesh poked in
-exhaust broken off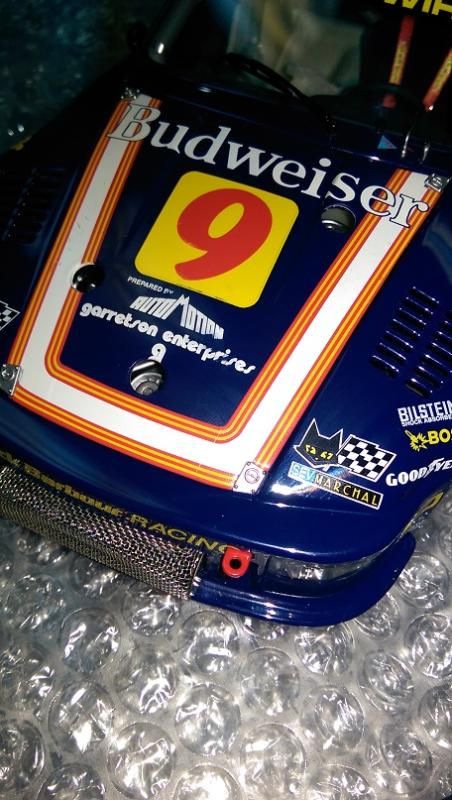 But all in all, glazings were good, paint was very good, no issues with scratches or the tires, etc.
Went back fully cleaned the model inside and out with dish detergent, water, polish, air chuck, etc full detail job
Filled the scratches in the white stripe with thinned white paint and wiped the excess(still there but you gotta get 1' or closer to see it)
Bent a plastic spoon handle and went in and massaged the front mesh back to shape
Carefully reshaped the splitter and epoxied it on
Repaired the broken exhaust, smoothed it with sanding and elmers glue to re-fillet it, painted.
For all the issues, the paint was in excellent condition and all the windows are clear and undamaged, so looks 90% plus now
#9 Vaillant
-Rear side windows punched in to the interior
-Also coated with the 'film' of unknown origin
-Rear quarter bumper smashed in and in pieces from impact of some sort
-front corner rubber smashed in (of course on tow hook side) and warped-tow hook gone
-some mesh malshaped
-lots of little yellow blobs of old epoxy in the nooks and crannies, this may have been a rehabed car by exoto
-Mild paint rash on roof(I'm ok with it as it is a very old model)
-exhaust broken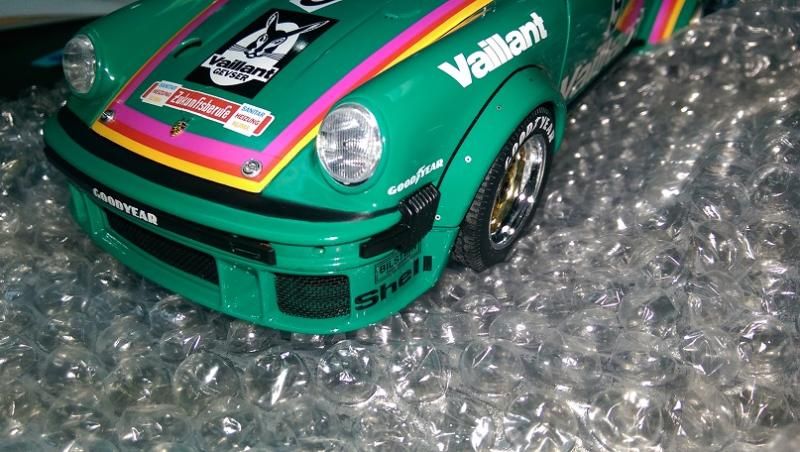 On this one, disassembled the model and soaked the body, the roll cage was expoxied to the headliner by whomever built it so it pulled it apart in the process-fun times.
soaked the body in detergent/water, cleaned and detailed the interior
accidentally got CA on the rear quarter glass myself!(was using just a dot to hold in place while the canopy glue(white glue for RC aircraft) set up. So had to take it back out and sand it with 5000-18000 micro grit sandpaper and polished, looks as good as new
Rebuilt sanded and smoothed/repainted the corner bumper rubber, similar for the nose 'rubber' only I luckily only had to reshape that
Rebuilt sanded and smoothed/repainted the exhaust, although it comes out at an angle(should of checked it on the model first), may address that later but oh well
Went through and scraped out all the epoxy yellow blobs, reassembled the roll cage, made fillets and painted all the junctions. Touched up any small items/scratches in the interior blackout paint so it looks crisp and clean with no visible turquoise inside.
Fixed a brake air-duct that was ripped free with new heat-shrink tubing
Reassembled, cleaned and waxed it.
Festooned a new tow hook from a red paper clip. If I have the time may make another 'exoto' hook, for now it looks like a Schuco :)
Other then the minor paint rash on the roof, the car looks new, crisp and clean. The graphics are all perfect and the paint looks great overall. Again thankfully the glass is all clear and damage free(no thanks to myself on one window), and both models had every little part accounted for. It's critical clear parts look good on a model. It didn't take as long as it sounded, and was actually entertaining to work on as I don't model much these days. I had a couple nights without classes and the wife was working late, so I had a couple evenings free to tinker. Thankfully I have a pool of dozens and dozens of specialized hobby tools and paints still squirreled away, like 18000 grit sandpaper at the ready :) So all in all, still a steal of a deal, and I don't have to wait for the day I have $5-700 put aside for a Vaillant car mint in box, nor did I have to sell my Spark Vaillant car to pay for it ...
I'll put up fixed photos later
Edited by kevinb120, 07 February 2015 - 11:16 AM.