Hi all, so we all know about paint rash and the annoyance it causes well here is a step by step guide on how to remove paint rash, yes paint rash comes in all different stages from small area's of bubbling to area's that are largely affected with large raised bubbles (Zinc Pest is another matter).... However the paint rash can be removed with the right materials and some spare time, hopefully a few members here can benefit from this guide.
Here are the materials that I used to remove the rash:
1. Meguiars Ultimate Quick Wax - You can pick this up from your local Auto Spares store.
2. Mer - The Ultimate polish - You can also pick this up from your local Auto spares store
3. Water Sprayer - Not essential, a small bowl of water would be suffice.
4. Tamiya polishing Compound - Coarse, Fine and Finish - The Coarse isn't really needed but it comes as a set of three - eBay Number - 111573109393.
5. Micromesh polishing Cloths - You'll only need 6000, 8000 and 12000 - eBay Number - 331508474204.
6. polishing Cloths.
Right so let's begin:
The model that I have been working on is the Autoart Lotus Cortina Mk1, It had terrible paint rash on the boot lid so I set about removing it.




These are the Micromesh polishing cloths, as you can see I'm using the 6000, 8000 and 12000 sheet's.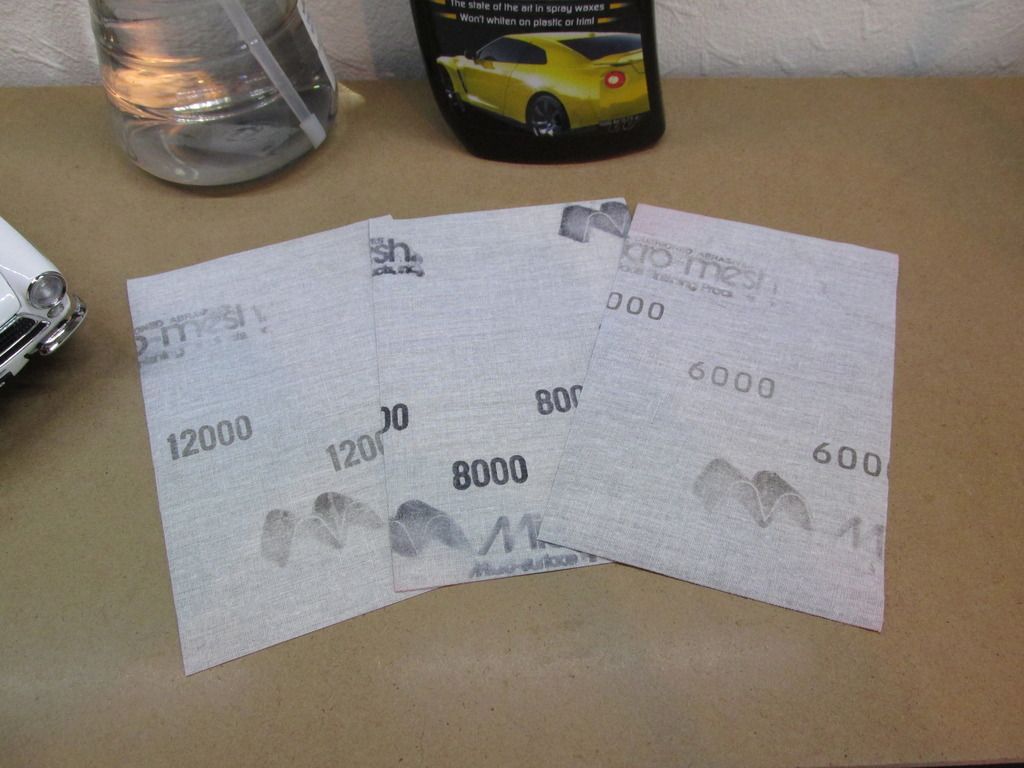 So this is the affected area, the Paint rash is very bad and the bubbles are raised so much so you can feel them with you finger!!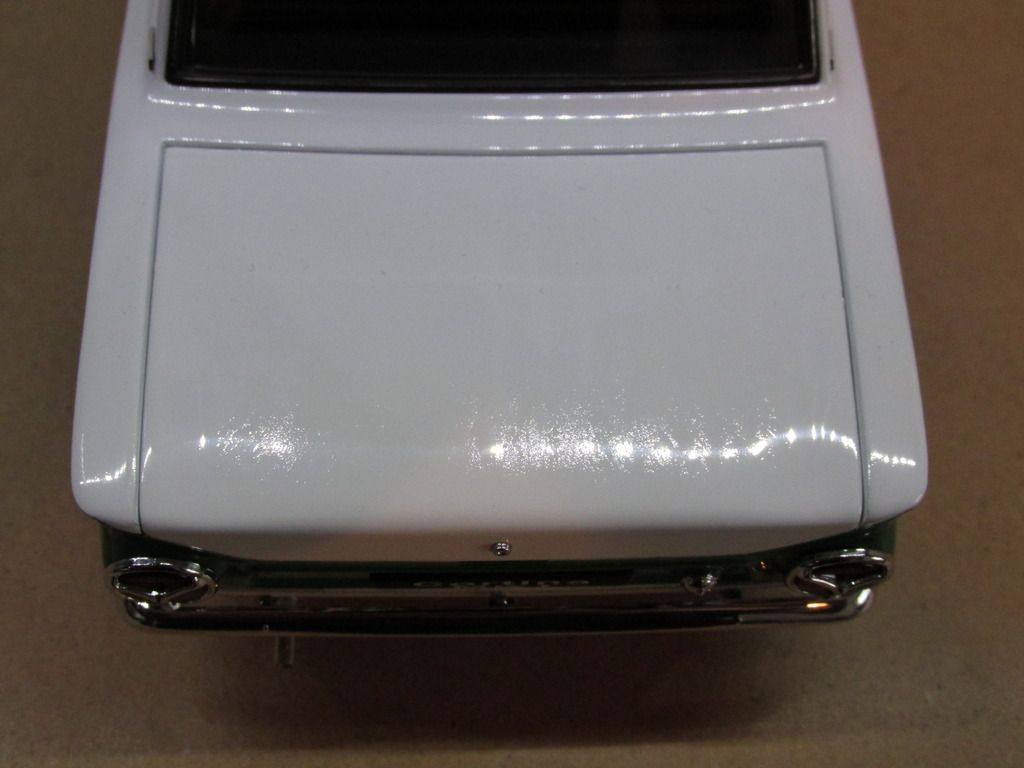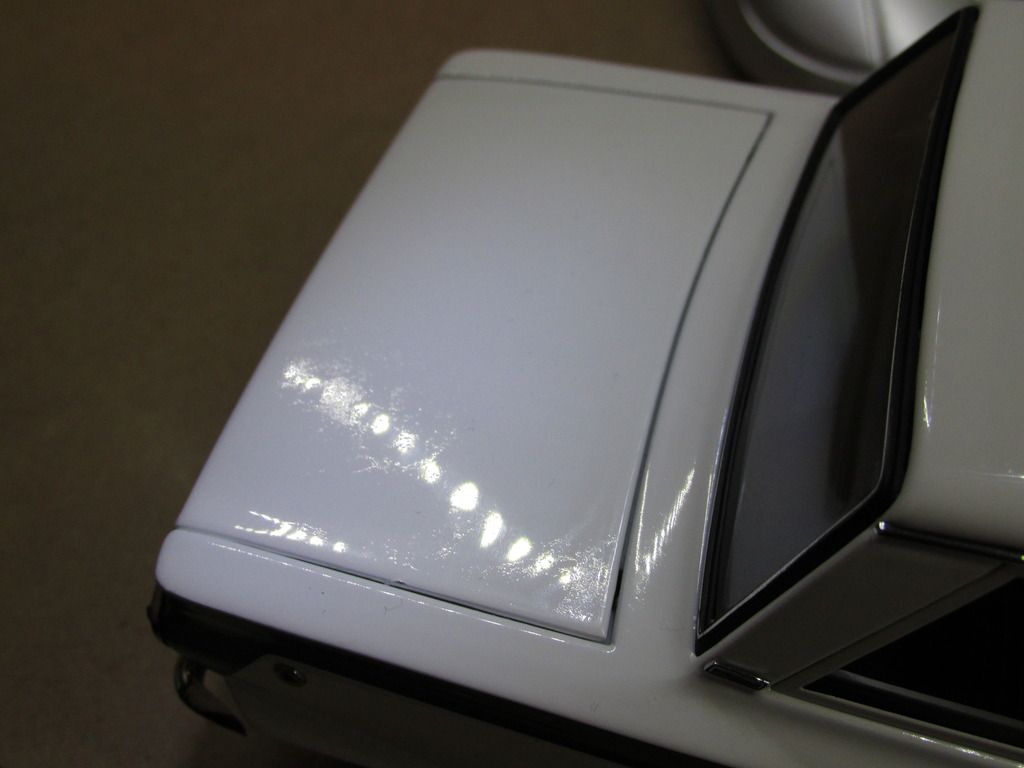 Step 1
I start off using the 6000 sheet with water to remove most part of the Paint Rash, rubbing very gently in a circular motion, the area will become dull and you will see the paint rash slowly disappear. (Remember to be gentle, it is very easy to mess up)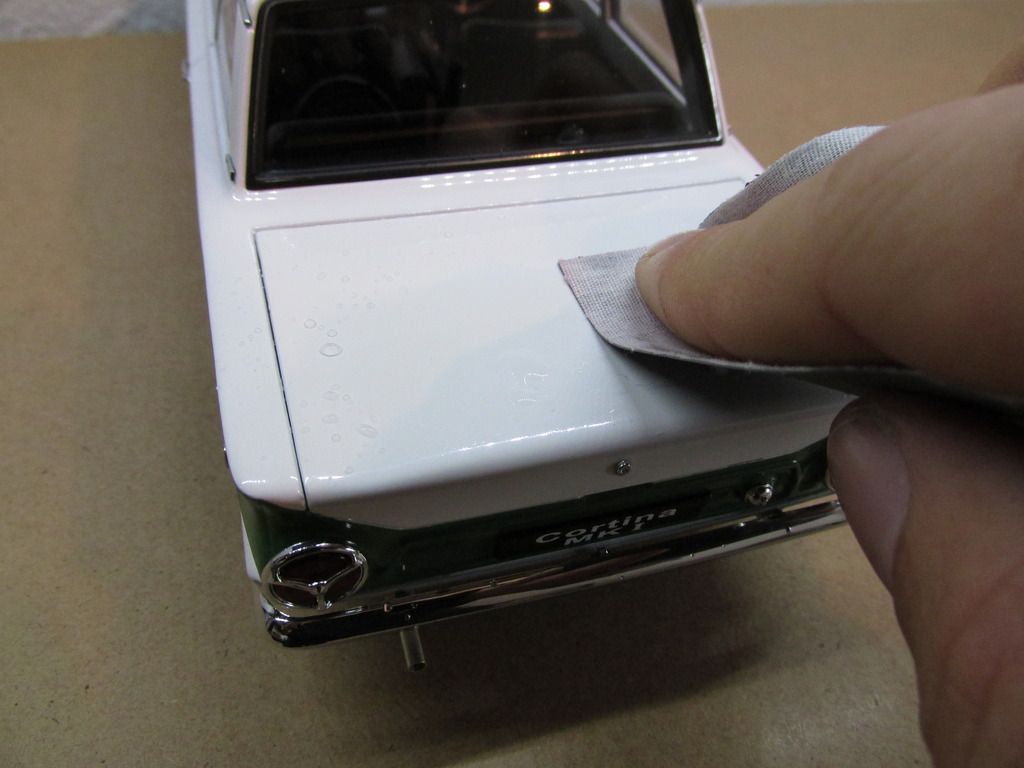 It's hard to see but the boot lid has become dull, using the 6000 sheet with water.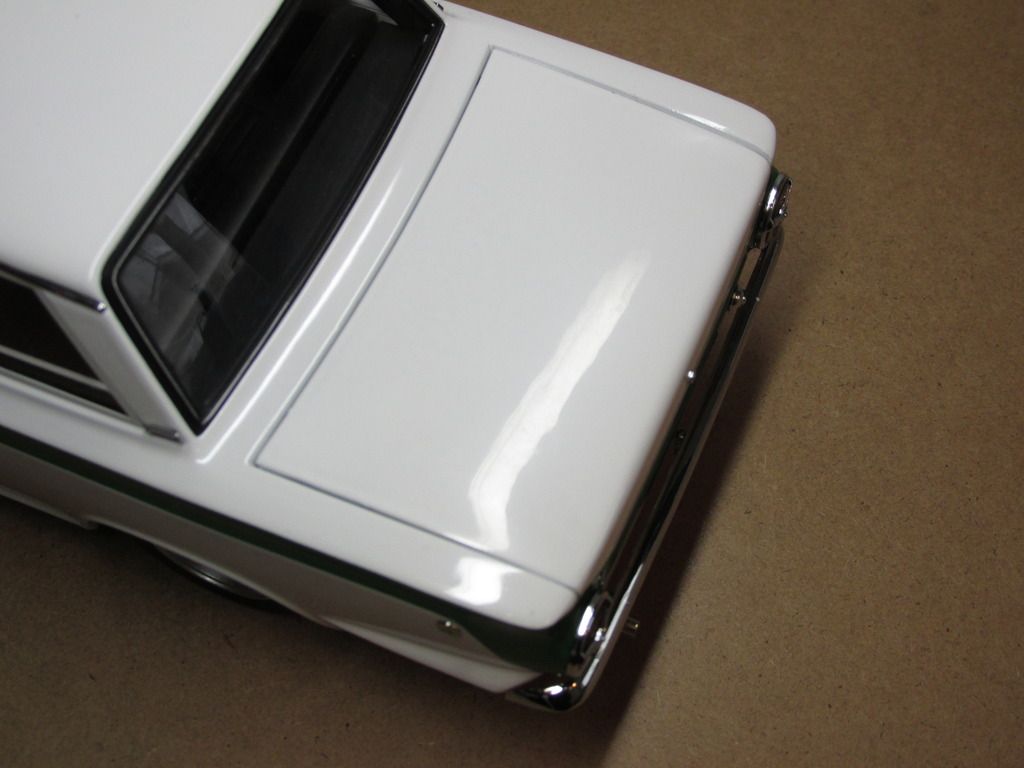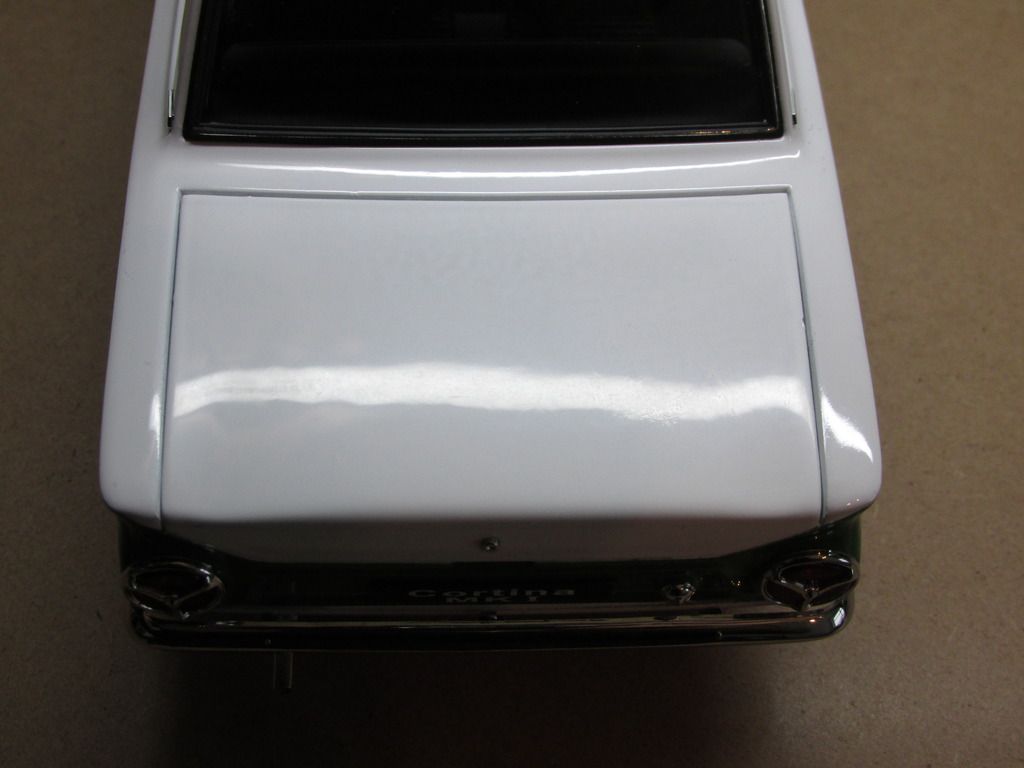 Step 2
I then move up to the 8000 sheet which get's rid of the marks that the 6000 have left, the paint rash has now been removed but the area is still dull.


Step 3
I now move up to the 12000 sheet which removes the dullness of which the 6000 and 8000 have left, the 12000 sheet kinda polishes up the area but still has a dull type haze, this is where the Compound comes in.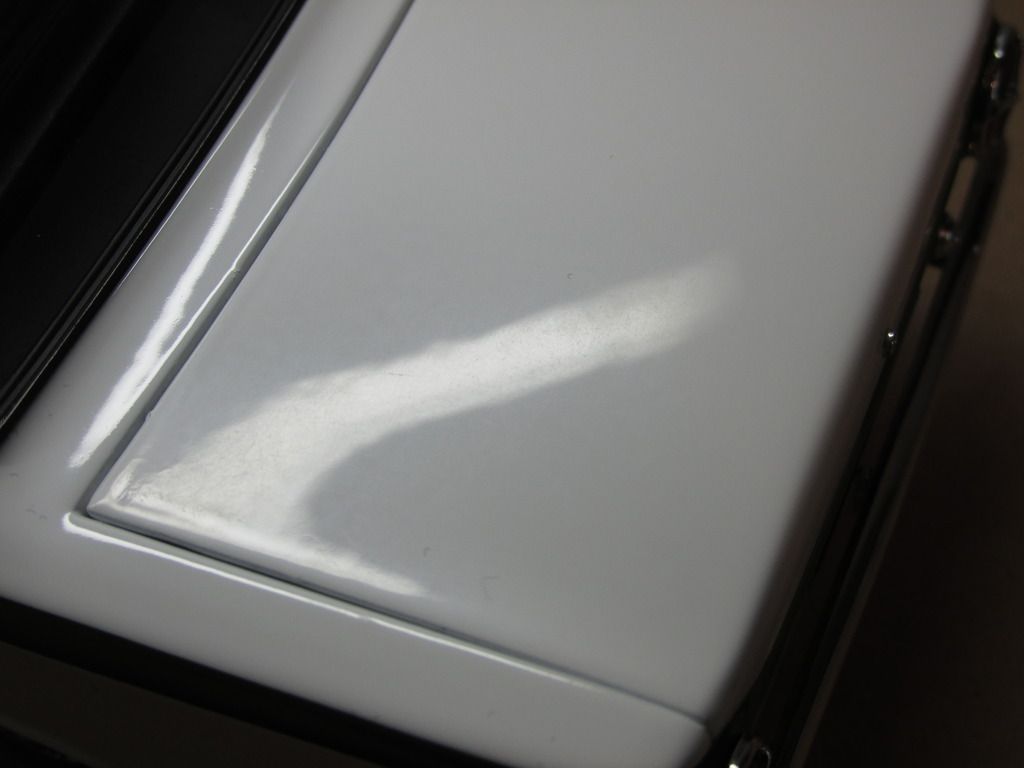 Step 4
I then apply the fine polishing compound using a toothpick, remember you do not need a lot of compound.




I repeat the process with the Finish Compound.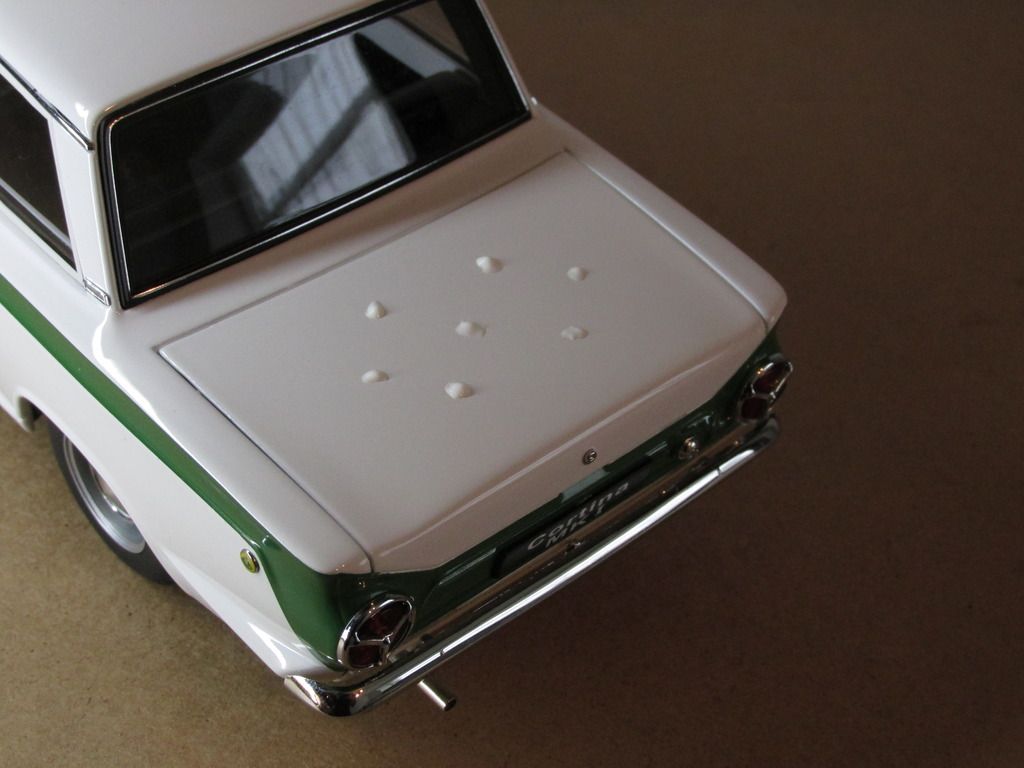 Step 5
Last part is to polish and wax the area you have worked on, you should end up with an area no longer affected by paint rash and the paint work nice and shiny.




I hope you find the above useful and any questions please don't hesitate to ask I'm more than happy to answer any questions you have.
Edited by Craig, 22 July 2017 - 07:06 AM.
- Just to say that as the original pictures are no longer active (thanks to Photobucket) there is a link later on to another thread with pictures etc.