Today I took delivery of the RC2 1/18th 1968 Richard Petty Plymouth Roadrunner with the black vinyl roof. The story of this car is of the ingenuity of NASCAR teams and how sometimes it works - and sometimes it doesn't. 1968 was the first year that the factories started concerning themselves with aerodynamics and the Plymouth lagged behind Ford, Mercury and even its sister company, Dodge in that area. Maurice Petty, Richard's cousin and brilliant crew chief, admitted later that the 1968 Roadrunner was "the most tricked-out" car they ever ran in their efforts to make up for the poor aerodynamics.
The most obvious of the tricks was the black vinyl roof the #43 showed up with at the season-opening Daytona 500. No one has ever truly explained what it was for but one scribe's two favorite theories were that 1) team patron Lee Petty thought the dimples on the vinyl would smooth the car's travel through the air like a golf ball and, hopefully, also disrupt the airflow behind it discouraging drafting followers or 2) that with all the "tricked-out" features on the car, the vinyl would distract NASCAR tech personnel from noticing some or more of the others!
Unfortunately, the roof let the team down as the vinyl started peeling away from the metal, requiring extra stops to secure it (DX'er Josh was the first to find this pic of Petty out of his car during a pit stop helping with the repairs!):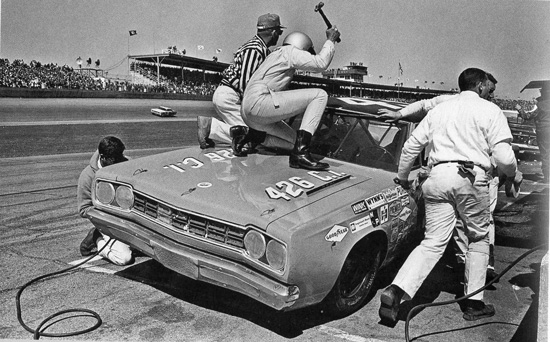 Anyway, the 1/18th of this car (built by RC2 for MOPAR) is a typically simple, but nicely done basic RC2/Ertl-style diecast with very good lines and decals and some internal touches such as a fire extinguisher. The doors and hood open and the engine is appropriate for this price range, although the left door seems to have gaping shutlines. However, it's a nice entry-level diecast:
Edited by Jersey_Devil, 14 April 2016 - 07:35 PM.