My apologies for being rude but ive been a member here for a while and i never properly showed off my collection. i don't really have a specific theme other than wanting at least 1 of each Hummer model both concept and production versions. I just collect what i like.so here you go
Cars are listed in order of purchase(shipping included)
1 Highway 61 Hummer H2 SUV price paid $59.80
2 Welly Nissan 350Z price paid $41:28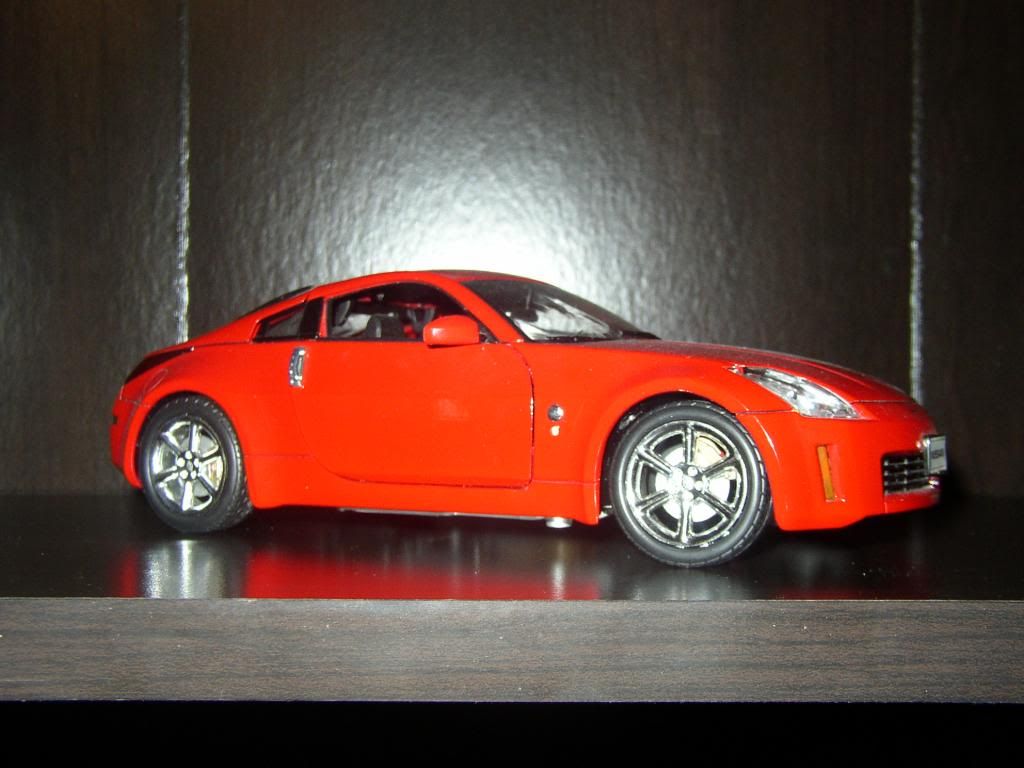 3 Custom Maisto Hummer H1 "Open Top" price paid $32 (before mods)
Beanstalk Ford GT concept price paid $54.50-SOLD
image.jpg
29.16K
0 downloads
My Model car checklist
CLICK THE LINKS TO VIEW THEIR RESPECTIVE BUILD LINKS!!!!
Custom Maisto Hummer H1-OWNED-STATUS COMPLETE
http://www.diecastxc...er-h1-finished/
Blue Highway 61 Hummer H2 SUV-OWNED
Red Hot Wheels Hummer H3 SUV-OWNED
Black Hot Wheels Hummer H3T
Blue Maisto Hummer HX
Maisto AM General Humvee-OWNED
Custom HW61 Hummer H2 SUT-OWNED
http://www.diecastxc...2-sut-primered/
Custom built Chaparral 2J aka Project X
http://www.diecastxc...8-chaparral-2j/
Grey(Grigio Telesto?) Maisto Lamborghini Gallardo SuperLeggera-OWNED
Black Anson Dodge Ram 3500-OWNED
Red LIFTED Motormax Dodge Ram 1500-OWNED
Custom Silver Maisto Hummer H1 "2 Door"-OWNED See the build here
http://www.diecastxc...09#entry1865209
Silver Kyosho Cadillac CTS V-OWNED
Custom Red BBurago Dodge Viper RT/10-OWNED
Custom Welly Ford Mustang SVO aka Fox Body 427
http://www.diecastxc...dy-427-mustang/
White Welly Pontiac Firebird T/A 455 HO
Matte Black Shelby Collectables Ford GT40 MKII
Black AUTOart Koenigsegg CCX with added spoiler #2505-OWNED
Sassy Grass Green Highway 61 1971 Plymouth Cuda 440-6-OWNED
Red Highway 61 1969 Plymouth Barracuda 440-OWNED
Sassy Grass Green Autoworld 1970 Plymouth Superbird
Black Hot Wheels Elite 1970 Dodge Charger (Vin Diesel's from "The fast and the furious")
Custom Silver Motormax Saleen S7 -OWNED WIP
AUTOart Bugatti Veyron SS Merveilleux #0060-OWNED
Comission built Black AUTOart Nissan Skyline R32 "GTR R37" (LHD R32 with R35 engine)-UNDER CONSTRUCTION!!!!!!
SOLD-Yellow Beanstalk Ford GT concept-SOLD
Still pictured as a memory
White Beanstalk Ford GT concept-OWNED
Black Hot wheels Ferrari Enzo-OWNED
Black Kyosho Ferrari F40 Light Weight High end edition
Grigio Reventon (Matte Grey) AUTOart Lamborghini Reventon-OWNED
Custom Black/Red Maisto Dodge Viper SRT-10 "ACR" Roadster-OWNED waiting on parts
Custom Grey/Black (originally white/blue) Maisto 1999 Dodge Viper GTS-R ACR -OWNED
Project not started
Black Maisto 2013 Dodge Viper SRT GTS
Custom Silver Ertl 1985 Corvette C4(Callaway sledgehammer tribute)-OWNED
Project not started
Maisto Corvette C5 Z06
Custom Hot Wheels Corvette C6 Z06 (60th anniversary edition)-OWNED-At long last
Project not started-
White Maisto Corvette C7 stingray Z51 coupe
Modified White Motormax Ford Crown Victoria Police Car-OWNED
White Welly Dodge Charger police car-OWNED
Red Welly Nissan 350Z-OWNED
Black Maisto Jeep wrangler Sahara
Italian flag livery Maisto Ducati 1098s-OWNED
Black Maisto Harley Davison Night Train-OWNED
There will be more mods and builds so stay tuned for more links
To see some of my minor builds click here
http://www.diecastxc...ojects-of-mine/
Edited by E Rod_017, 09 August 2014 - 09:01 PM.