Discussion Starter
·
#1
·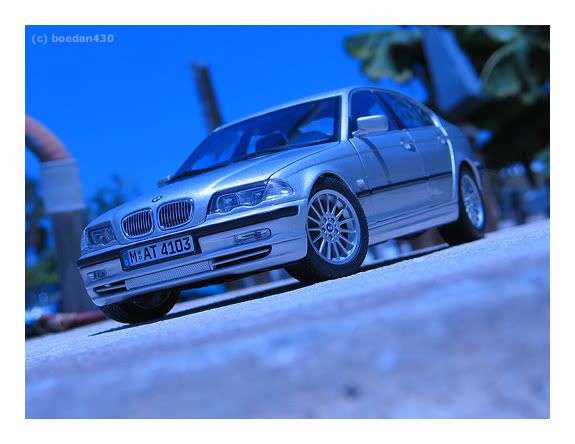 *Manufacturer:
BMW
*Model:
E46 330i Sedan
*Year:
2000
*Manufacturer:
UT Models
*Scale:
1/18
*Exterior color:
Silver metallic
*Interior:
Black w/ burl walnut wood trim
*Notes:
BMW Dealer Edition
Bodywork (marks out of 20) - 14
-overall design:
Very nicely done.
-panel gaps:
Between the opening parts (mostly the doors and hood), there are slight gaps.
-fit and finish:
Back passenger doors do not line up correctly with the body of the car; doors close too far.
-detailing:
Detail is excellent for UT, only thing they should of included is the 330i badge on the trunk.
-lights:
Very well done, except the headlights look like they're placed a little low, not that noticeable.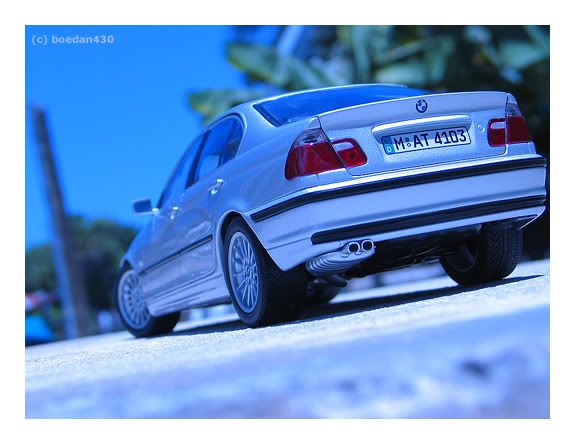 Paint (marks out of 10 ) - 8
-quality:
Excellent for UT, not rough.
-decals:
BMW logo stickers, normal for UT's.
Interior (marks out of 30 ) - 21
-accuracy:
Looks pretty accurate to me.
-detailing:
Interior was nicely done, flooring is carpeted, wood simulated very well, seats look somewhat real but are hard (not a surprise though), radio is nicely done as well as the gauges.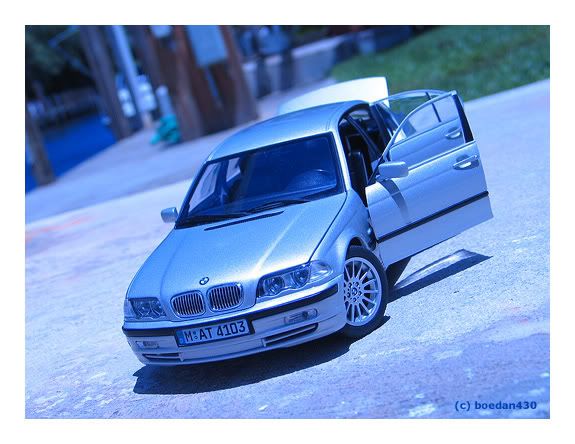 Engine (marks out of 30 ) - 14
-detail:
Nothing special, bunch of black plastic pieces with some silver paint.
Wheels and Brakes (marks out of 10 ) - 7
-detail:
Wheels are done nicely, they have not 'melted' nor do the wheels feel sticky. Brakes are nothing too special. Breaks do not spin with wheels, but clippers are present.
-size and fit:
Seems good to me, nice threads on the tires!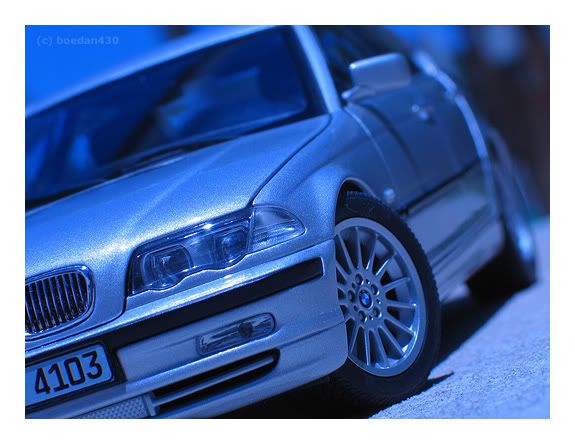 Overall score out of 100 and general final comment:
Total of 64 out of a 100. One of UT's last models, very well made; one of their best models. The model features 4 opening doors, the hood (which doesn't stay open), and the trunk. The 330i is BMW's E46 highest non M model, so there is more painted parts and has clear turn signals (front and rear). Of course the model comes in a BMW box. Overall is a really nice model, one of UT best as I said before. I would recommend this model, even if you're not a BMW fan like myself. First review, hope you enjoyed it. Feel free to comment, ask questions, or whatever
. Don't forget to post your own review!!!