Discussion Starter
·
#1
·
OK, so let me be the first to admit that I was being careless with this classic 1:18. I bought this car back when I was in Junior high back in '95, then I brought it with me to college. Since then, It was sitting on the living room shelf without box, covered with dust.
Last week I was looking for a 1:18 NSX on eBay (either Revell's or Kyosho's) but they're quite rare and expensive. Then I thought about this 1:18 NSX I already have, picked it up from the shelf, and suddenly felt so bad for such neglect. I took it apart and cleaned everything up with Windex. I managed to get all the dust off, but the paint was so dull and all the windows were scratch and foggy.
I buffed the paint with cleaner wax and used fine scratch remover for the windows. The result was quite satisfactory, the paint is shinny again and the windows were clear. Did some touch-ups:
- Painted the body gaps black to make it look more realistic.
- Seats, steering wheel, and door inserts were painted tan.
- Repainted the rims (the chrome were all peeled off)
- Added Michigan license plate
- and few other small things.........
OK, enough babbling.. :giggle :giggle
Here are some 'after' pics: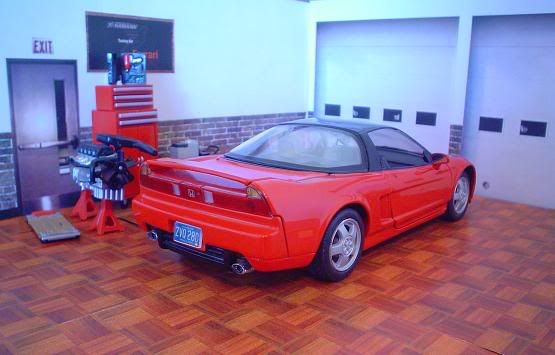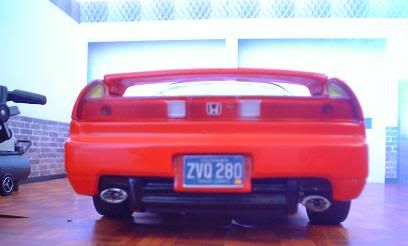 The NSX the local shop getting tune ups and a new timing belt :wink
Lesson learned:
1. Don't neglect your model car.... (duh!)
2. Before buying new stuff, look at your old restorable cars first
:joy :joy :joy