Heres this weeks Review, this simple yet effective model goes to show what DX has done to me as a person and as a collector. My horizons have expanded 10 fold. Hope you enjoy.

Brakes
:
Are hardly existant on this model and are chromed. There are no calipers or brake lines. Im sure the real car doesnt look like this. However there is a minimal effort for this section of the model.
Accuracy
: 4
Detail
: 4
Engine
:
Is painted not as well as say an Exoto and has many relatively crude molded parts. Engine comparment is not all that complex and doesnt look as convincing which is to be expected for a model in this range. However the metal hood hinges are a plus and pushes this model past any low end budget.
Accuracy
: 4
Detail
: 5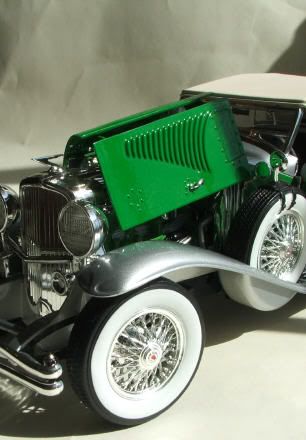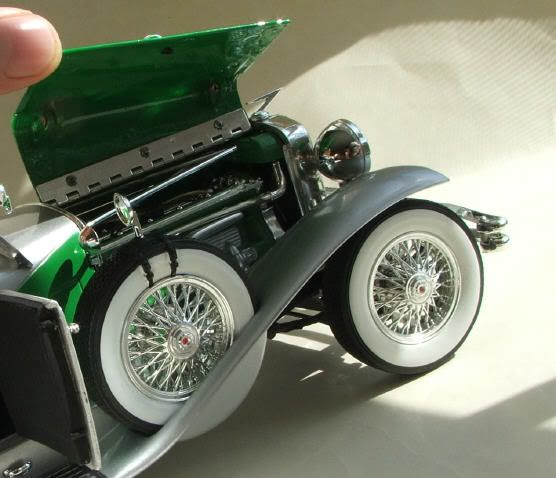 Exterior
:
This is where the model shines. The chrome is good, paint is nice and body panels are convincing. There are realistic metal door hinges. The convertible top can be changed from up to down with different pieces and fits perfectly. The top also has a texture to it and has some detail underneath. The rear trunk is one of the best parts with very convincingly painted latches, hinges, and handles. The textures on this model really make it a joy to look at. Bumpers have a style of their own and are complimented by head lights with depth, detail and no connecting pins. The rear lights are also set up well. The mirrors strapped to the spare tires are a nice step as they are separate pieces. The front grill is one piece instead of see through. Deusenburg hood ornament is a highlight though.
Accuracy
: 6.5
Detail
: 6.5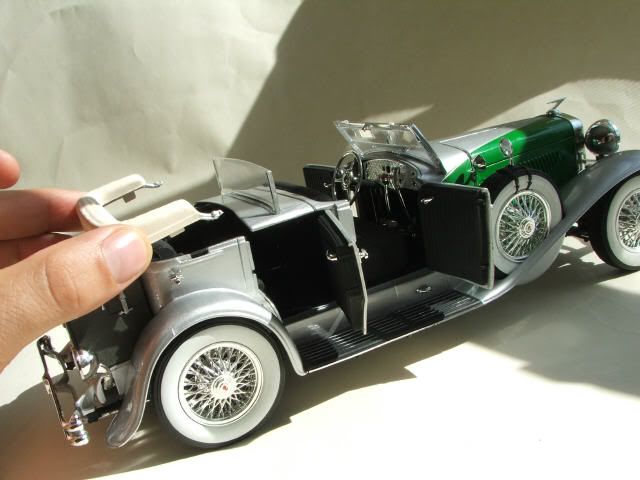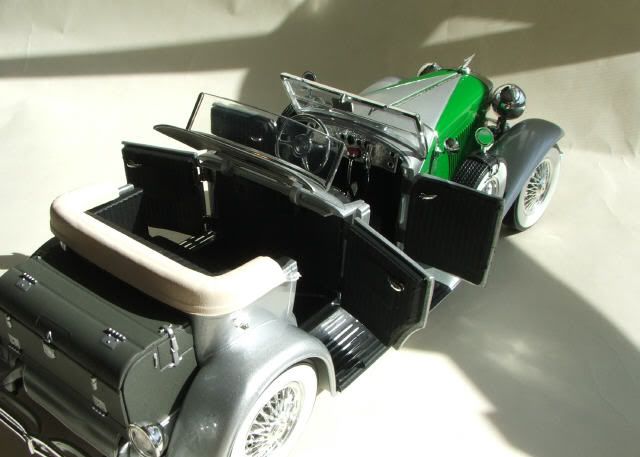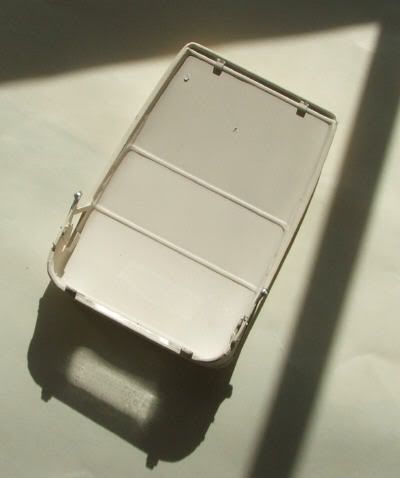 Interior
:
This could be the best part of the car. All doors open revealing suprising detail for this price range. You are immediately greeted with fine plush black carpet, simulated texture on seats, absolutely beautiful brushed aluminum front dash/ instrumentation, the steering wheel is faithfully replicated along with more levers at the drivers disposal. Rear windshield flips up a nice characteristic of this car that makes this car even more interesting. Since there are many features that normally are not on models of this price range, it will be rewarded respectively for points. The interior is also very close to the real thing having seen the 1:1 in person Im impressed by Signurature Models.
Accuracy
: 7
Detail
: 7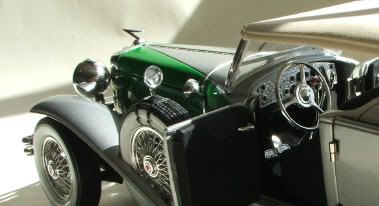 Paint
:
The two-tone paint has few flaws if any and shines great considering car of this age didn't shine like new cars of today. This provides some leaniancy when judging paint. Given what car this is the paint is perfect for the model, is not too thick and not too shiny. Excellent work here since the shine is dulled down to the right consistancy and other paints are properly selected and executed well.
Accuracy
: 9.5
Detail
: 9.5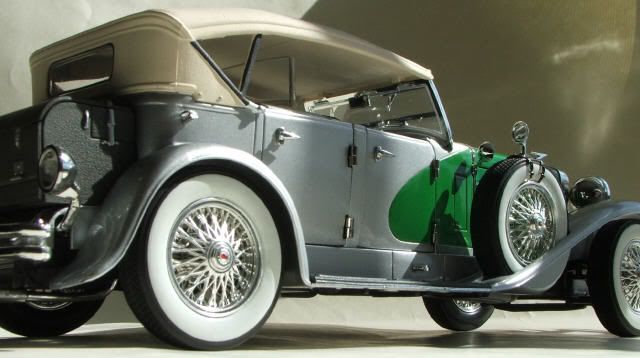 Tampo/Decals
:
There are few on this model and therefore less to detract from the model as a whole.
Accuracy
: 9
Detail
: 9
Tires/Wheels
:
Wheels are just above middle of the road and this seems to fit this model well. White side walls really stand out well and are bright. Black portion of tires have a bit of shine but not enough to detract from the whole package. The spokes arent the industry's best but they look fine and are just a notch above the average. Overall the wheels compliment the rest of the car even if they are not the best chrome work.
Accuracy
: 8
Detail
: 6
Undercarriage
:
Under body is average. The underside of the wheel arches are painted all the way though with no overspray. Masking left paint lines not as clean cut as I would have liked. There is little detail but it still does the job. The moldings are minimum but one part that stands out is fact that the rear leaf spring suspension works.
Accuracy
: 6
Detail
: 6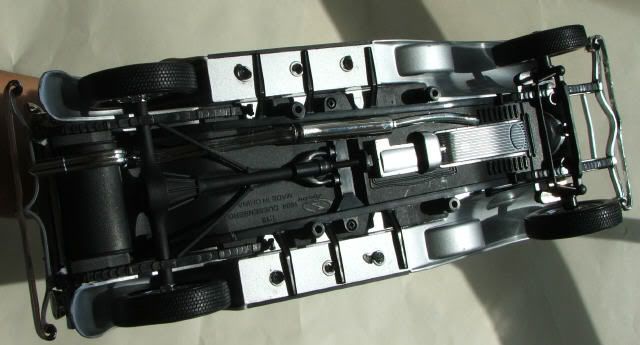 Accuracy Total
: 6.75
Detail Total
: 6.625
OVERALL TOTAL: 6.688
Overall:
This model has its suprises and short comings however looks fantastic with carpet, textured seats, metal hinges and convertible top. The instrument panel is gorgeous and working rear leaf springs are a plus. The model presents alot for the buck and only lacks in the wheels a bit and underbody/engine detail.
Notes of mention but not scored
:
Year produced
: Recent
Price(budget/premium)
:$30-40
Subject matter
: Vintage
Packaging
: Comes in a nice clean package that is both a classy and a good display.
Craftsmanship and Quality
: Nicely made and sturdy. Not bad for a hand made budget.