1935 Morris Eight Series II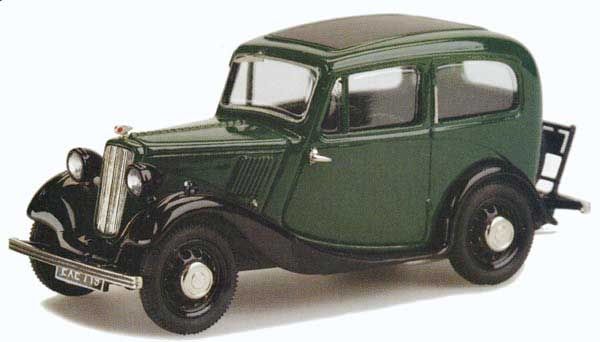 Released by Crossway Models in 1:43 scale, the recommended retail price in the UK is £79.99
1:1
The Morris Eight made its first appearance at the October 1934 Motor Show to be released as the 1935 version, receiving a lot of attention in the process, it cost £118 (this model costs £79.99 !!!!).
The car had a short production run eventually being replaced by the Series I in June 1935 and the Series II in August 1937 and was built until August 1938
Cable brakes were the norm on previous vehicles, but the morris eight was one of the earliest production cars to be fitted with all-round hydraulic brakes. The engine was a very reliable 918cc side-valve, equipped with a 3 speed plus reverse gearbox. 2nd and 3rd were the only gears with synchromesh, so double de-clutching was essential. The British Army were still using this engine as an auxiliary electrical power unit for thw Centurion tank into the 1970s.
This vehicle had all-round leaf spring suspension fitted with 'pear shaped' oil fill shock absorbers. Eliectircal system was 6 volt with split level charges from within the ignition switch. Indicators were of the semaphore type, headlamps were dual filament.
1:43
Crossway's 1:43 scale models sports rich dark green paintwork with a black 'leather' fixed roof panel and headlamps which contain a glazing effect that cpatures the essence of the 1:1s dual filament lamps. The model lookes superb sitting on its 'Easy-clean' wheels wth seperate hubs and treaded tyres. The casting of the central ridge on the bonnet (hood) and the side louvres look crisp. The mascot and opening catches, the exhaust, petrol filler cap and the door handles are picked out in silver. Windscreen wiper and semaphore indicators contribute to the character of this model. There is a separate casting of the black metal luggage rack, wich affixes to the rear of the model in front of the spare tyre.
The interior is beautifully addressed with its detailed dashboard instrumentation, fuel gauge, speedometer and oil pressure gauge. What looks like a 'flexible rubber' covered steering wheel looks a real gem, although it does appear to sit rather close to the driver's seat. The seating has a nice 'leather' look covering.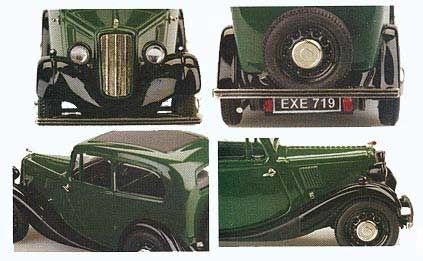 Overall, this is a nicely finished model, the casting is rated 5 out of 5, but the finish is rated 4 out of 5. It will definitely appeal to those collectors who love 'old' Engilsh cars.
This review was taken from the 'Model Collector Magazine'