First of all, once again a gigantic Thank You to Diecast Dispersal for donating this great IH tow truck for the 2nd banner contest.. Now I know what the hoopla about First Gear models is all about. I'm also afraid it has pitched me down a slippery First Gear slope with late night frenzied searches for FG Power Wagons, but I digress. . .
Two things struck me right off. This model is packed extremely well, it would be extremely difficult for it to get damaged. First Gear includes two side view mirrors in case one gets broken or lost somehow, which I thought was a very nice touch. It's 1/34th scale, but the detail on it is simply astounding. It is sealed, i.e. the hood and doors don't open, but there is still detail all over the place. I'll let the pictures show that, there are just too many little details to list here. The tires are molded with sidewall detail which I found unbelievable! The tampos are crisp and well done. The tow boom features "cables" and seperate tow hooks, it just goes on and on. To say I am happy with this Corn Binder would be an understatement. . .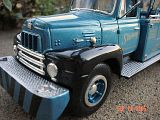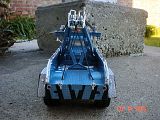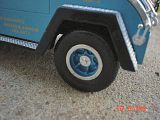 This is another one I am going to simply leave alone. It is great exactly the way it is!