Found this today at Wal-Mart for $11.50 US. It's not my usual type of model, but for some reason I couldn't pass it up, so in the cart it went.
1959 Chevrolet Panel Wagon by Hot Wheels. First the pros. It has a nice stance. I am not a fan of many of these cars with over sized "rollers" underneath them. But on this body style, perhaps because it's so big, they look good. It is dropped to a nice level. Grill, trim tampos are all well done. The paint is very good. The pictures do not give a clear indication of the color. It is painted a suede (primer) purple color, in other words, it is flat purple. The plastic straps left a residue on the paint but it came right off with some windex. There is a really cool pinstripe detail on the hood. Tires are not super wide and they are a different size, width-wise front and rear.
The cons: First of all, the cheesy "Bid Daddy" Roth sticker on the side. That will be the first thing to go. The interior is extremely plain, and the front seat is all one piece. The windshield wiper is all one piece. The tail lights are painted over chrome, not clear lenses. The tail gate does not open. All chassis detail is molded in except for one rear suspension piece and one front suspension piece. The exhaust pipes are supposed to be those little bumps attached to the rear bumper, and they don't even have an outlet. The engine is kind of a half insert with about five pieces stuck in the engine bay.
The engine could be made to look decent and exhaust pipes could be added. All in all, with some detailing, it's not a bad model for $11.50.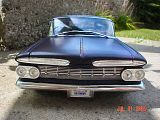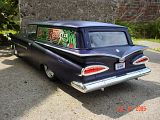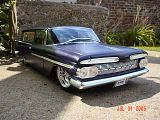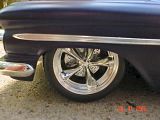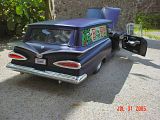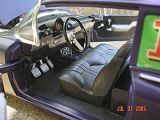 Here it is after a slight re-work. . .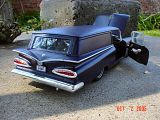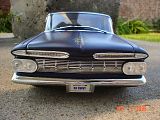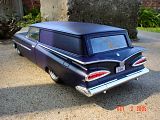 I got rid of the side stickers, painted the wheels dark metallic grey and silver, plumped the engine with all purple wiring and hoses, carpeted the front and rear, gave it a roll bar and although you can't see them, two big NOX tanks in the back. . . :giggle