Hello again all. I hope this helps if your considering this wonderful piece. Enjoy :cheers
1965 Chaparral 2 Prototype II (Fixed Rear Wing)
Full Review:
Brakes
: Brake hardware is paramount. Brake lines accurately feed from the caliper. Calipers are nicely molded and labeled. Rotors spin freely of caliper. Rotors however have a series of evenly spaced rings that give texture to the model but detracts from accuracy. Since the brake department really put great effort but left out some accuracy that will lower the final grade.
Accuracy
: 8.5
Detail
: 9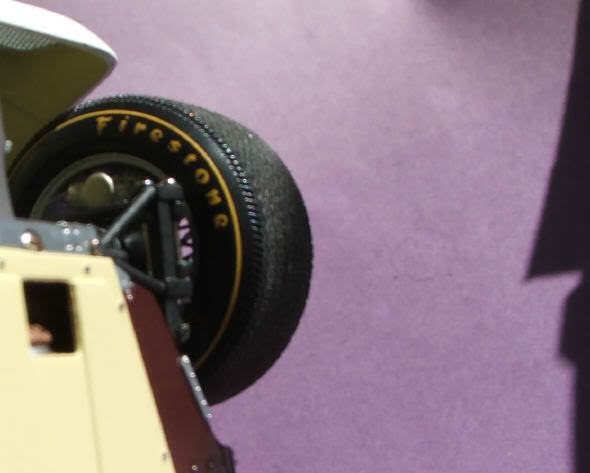 Engine
: By far one of Exoto's best efforts. This department has almost more detail than the rest of the car. Engine stacks, wiring and steel braided fuel lines this way and that. The motor itself has a convincing look to say the least. All components look as if there is not a thing missing. Exhaust is excavated, linkages are in their correct places, various photo-etched parts, and detailed bolts everywhere. The rear bumper frame connecting to the transmission is also nicely replicated with bolts and proper paint and moldings. Valve covers are a plus with lavish chrome detail proudly displaying the word "Chevrolet". All paints are pleasing to the eye and there is sharp contrast everywhere you turn. Another high point just when you think the show is over is the passenger side air scoop weather stripping. This gasket is made of real foam and adds not only texture but more realism in a way not many other models do. One part that detracts from the whole power plant is the shiny paint on the exhaust headers coming from the motor. This part does not convey a sense of realism with accuracy in mind but doesn't look bad when the pipes go further towards the end where they are painted in a flat aluminum paint giving the entire exhaust package a two-tone look which makes up for it. The radiator which is located up front is made of photo-etched parts and is angled so you can see it from top and bottom the way it was intended by the 1:1. Radiator hoses molded of plastic are painted with reds, silvers, and blues, everything looks right here. Very little detracts from this department and is always a joy.
Accuracy
: 9
Detail
: 9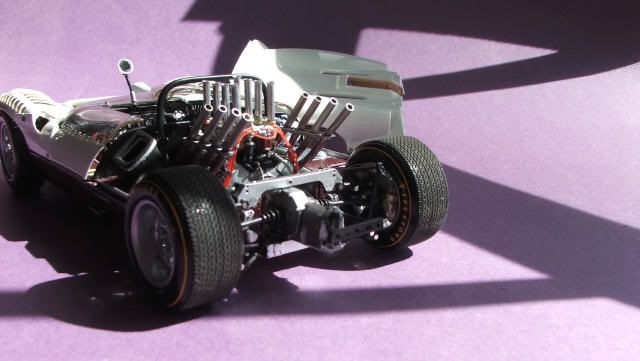 Exterior
: Model is presented with numerous photo-etched parts that bring nothing but joy to the trained eye. Panel gaps are superior given that the front and rear bonnet are removable. These pieces are easily placed and removed which is a plus proving Exoto's quality engineering. Doors have metal hinges that are tightly placed leaving the door hinge solid. Front headlights do have connecting pins which is a surprise at this level so that is a minus. However the head lights fitted quite perfectly into the car itself. Molded in rivets, metal vents, and tail lights in amazing chrome with no connecting pins. Just under the rear bonnet Exoto poured more detail by making tail light housings and wires. The underside is also painted in a clean flat tan which comes across as smooth and evenly painted. The mold itself has a sharp look all the way around with no problems. Wheel arch vents are all straight and evenly spaced. Just past these vents the gas filler doors open with metal hinges a major plus. Roll bar is installed with precision as it doesn't move easily. The windshield which is another part of aerodynamic involvement is sturdy, molded correctly, and shines well. The one rear view mirror stands straight up ready for use and is sturdy as well.
Accuracy
: 9.5
Detail
: 9.5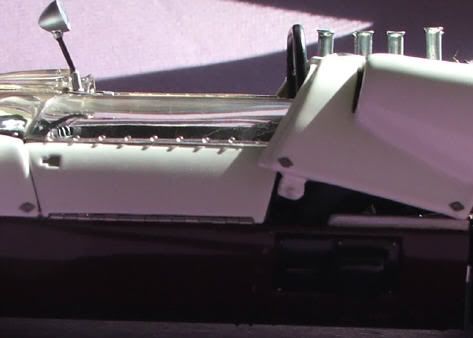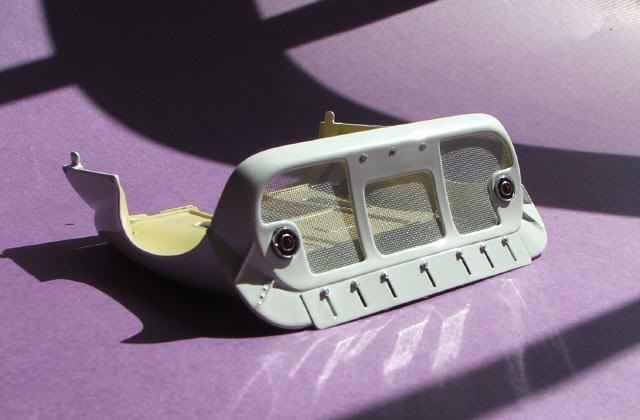 Interior
: Great! The gauges are covered in glass, only the steering wheel can turn the wheels which is not common, also oodles of wires coming from instrumentation panel, back and pedals have a detailed mechanism look to them. Steering wheel is nicely replicated with a flat black look. Seat and a half is painted in a convincing shade of semi-gloss black. Seat belts are made of fabric and feature a small leather tab on one end of the belt to bring a dash of comfort in this all inspiring pure bred race car. Interior also has numerous rivets and bolts detailed in. A small metal cord can be used to close the door. Anything under the front bonnet is bound to leave any collector speechless. Pressure reservoirs for the pedals, wires and realistic suspension mechanisms through and through the car. Opening gas filler caps are a major plus! Another part that really makes this section stand out is the shift ball/gate, which is amazingly molded with no lines into a perfect orb and shines like you wouldn't believe. This almost makes the interior look perfect adding more realism. You can tell the driver is cradled well in the cock pit and is presented with nothing but serious business in the real car, this model really drove it home to properly replicate everything. If you could flip the switches and floor the pedals I would give this interior a 10.
Accuracy
: 9
Detail
: 9.5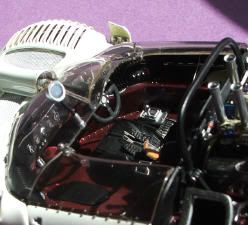 Paint
: Paint is flawless and shines like it should. Paint is evenly spread and the right thickness. Underbody is painted just the same as the top and has a great shine as well. An extra step which is expected from Exoto. In the perfect light the car can look like a marsh mellow!
Accuracy
: 9
Detail
: 10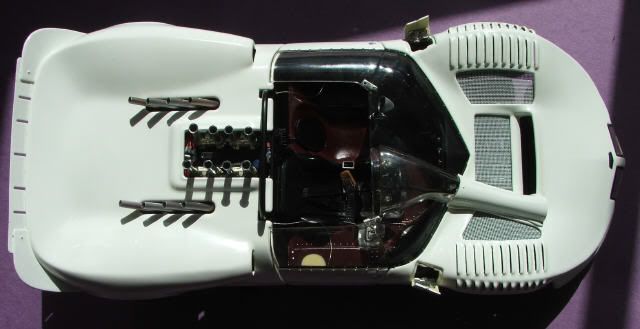 Tampos/Decals
: Tampos are placed on the instrument cluster and various small places including the front proudly displaying a "Chaparral" badge. Since this particular model is not a "numbered car" there is nothing large enough to detract from this models overall rating in so far as tampos. They are generally very small and to scale.
Accuracy
: 9.5
Detail
: 10
Wheels
: Tires have detailed side markings. Tires are a bit too much on the shiny side but not by much. They redeem themselves with the tread pattern, which is said to be unique with a ruffed up look, as if they were just driven. Rims are profiled and painted correctly. Exoto made yet another fine effort in portraying the wheels. No valve stems apparent.
Accuracy
: 9
Detail
: 8.5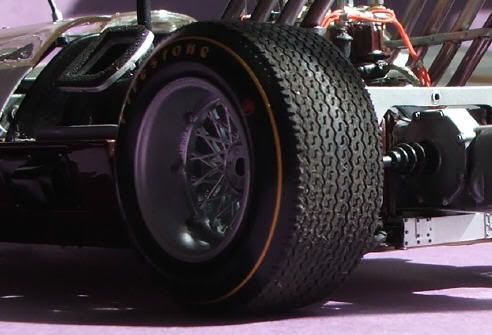 Undercarriage
: This is yet another spot where Exoto shines. The quality paint on the underside matched with the removable engine cover make it worth flipping over to have a look at. Once the tan cover is removed which fits nice and snug, you are presented with a display of plumbing and wiring like a sequel to the top side. Oil filter is painted proudly, the motor is easy to see. A fun and educational aspect of this portion of the show is the transmission. You can see the clutch/fly wheel in action along with proper paints and moldings. Moving to the front of the car you can see all working suspension played out in full metal arms and linkages. If you look inside the barrage of suspension components you will see that the steering linkage is of a gear set instead of the conventional rod and peg. Exoto left no stone unturned with this model as you reach the very front you can see molded in rivets and shark fins that are worth a look almost every time. Underbody is definitely a treat for the eyes.
Accuracy
: 9
Detail
: 10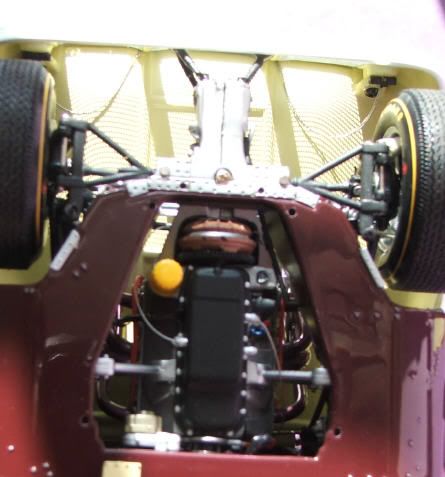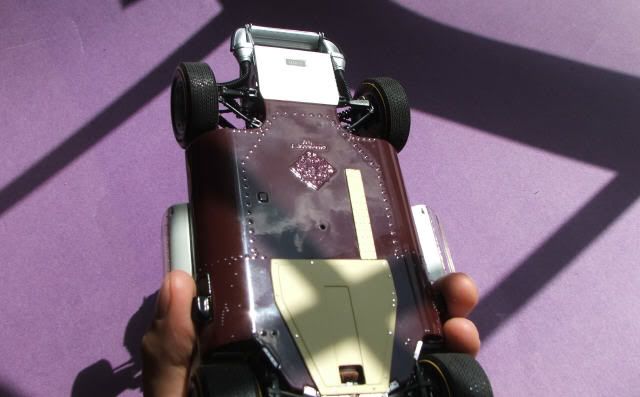 OVERALL
: There is very little to improve upon and this is definitely one of Exoto's more detailed models. After having 5 Exoto's this is the one that gets the most of my attention. Things that stand out are the glass covered instrumentation, leather tab seat belt, engine wiring, smooth paint, exhaust/intake, shifter, radiator, foam air vent gasket, metal hinges, front windshield, unique tread pattern, steering mechanism, transmission detail, and metal mesh vents. It's easy to ignore the front connecting pins after seeing what the rest of the car is about. If you're into detail and like older racers this is a must for you.
Accuracy Total
: 9.063
Detail Total
: 9.438
Total Score: 9.251
Approx Price Range
- $180-250
Subject Matter
- Classic Motorsports
Packaging
- What you would expect for this price range. Molded packaging with tons of tissue. Box has picture of the 1:1 car in action. I like how one box comes inside the other to keep the inner box protected this is conventional for Exoto. Model is screwed to base with two screws and comes with door latch pins in a small rectangular wrapping paper.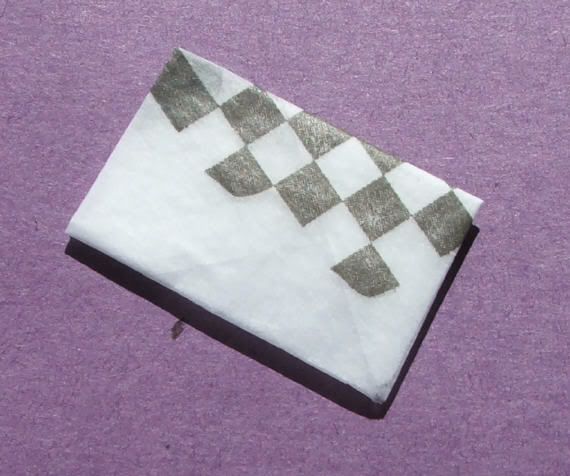 Craftsmanship and Quality
- There is nothing but craftsmanship and quality packed into this model. One thing that stands out is that the model feels relatively light compared to their other models. It is also smaller than I thought. If you find one of these for a bargain you will get your moneys worth. If you have a special place in your diecast heart for this car I would definitely recommend Exoto over AUTOart any day.
Misc
: Im lucky :happy to have #11 out of ??? (If any one can clarify how many made)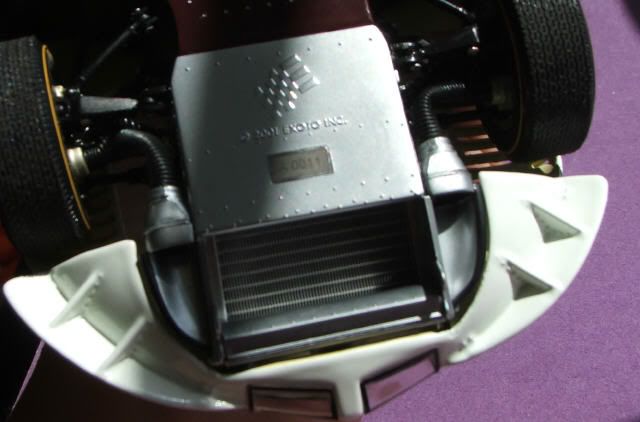 Thanks for looking.
Review added to the DX Model Review Database on 2-OCT-2005