1968 Firebird 400 Starlight Triple Black
Its been quite a while since I did one of these. I know this car has been done already but I just really like this car and its worth it to review this classic. Its my absolute favorite diecast muscle car to date. :happy Hope I did this new approach right to do this car justice. Enjoy!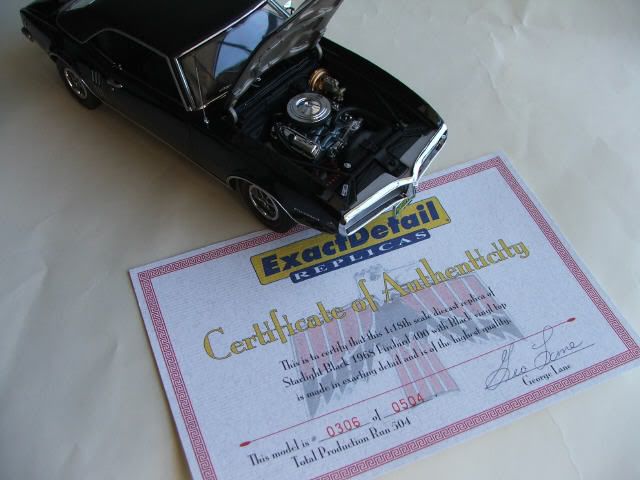 Brakes: Brake hardware is not visible from the outside but brake hardware is there and looks like effort was put into them.
Accuracy: 7
Detail: 8
Engine
How do I even begin this category? There is detail swimming everywhere in this department. My favorite part is the separate belts placed on each pulley (there are two I believe). The soft upper radiator hose is a must! Engine is fully wired and plumbed. Brake lines, battery cables a hand full of engine warning signs and decals placed in their proper locations. Valve covers have the same beautiful chrome dress up. Another favorite is the breather has simulated air filter material making this set up even more convincing and enjoyable. Wires go to the alternator, starter, distributor, and into the firewall and possibly other places. To top it off the underside of the hood is painted in a high quality silver and the hinges have just as much to offer as the trunk hinges. The engine to sum it up has gotten the most attention when it comes to detail.
Accuracy:8
Detail: 9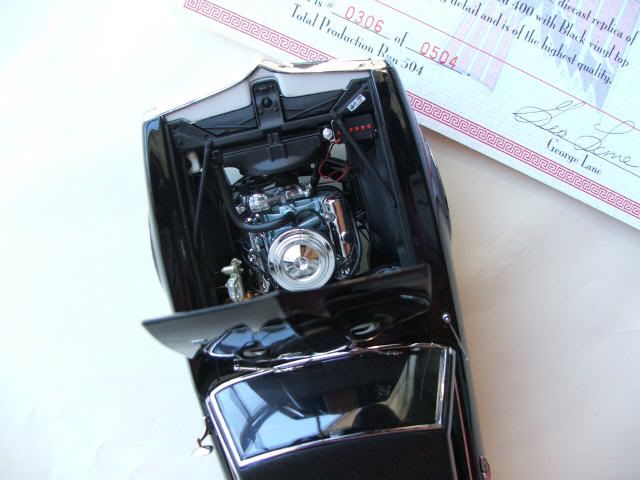 Exterior:
The body looks to be in proportion. This bird is heavy and feels solid. Nice details include metal antenna, tampo lettering,3-D badges beautiful chrome everywhere, and fine detailed driver side mirror. Tail lights are meticulously replicated. The front looks like they hit the bulls eye with chrome that looks wet with crisp lines and sharp contrast in the front grill. The only thing that isn't first class is the front vents, which is one plastic piece instead of perforated. Headlights have depth and detail which is another plus. I also like that the model has wrap around front lights. Hood has working scoops with 400 badges. Vinyl top has me coming back for more with texture and looks that make this car well rounded. For smaller details the panel gaps are satisfactory if not great. The chrome trailing from the front wheel well to the rear is all one piece and is sterling! The stance is amazing and wheels turn quite nicely.
Accuracy: 9
Detail: 8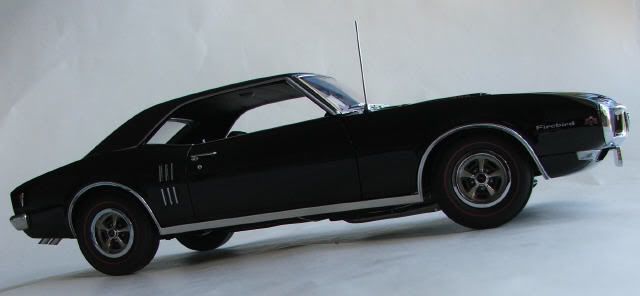 Interior:
First off the overall picture on the interior looks very convincing with sharp lines and detail in the instrumentation and paneling on the center console. One of my favorite parts of the interior is the passenger glove box having the same gloss and shine as the paint on the exterior. The gauges are detailed correctly and wood grain is a plus. The chrome inside is quality around the shifter and center console. Lane left no stone unturned paying attention to every detail with simulated material on the lower portion of the door panels and a decal on the side of the door that disappears when closed. Also door hinges are top notch on this one and the doors open and close with confidence. The fabric seatbelts are with detailed buckles that add a whole new dynamic to the front and rear seats. The back rest portion of the seats move forward. Along with that feature the seats have an incredible sense of realism built into them with the seats themselves feeling soft. The headliner is fantastic and has a proper small dome light and appropriate sun visors. I also like the detailed floor mats that are finished in matt black. The dash is also nicely painted. Trunk detail here is not as abundant as in the engine bay or interior but it's a trunk so Ill give it some slack. A tire and jack are placed to one side of the trunk and has one tampo. The trunk hinges are great because instead of being formed with the hinge as one piece they are stapled to the trunk like the real car. There is also another tampo underneath the lid. Other than that the floor of the trunk has no other detail or treatment.
Accuracy: 8
Detail:8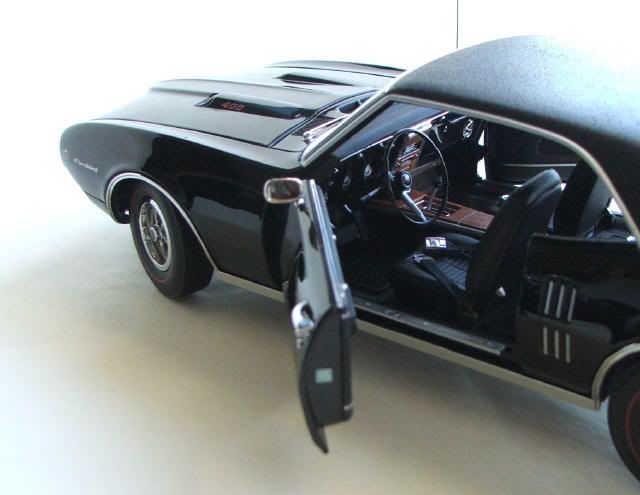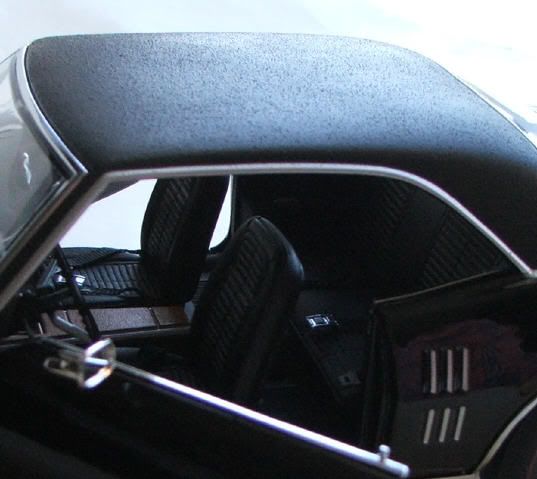 Paint: Paint is shiny, brilliant and thick but had some minor scratches but even at that scratch is too harsh of a word to describe it. A couple of things that aren't highlights are the painted in side vents, more attention could have been placed here. The other very small issue is the silver paint that extends from the A-pillar to the rear or the B-pillar does not have a sharp edge to it from masking however I believe it is because of the vinyl top and even at that you can hardly notice it.
Accuracy: 9
Detail: 9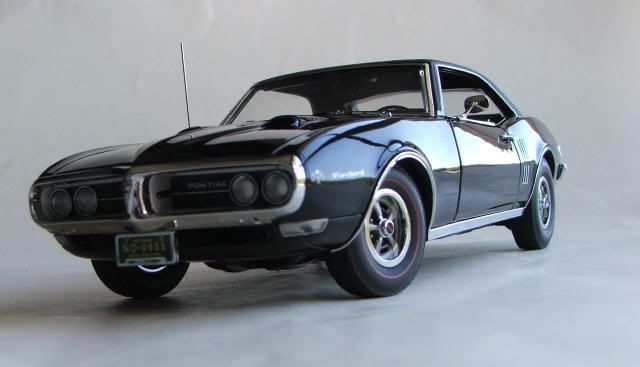 Tampos/Decals:
Lane uses tampos and they are in all the right places and can been seen very well. They can be found in the doors, trunk, engine bay and the exterior of the car itself. The tampos used look right from any angle.
Accuracy: 6
Detail: 8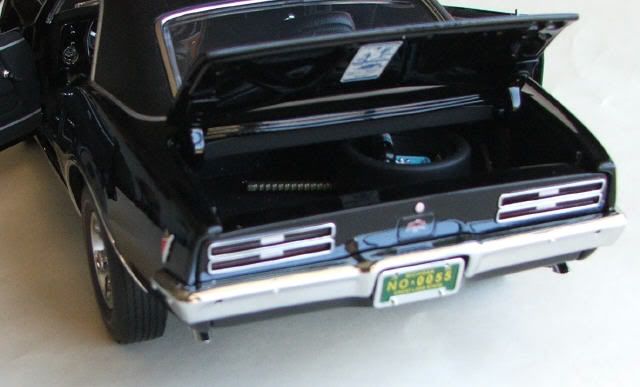 Tires/Wheels:
Wheels are a knock out with just the right shine to the tires giving them that rubber look. Has one red ring on the side wall of tires. Center cap reads PMD in red letters and is a nice touch. Lug nuts and the rest of the rim are successfully replicated with clarity and crispness that you would expect for this price range. I would like side markings and valve stems. Also exoto has show that more effort can be put into tire tread so this also factors in.
Accuracy: 6
Detail: 7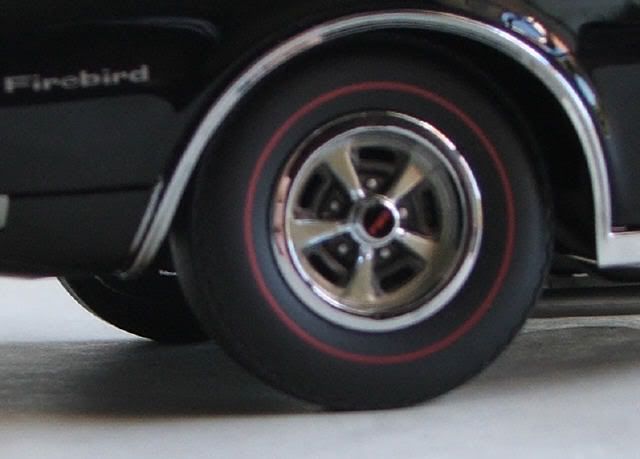 Undercarriage:
From what is seen the paints are used nicely and parts all fit well. The brake lines are a major plus in my book and the engine can be seen. In this department the shiny chrome exhaust tips and their plumbing are a highlight. Some paint lines are not as clean cut, for example the gas tank straps but there is not much that takes away from this stunning piece. However I still think that Lane could have added more to this department but not much.
Accuracy: 8
Detail: 7
Accuracy: 7.625
Detail:8
Total Score:7.8
Summary:
This model is striking far away and up close. Its main weapons of detail are the messy wired engine bay with loads of detail, the top notch chrome work, seatbelts, interior dash, headliner, detailed hinges, 3-D Pontiac badges, and soft tires. There could be more but those are the main points.
Misc Notes:
Released: 2005
Approx Price Range: $85-100
Subject Matter: American Muscle
Packaging: Excellent, box has pictures of the model not the real car which is an extra step in my opinion and there is also history to read up on for this particular car. Comes with two antennas and a certificate of authenticity. Car itself is nicely packaged in tissues and doesn't jostle around.
Craftmanship: All components are well made and assembled. Hood, doors, and trunk all open easily and the model is sturdy. Nothing major went wrong so far.
Review added to the DX Model Review Database on 23-SEPT-2005