Discussion Starter
·
#1
·
My friend Mark, (StJoeKid) got me this model as a birthday present, and it is a pretty sweet model. The two drawbacks is it has an engine insert versus a real engine, and although the trunk lid opens, there really isn't much in there that your going to want to look at. It's my own opinion that any muscle car fan needs this unique model in their collection.
The Talladega was a one year only model based on the Torino/Fairlane platform. It was a product of the late 60's/early 70's so called "Aerowars" which saw Ford and Mopar come out with some pretty wild cars built strictly to race NASCAR and have a wind cheating advantage. The Talladega had a Mercury twin called the Cyclone Spoiler II. The differences between the base Torino and the Talladega was mainly the extended droop-snout front sheet metal and re-rolled rocker panels that, by NASCAR rules allowed the car to sit an inch lower to the ground.
Because of the insert, I didn't do any wiring or plumbing to this car, just detail painting, decals and Al's spray-on suede for the carpeting. . .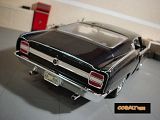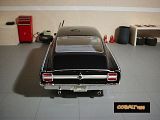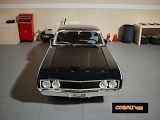 The entire album can be viewed here:
1969 Talladega