I promised myself I would put up a review of this model asap. In this case since its a Minichamps I evaluated every aspect of this model. Uncovering every angle and possible detail I learned a few things about the car along the way. In this case I did compare the model to 1:1 reference photos to give this review a closer look. I hope you enjoy this is a stunning model. :cheers
Brakes
:
Calipers are painted in a bold yellow and Porsche is spelled out all over them so that adds to accuracy. They are also molded well on both sides. Rotors are not drilled through but do spin feely of the caliper. Rotors on this model are not as accurate as the 1:1 due to color and detail.
Accuacy
: 7
Detail
: 7.5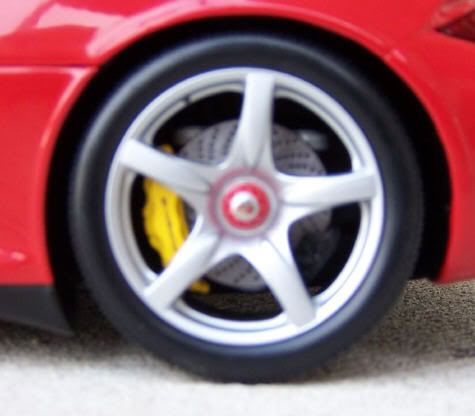 Engine
:
In order to open the rear engine bonnet Minichamps made it interesting. You have to pull up the rear spoiler to make the lid pop up then push the wing down and presto. Upon arrival of the engine detail you are greeted with the carbon fiber braces/supports. Engine covers feature high quality Porsche 3-D letters in chrome. Plenty of detail to go around underneath the upper part of the engine bay. A suprise that caught me was the working rear suspension. Everything is articulated just like the real car would be like. As a consequence the shocks are made up of several well painted parts. Exhaust pipes are high quality chrome and lead to the rear just as they should. Another nice goodie is the photo-etched oil cap on the center in front of everything. Another part where your money goes to are the shiny metal bonnet hinges which are modeled to look gas charged. A high point in quality are the clean seemless lines on the inside of the metal vents covering the motor. There was quite a bit of effort put into this department, air filter kidneys are even accurate to the 1:1. Points for accuracy are added for items such as the small blue star shaped fluid cap straight ahead in the center towards the cabin and fluid cap to the left of that, but deducted for lack of a couple of hoses. Nice touches also include the rear bonnet being sturdy and clicks into place.
Accuacy
:8
Detail
: 8.5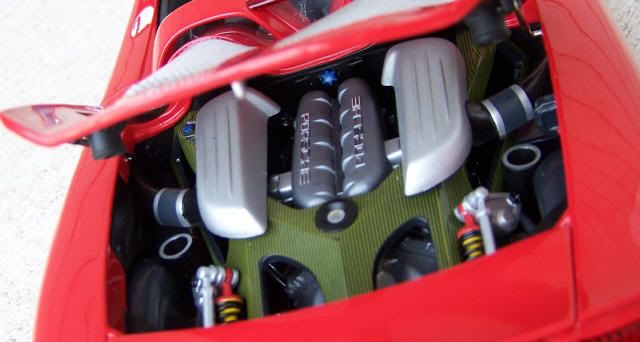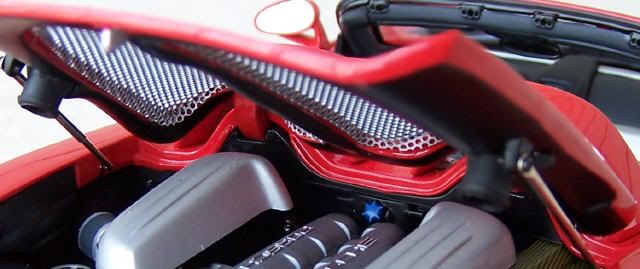 Exterior
:
Headlights are of multiple pieces are of a good effort. Points for the lines in the lens and headlight wiper jets (now that's a Euro touch if I ever saw one). The entire mold of the model looks spot on and proportionate. The fenders just past the front tires are see through like the 1:1. Windshield wiper is a few steps ahead of average. Windshield is sturdy and clear. Everything fits well together. Where the windshield meets the front bonnet you can see small vents painted in black. Front grill has non-preforated vents on the left and right side but Minichamps did well on the center. Front Porsche badge is P/E. Front side turn signals are realistic. They even threw in the detail for the front tow hook cap(which can only be seen close up). Front and rear fenders before the tires are painted in black and front bumper sports a small set of C/F pieces of trim. Panel gaps are what you would expect for this range of model and all body panels including side mirrors are made of metal. Im sort of disappointed with the side vents just past the doors as they are not preforated but are detailed quite nicely. However the small vents on the rear bonnet cover work and have proper tubing leading to the motor all underneath. Door handles are only molded and no key hole. Gas cap molding is a disapointment if your really looking for it and so are two lines for the front bumper. Moving towards the rear the third brake light on the wing is only molded in and has almost no detail. However the light between and behind the seats isn't too bad as it is colored transparent red. Rear wing looks and fits well into place. Just past the wing there is a small metal mesh vent and really adds to the visual appeal of the car. P/E makes another apprearance as the Carrera GT wording with clear plastic protective covering. Tail lights are somewhat of a disappointment since the mold is not too detailed. However no connecting pins are present. Exhaust is painted in black and should have a bit more silver as in the real car. Tops fit well and can be easily installed once the pins are properly aligned. One last thing the roll bars look accurate which is good. Im confused on whether or not this car is supposed to have front turn signals on the bumper so that is not factored.
Accuacy
: 7.5
Detail
: 8
(Must put many pictures to give this model full justice)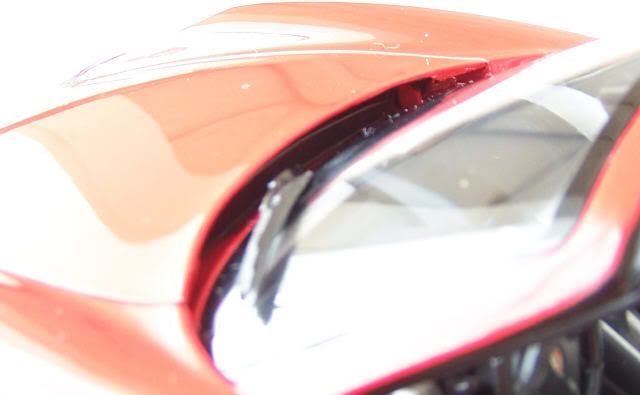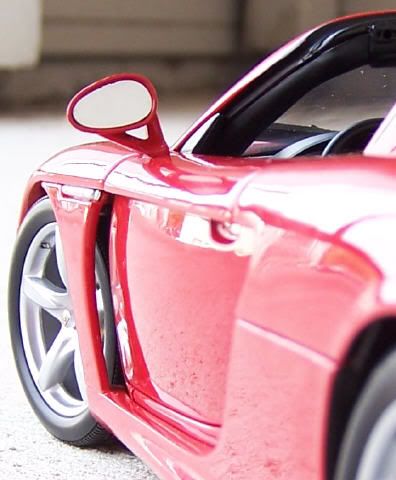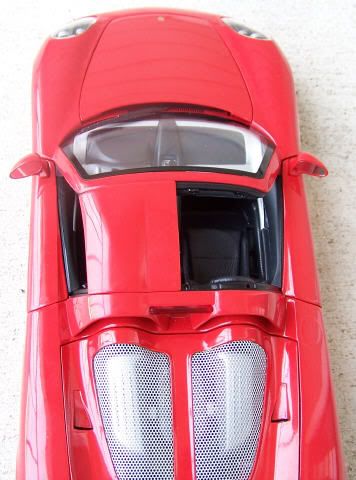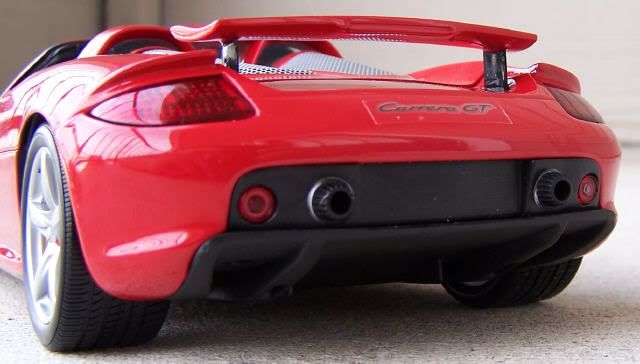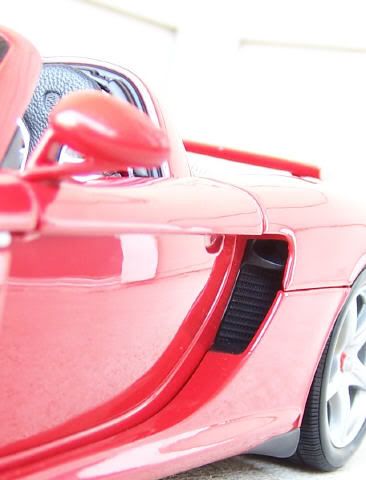 Interior
:
Not a bad place to spend to much time driving for the owner. Leather seats are suprisingly well executed with straight seem lines and detailed head restP badge stamped into place. Mid to lower side bolsters are made of plastic but blend in well. Seat belts are fabric with detailed clips at this price range thats a must. Steering wheel is solid and turns wheels effectively. Paint and molding on dash and center console are above average but not by much. One part that I like is the drivers instrumentation cover since it is painted well and molded to look real. The molded in steering wheel grip are an extra detail that is not too commonly seen. There are numerous markings on the interior that add detail and the shifter leaves a bit to desire. Foot rest, pedals and floor carbon fiber paneling are a nice touch along with molded in passenger storage and driver side e-brake. Just behind the seats you see the same grey quilt design that is used for the front trunk. Door hinges are amazing as there is an arm that extends to close the door just like a real car. This little door hinge is also sturdy. Even after being impressed with this new hinge apporach Minichamps packed even more detail on the doors by putting detailed vents painted in black and door latch detail in silver that can only been seen with the door open. Even the under side of the two piece targa tops are detailed with that same grey quilt look and carbon fiber trim. Interior also has simple yet realistic rear view mirror with interesting gauge cluster. P/E also makes another guest appearance on the center of the steering wheel as a detailed P badge. Front trunk has some detail and is accurate however hood hinges are not the best. This interior can be lacking to most demanding collector but can be a treat in most aspects.
Accuacy
: 8
Detail
: 8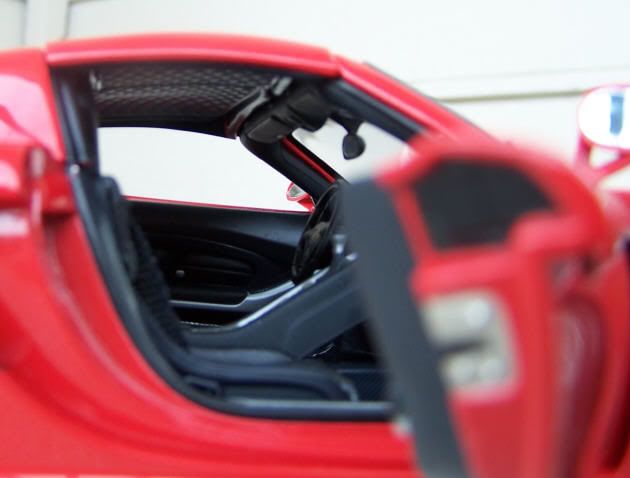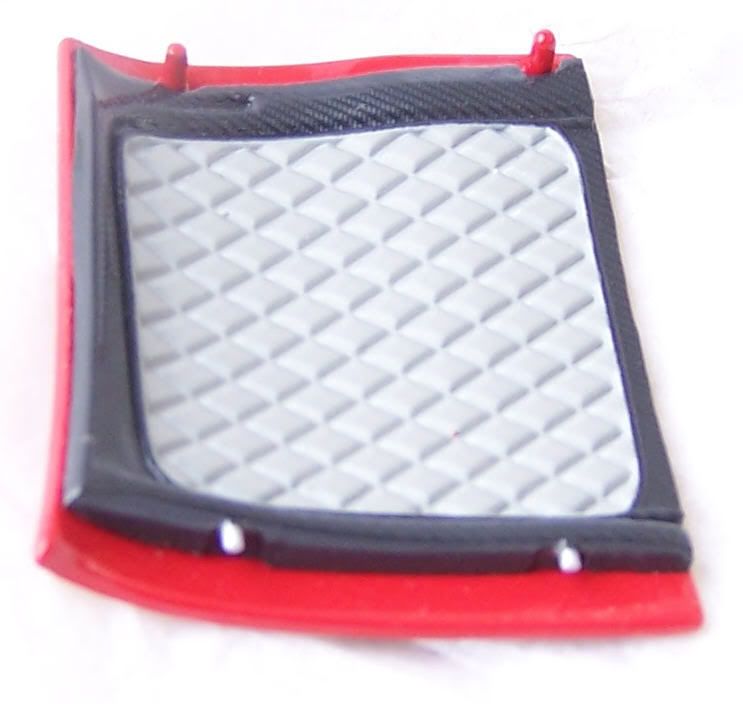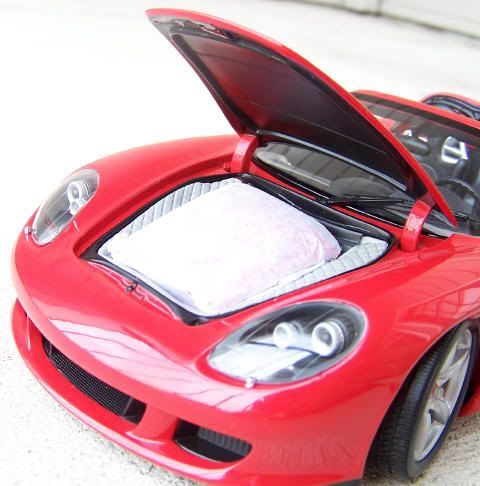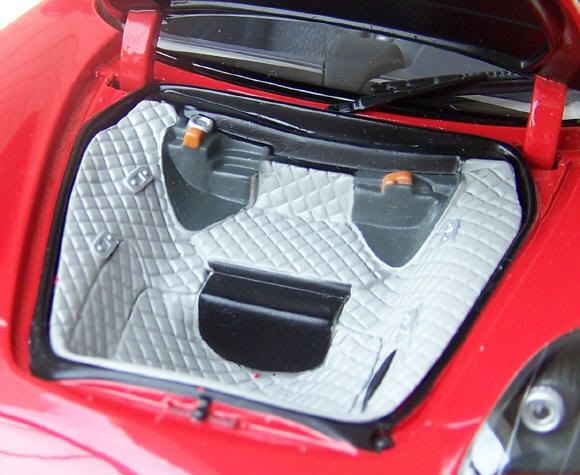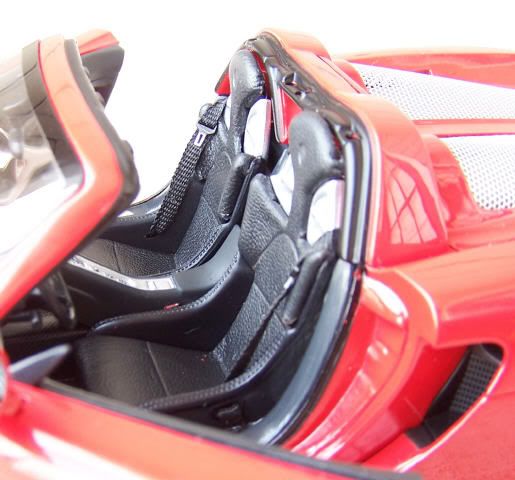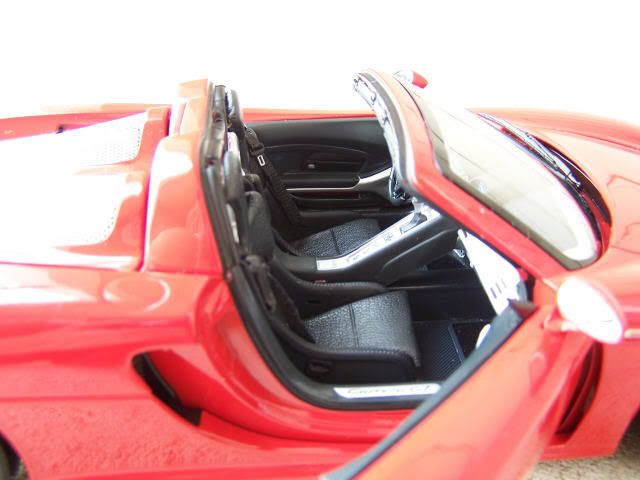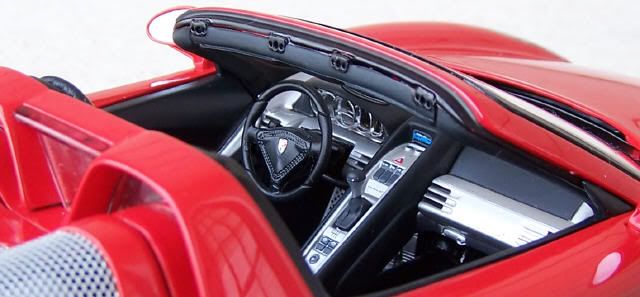 Paint
:
Suprised, pleased, and satisfied. This is what went through my mind when I first held this model. The paint is gorgeous. There are few minor flaws but not enough to truely detract from the rest of the model. The color used is convincing. The shine and consistency are what make this model win points.
Accuacy
: 9
Detail
: 9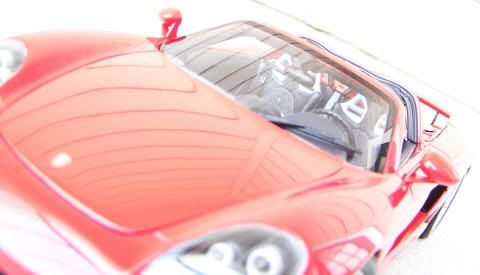 Tampo/Decals
:
Other than small detailed lettering there are none to rate. This part executed well.
Accuacy
: 9
Detail
: 9
Tires/Wheels
:
Wheels look in proportion. There is staggered width. One thing that is not as fun are the lack of tire markings and the shine on the tires themselves. There are however P/E center caps and they are painted accordingly (red/blue). Valve stems add an extra touch of detail and are in black. Also from what I see the tread pattern is accurate to 1:1.
Accuacy
: 7.5
Detail
: 8.5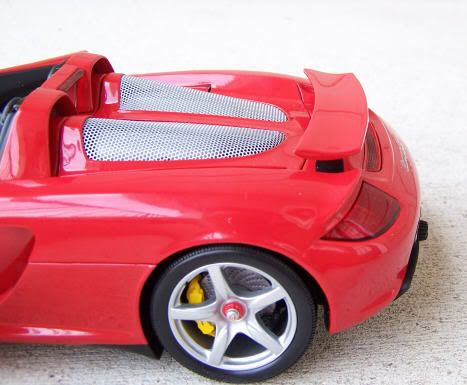 Undercarriage
:
Detail consists of C/F pattern and molded in lines simulating panels. There is a small buttom on the front that wil release the front bonnet. The rear has the more intricacies with silver suspension pieces and aerodynamic body work.
Accuacy
: 7
Detail
: 7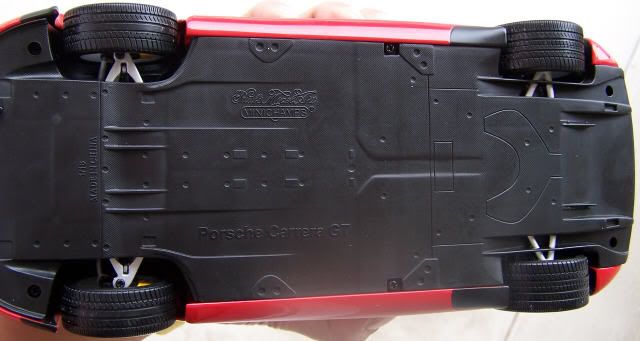 Total Accuacy: 7.875
Total Detail: 8.188
Overall Score: 8.031
Overall
:
A great model in terms of progress, accuracy, and detail. There are P/E parts that make the experience great. Leather doesn't hurt either. With this model you at least get the basics covered for what you would expect and then some suprises. The metal roof panels are nice instead of plastic. Paint work is awesome so say the least. The whole car really comes to life when you see it in person. Honestly I got the model because of the leather seats, the color and the fact that it is a Minichamps. I was quite suprised that I would end up with this model. True I was disappointed with its detail when I first saw its pictures but now that I have one its a whole new story. Definately worth the time and money.
Notes of mention but not scored
:
Year produced
: 2005
Price(budget/premium)
: $100-130
Subject matter
: Contemporary Exotic
Packaging
: Small yet effective box with many pictures of the model and the 1:1 for reference. Comes packaged well.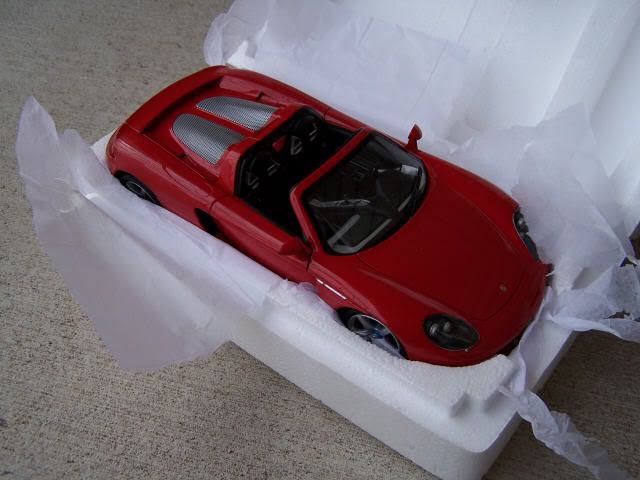 Craftsmanship and Quality
:
Impressive considering this is my second Minichamps. The model feels heavy which is nice and the entire thing oozes of quality in a model. Every corner is tucked in well and the model provides an array of different details for everyone to enjoy. Im suprised at how well the windshield and body parts come together to make the model even more realistic.
Review added to the DX Model Review Database on 13-OCT-2005