A little about the actual car...
Driven by:
Bernd Schneider (D)/Klaus Ludwig (D)/Mark Webber (AUS)
Result:
did not finish (Engine) - 19 laps
This car was a major attraction at the 1998 Le Mans because it marked the return of the works Mercedes-Benz team after a 7 year absence. This car was developed in utmost secrecy, tested on the Homestead circuit near Miami. In spite of MB's high hopes for its two CLK LMs (#35 and 36) entered into the race, both cars retired prematurely as a result of engine failure.
(all pictures can be clicked for 800x530, ~100-125kb)
The CLK LM was powered by a 90deg. 6-litre V8 engine. It was smaller, lighter and more economical than the V12 used in the CLK GTRs entered in the FIA Championship. The LM designed by Gerhardt Ungar has a sequential 6-speed gearbox with a double-change system, either on the steering wheel as in F1 or by the classic lever on the floor. It was also equipped with traction control and ABS.
A little about the model...
Autoart's 1:18 model of the car is truly a beauty. For anyone who is a fan of endurance race cars, this one is a must-have. I actually started my diecast collecting with a few Maisto CLK GTRs. For me, moving to Autoart's versions was a natural step forward.
I found this #35 in a Mint-In-Box state which was awesome. :happy It came with the original straps and wire intact. As this car is no longer in production, it has become quite hard to find.
As you can see in the picture above, the engine is detailed reasonably well. The cowl removes very easily, which is a bonus compared to the blue Autoart Original Teile car whose engine cowl is horribly difficult to remove.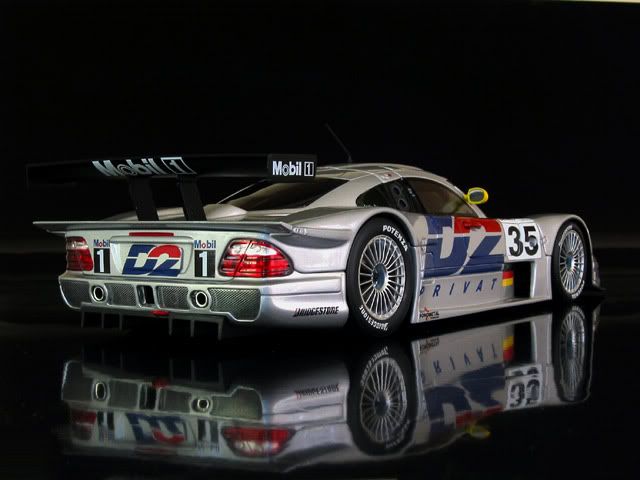 Tampo prints were used on the car so there's no fear of peeling/crackling decals as in the case of the AUTOart Original-Teile FIA GT cars. The front grill is top-notch given it is actually perforated. The wheels and brakes are well-made. They seem to be a trademark quality-feature among many Autoart cars.