Discussion Starter
·
#1
·
The long awaited MC12 is here and I just got it the other day! Here's a quick review (sorta), because I know one has already been posted.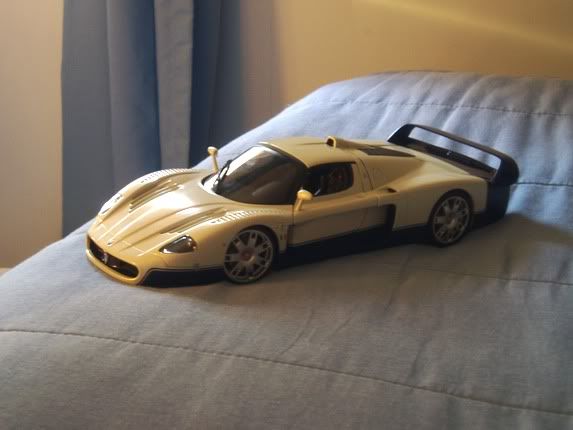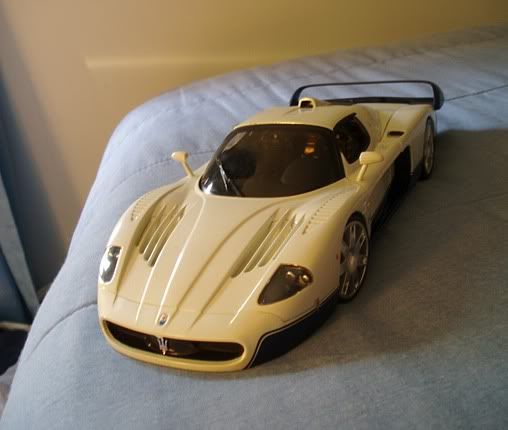 First of all, the packaging is definitely the worst part about this beast. You take it out of the box, and it has 5 screws attaching it to the base. And these aren't the short or average screws, these are pretty long. So it takes some arm work to get one out and do it again 4 times. The worst part for mine was that one of the screws came frayed, so I had to really try to get that thing out. Then, on the back of the underside there are a few veerry small rubber wires holding the engine shut and they are impossible to cut, so you have to wedge something like a pencil under them and then cut the area thats in air. It took me about 20 minutes to get this thing off the base and get all the wires and plastic fasteners off! :ranting
Anyway, the paint will strike you as beautiful if you look at it under the light. It's very neatly applied, no smudges at all on mine, very glossy and sparkly.
Something that will hit you immediately is the size. It is about as long as the Ricko Cadillac Sixteen. I was expecting a huge model so I wasn't surprised, but look at this comparison with the Hot Wheels Enzo: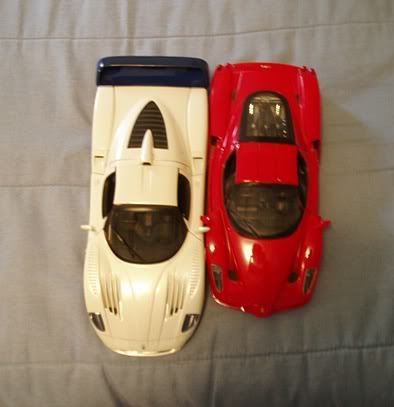 :scared
And here with the Ricko Cadillac Sixteen, which is known for being absolutely huge: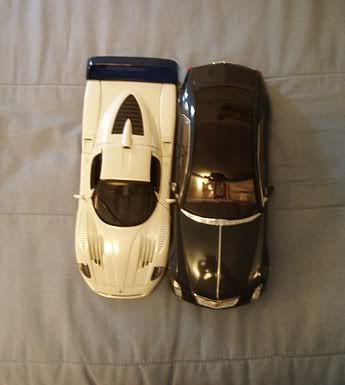 :WTF But after all, it is a very long car. I give them credit with matching the size. Plus, the interior features are the same size as the Enzo, so this is probably pretty close to the real proportions.
Wheels and tires have already been talked about a lot. Yes, they are very big, but still they look pretty nice. I prefer them over small wheels. The brakes are DEFINITELY Hot Wheels's best brake job ever. Calipers with the Maserati logo which stay in place as the rotors (which are OK in detail, not the best but definitely not the worst) spin freely. The wheels, even though very big, are very highly detailed as well. Like the Maisto Porsche Carrera GT production version, one has the center of the brakes painted red with a logo and one side has the center painted blue. A very nice touch.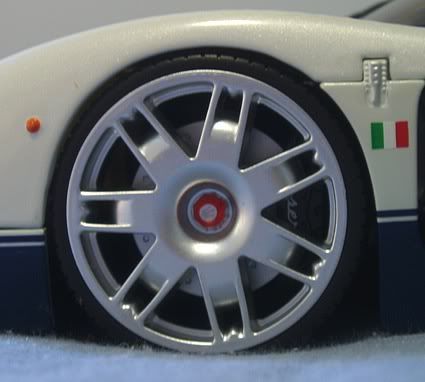 The interior (no pics, sorry) is pretty much the same as the interior for the Enzo, except here it is mostly dark blue, which is nice instead of a typical all-black interior. Expect similar to the Enzo. I couldn't get any pics because my camera is terrible with very close range shots.
Engine is also very good, also similar to that on the Enzo. Chromey, with Maserati logos, good colors and very accurate detail. Really spectacular for a Hot Wheels: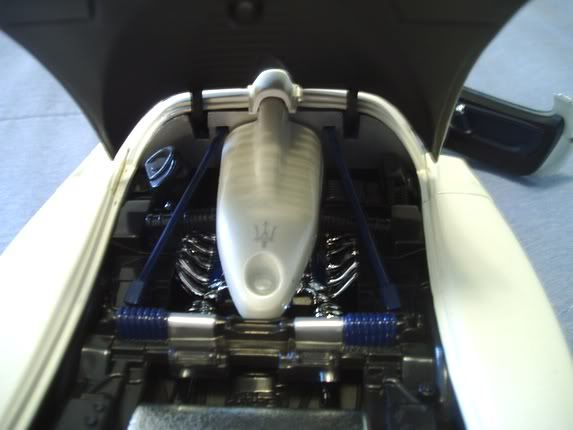 Proportions is one of the best categories here! It seriously looks absolutely spot on in every area. I can't remember the last time I had a vehicle like that! It's just gorgeous. Very low to the ground. Only proportion issue I think would be the wheels, a tad bit big in the front.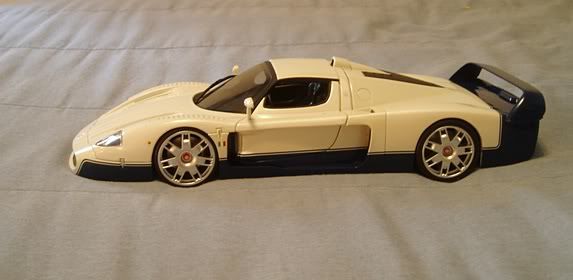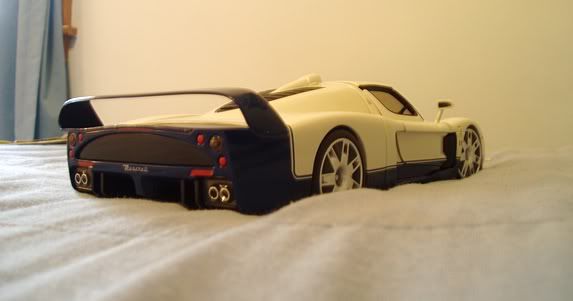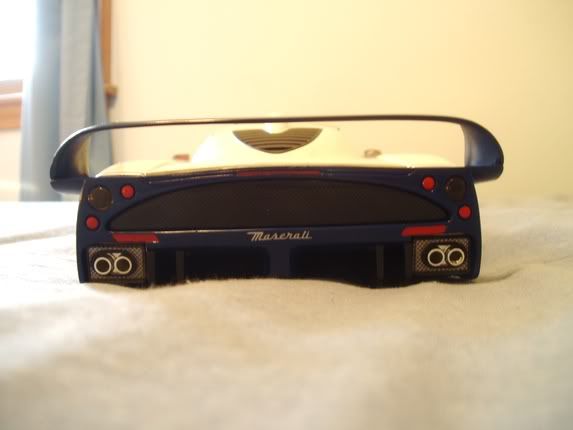 Exhaust looks wonderful!
As far as detailing goes, it's just phenomenal. I swear, at a very close look the fine detailing rivals that of an average quality AutoArt. There are some very very small parts that are painted well, Maserati logos all around, just take a few minutes to examine all the little details closely and you won't believe it's a HotWheels model! :happy There are even little barely see-through plastic parts that have carbon fibre weave on them, for instance in the air vent behind the front wheels. I didn't know Hot Wheels was capable of something like this! They are also in a few other places, such as bordering the exhaust, which you can see in the pictures above.
Overall: This is a STUNNING model, especially for Hot Wheels's standards. This is, without question, the most high quality model Hot Wheels has ever made. Even if you think the MC12 is ugly, get this model just to look at the details. You'll swear it's an AutoArt. The only thing that gives away that it's a Hot Wheels is the weight, they use more metals. Just hold it up and look around, it appears to be much more fragile, delicate and of higher detail than any other Hot Wheels I've ever seen. Gorgeous model, definitely my favorite 1:18 that isn't a McLaren.
This is a must have!!!
:yahoo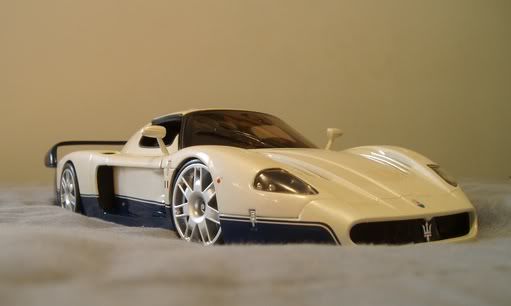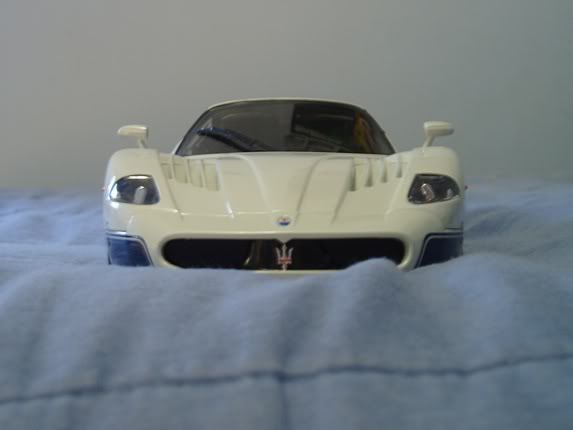 Oh, and NOW who doesn't believe in the theory of evolution? :giggle Take a look: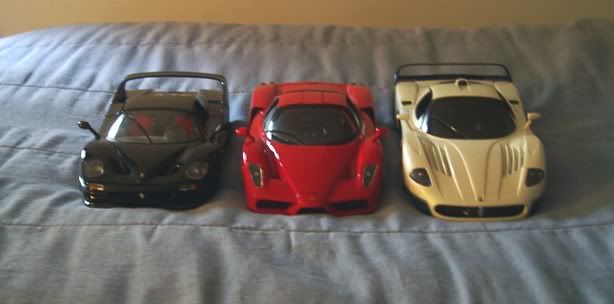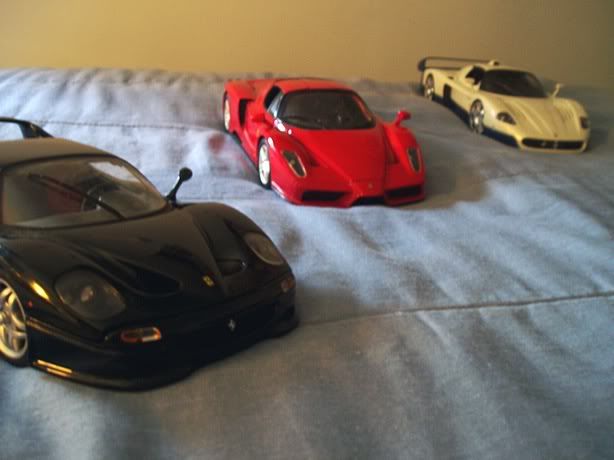 :cheers Hope everyone enjoys the pics and words! :cheers