The famous farmboy from Illinois turned drag racing icon, Arnie 'the Farmer' Beswick created this amazing 'It's not a Funny Car' 1966 GTO styled dragster from fibreglass and aluminium…
Not wishing to remake the wheel (at risk of it turning out square!
) there's a fantastic article on this most amazing machine in 'High Performance Pontiac' online mag
here….
(courtesy of the article) - and one with the great man himself....
Essentially on the surface we have the stock GTO shape, but the front wheels moved forwards slightly……but underneath….well, that's a different story!!
All credit to Highway 61 though for releasing a model that is bound to be more for the enthusiast than the mass market….it would seem more a labour of love than of profit.....
Supplied in a window box, but probably the best secured and protected model I've come across in it's clear formed packing that is possible this side of a styrene clam shell….HWE included, and as you know that's saying something!!
Anyways enough of the tattle, here's the mettle!!
Up front and fearsome!!
....and the tiger's tail.....
..broadside..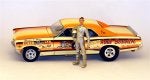 ..now what's under that lid???
....
NOT A LOT!
It's all further back where the driver should be!!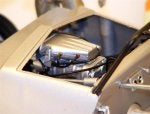 ...and the driver sits where the back seat should be!!
..and in reality I reckon that this is all you'd ever see of the 1:1...
Hope you enjoyed this fantastic model!