For my second review, I wanted to show everybody, in-depth, a piece that is both provocative and unusual. A lot of people on this board, for one reason or another, do not have this piece in their collections. I thought I'd take this opportunity to give every one the experience that is the BBR Enzo.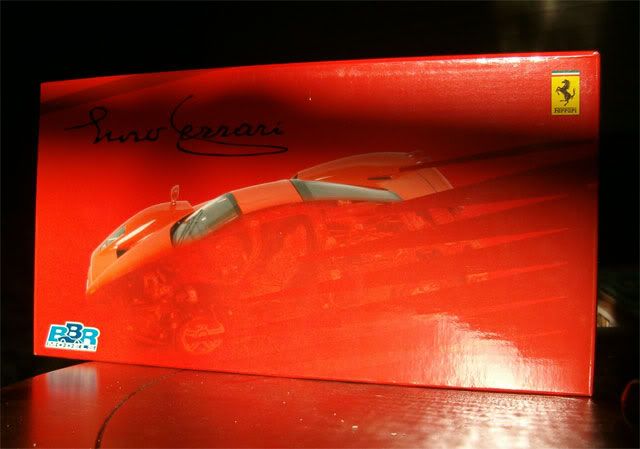 BBR Ferrari Enzo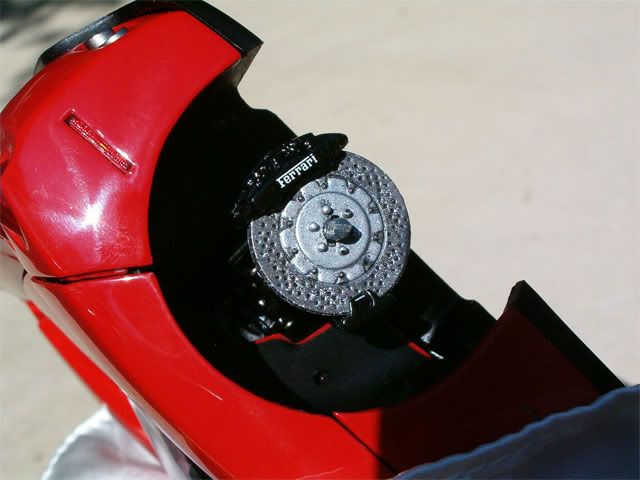 Brakes
After removing the wheels (always a nice thing to be able to do), you are greeted by well detailed brake hardware. Instead of using one flat disk and being done with it, BBR has constructed the brake units with multiple parts - the disks themselves being a sandwich of plates. The calipers are tiny pieces of art. Speaking of art - the discs are heavenly. They very much look the part of composite stopping power. They have a rough, down-to-business, performance-influenced look to them. They're the kind of things you pay the big bucks for. That being said, though, they are not completely drilled through. However, they are drilled deeply and convincingly enough to pull off the desired effect. After all, perception is reality. Despite this minor shortcoming, I am very satisfied.
Accuracy - 9
Detail - 9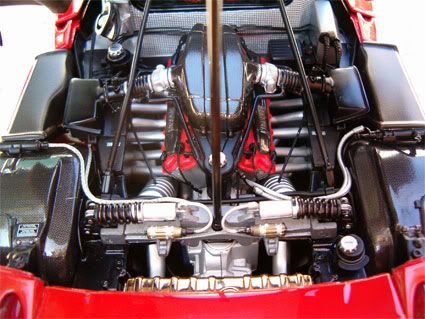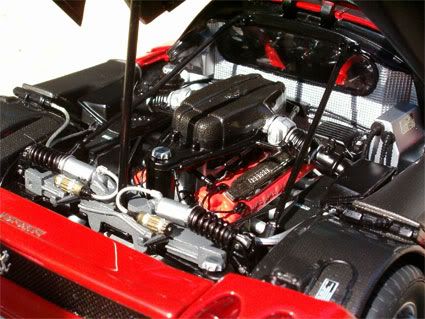 Engine
There is quite a sight awaiting your eyes as you open the metal engine cover. A very nice piece of intricacy and complexity, but not the best I've seen. There seems to be a good amount of hoses and wires going everywhere. They're convincing enough. The metallic heat shielding on the engine firewall is visually stimulating and an obvious concession to detail. The abundance of carbon fiber molding definitely showcases this model's use of mixed media. Speaking of mixed media, if you look in the right spots you'll find braided metal hoses. One thing that I really like is the fine, delicate Ferrari script applied to each of the reservoir caps. Small details like that go a long way. One thing that hurts the engine's score is the over-use of molded plastic pieces. Granted, the molds are detailed and accurate, but metal would be even more realistic, which is what you should get for shelling out 300 clams - realism. Given the fact that the CMC SLR is a third of the BBR's price and possesses an engine largely populated by metal hoses, braided wires, and clamps, I can't help but feel a little ripped-off.
Accuracy - 9
Detail - 9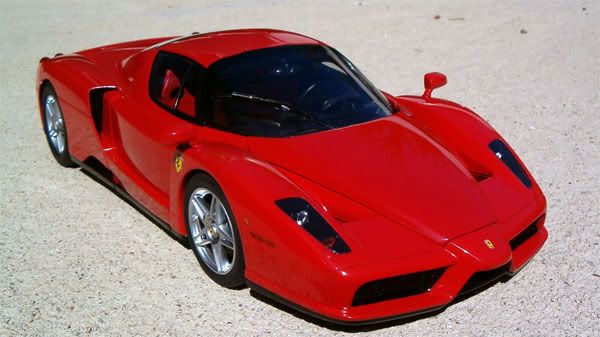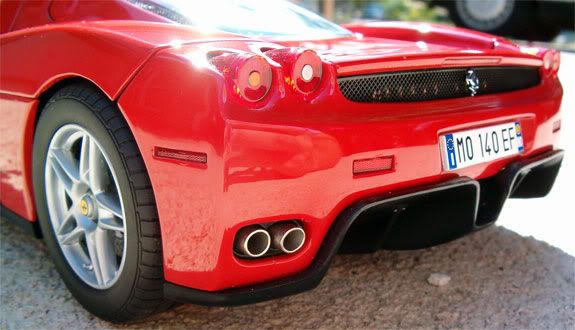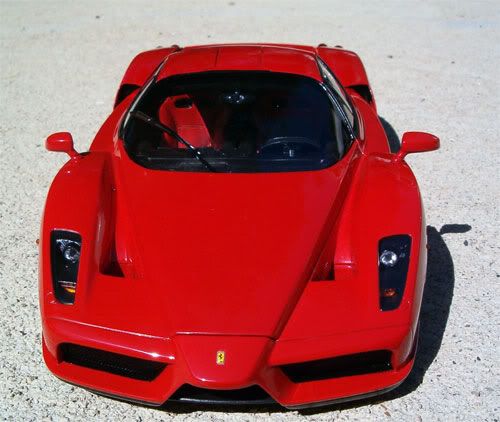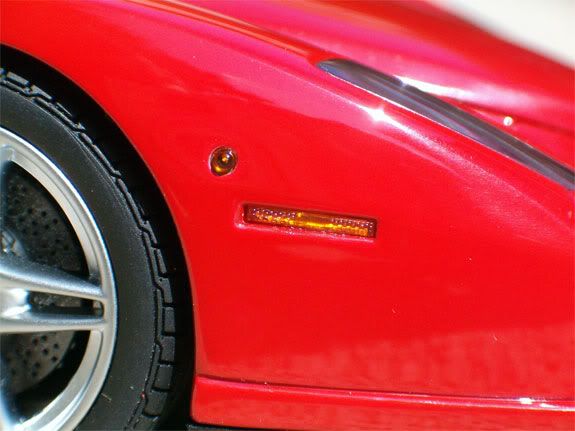 Exterior
Honestly, one look at this model is all it takes to make you realize this is one of those "Must Have" model cars. Rarely have I seen a model that so well emulates the real thing upon first site. This BBR looks exactly right (except for the tires, as you'll soon find out&#8230
. The stance, the lines, the angles - they just WORK. This piece has an almost delicious sense of delicacy to it. It's like holding a fine linen napkin folded into a beautiful rose - the lines are so crisp, the presentation so elegant, that you almost don't want to touch it for fear of dropping it and ruining its wonderful, immaculate geometry. The virtues of the exterior of this BBR just go on and on. The exhaust pipes, for instance, are wonderfully wrought.

The engineers who developed this model apparently took great pains to accurately reproduce the head- and taillights to scale. One inaccuracy I spotted, and only by chance, is that the inner "bulbs" in the tailights are both supposed to be white. Moving on, the side marker lenses on the front fenders are separate plastic plates and bulbs. Even though I paid a princely sum for this piece, I still couldn't help but be surprised by that. Very nice. There is finely woven mesh on the engine cover and in the front air inlets, as well as at the rear fascia and on the engine cover. Nothing gets my heart pumping like nice, delicate mesh screening. All of the air scoops that should be cut through are cut through - and screened with mesh, where appropriate. That should be a foregone conclusion at this price point, but it still needs to be said. To add even further to the list, there is a meticulously replicated windshield wiper. As intricate as it is, I am angry that it doesn't have a rubber wiper blade like the promotion materials said it would. One other nice touch is the fact that even the fuel-filler door opens! Very impressive work. Should you feel the need to protect your BBR Enzo from jealous eyes or the ravages of dust, a custom fit car cover is included, with Cavallino horses in different sizes at front and rear to tell you which way to put it on. I don't know if I'm just that completely amazed or if I'm feeling generous, but I say…
Accuracy - 10
Detail - 10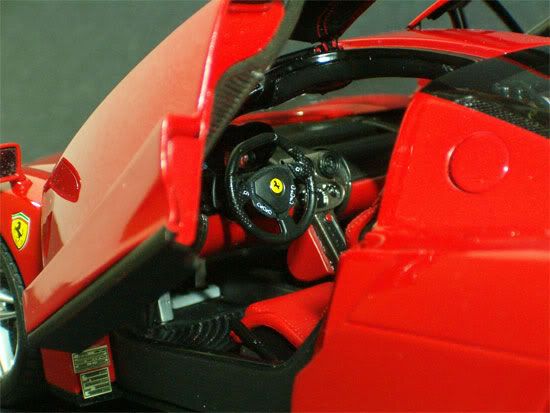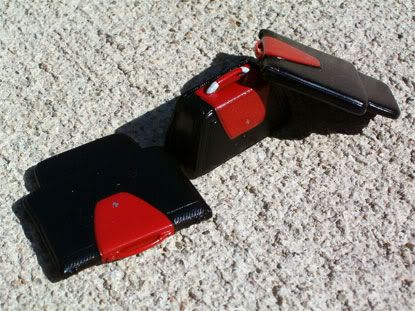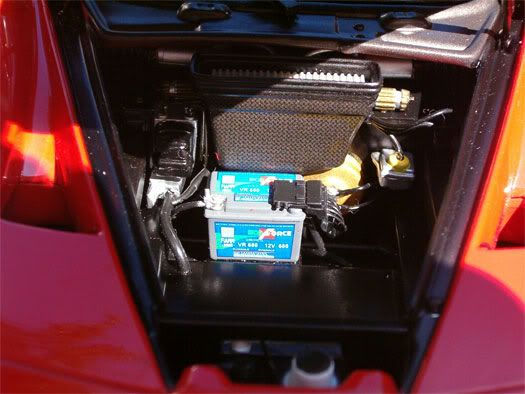 Interior
After coming from the jaw-dropping exterior, I can't help but feel a certain sense of disappointment. That's not to say the interior is something from Amateur Night. By no means is it. The seats are wonderfully detailed in that you can see the replicated stitching around their edges. Different patterns of carbon fiber can be found everywhere. The shift paddles are done justice. The accuracy of the controls was paid much attention. Even the tags on the insides of the door frames are present.

While the interior of the BBR Enzo is a nice place to lay your eyes upon, it leaves a few things to be desired. The seats are not leather, contrary to what the promotional hype claimed. I was SORELY disenchanted after discovering this. The inevitable comparison to the CMC SLR can only be made at this point. CMC used real leather for the seats of that model for only $200, so why couldn't BBR do it for $300? I heard Minichamps had a hand in the development of this Enzo. That raises the question of: If Minichamps can put leather seats in their Carrera GT (which is MUCH less than the BBR), why does the ultra-premium BBR Enzo get stuck with colored plastic? This is just not acceptable. Another thing that caught my critical eye was the lack of the mirror next to the pedal box. As many things as this car has done right, I feel that missing that small detail is a needless mistake.

Running your fingers along the bottom of the car, you'll feel what seems to be a small button. Push it. The front luggage compartment is now ready to be fully opened (on a combination of doglegs and hydraulic struts). Once you do that, you'll spot the red and black Schedoni luggage pieces (in rubber, not leather.) After you remove the luxuriously flocked luggage tray, you'll see perhaps one of my favorite features of this model - the battery, as well as wires routed all the way from the engine. I have never seen a battery replicated so finely. The terminal clamps look so real, I'm afraid if I pushed on them with my finger too hard, they'd puncture my skin. This is one of those rare times when you see a part of a model car that looks like it could only have been zapped with a shrink-ray to 1:18th of its original size. To the sides of this little hideaway of detail, you'll see the Enzo's "nostrils." Nostrils are never an attractive part of any creature, flesh and bone OR diecast, unless these nostrils showcase three-piece engine fans. WOW! Such a nice touch. They honestly could have gotten away with much less here. Overall, a good job, but $300 should buy the best job.
Accuracy - 9
Detail - 8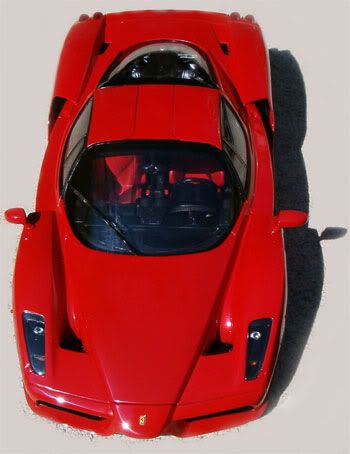 Paint
Absolutely delicious! The paint is so luscious I almost feel like I can squeeze the body panels like a ripe tomato. It's very smooth and glossy - a real treat for the eyes. Red is the one color known to excite the human mind just by the sight of it. This model proves why.
Accuracy - 10
Detail -10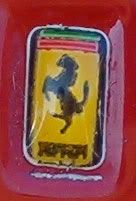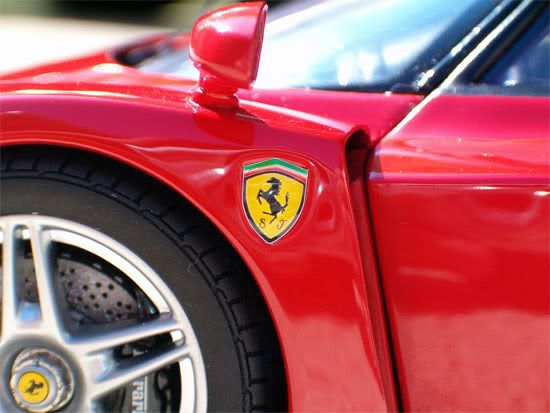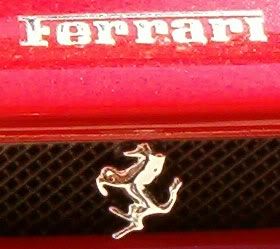 Tampos/Decals
One area where this model excels is the badges. All of the Cavallino horse badges are thick, luxurious, separate 3-D pieces. These alone put this model on a whole new level. To go with the fantastic badges, the "Ferrari" on the rear of the car is metal script. And, of course, the chrome horse at the rear of the car is photo-etched decadence, though I wish a little more effort was put into the mane of the horse. It almost comes across as kind of a sloppy chrome blob. It could use a little more definition. In the end, these really add a lot to this piece.
Accuracy - 10
Detail - 10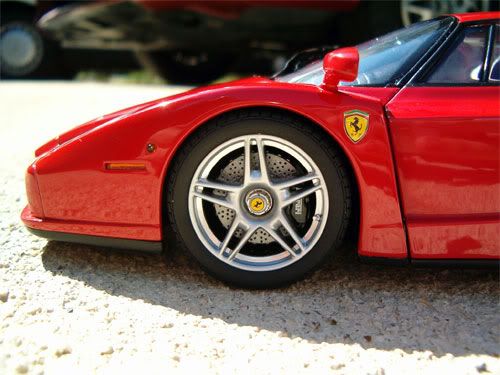 Tires/Wheels
The only way I can describe this area of the BBR Enzo is: EXCITING! Just looking at the wheels on this puppy gets my blood pumping because they are an exact match to the wheels on the 1:1. They look as if they're hewn from metal. I would say they should be at this price point, since after all, the wheels on the CMC SLR are actual metal pieces, but it's really not a big deal to me. As long as they're accurate - which these definitely are. In comparison to the Hot Wheels, the rims on the BBR were crafted by surgical lasers, whereas those of the Hot Wheels look as if they were formed by dragging a dowel rod through damp clay. These rims have a lightweight, jewelry-like aspect about them. The fact that they can be removed with a specialized miniature wrench only heightens the experience, bringing it on par with dealing with an Exoto. The tires are staggered width, front to rear, as they should be, but are unbranded. This is a huge "No-No." I can stand unbranded tires when it comes to AUTOarts and Kyoshos (barely), but unbranded tires on a stratospherically priced, officially licensed Ferrari product is a monumental kill-joy. To make it worse, the rear-tire profile is almost comically thick. It looks like the model was carving up a country road in Europe, blew its two rear tires, and went to a nearby shop that only had two truck tires to replace them. (What is it with $200 plus models and the wrong wheel or tire sizes? Even the venerable CMC SLR can't escape this criticism.) And finally, the rubber used to replicate the tires is not entirely convincing (GMP seems to have the market cornered when it comes to soft, ultra-realistic tires.) All in all, though, the wheels and tires make for a good package.
Accuracy - 8
Detail - 9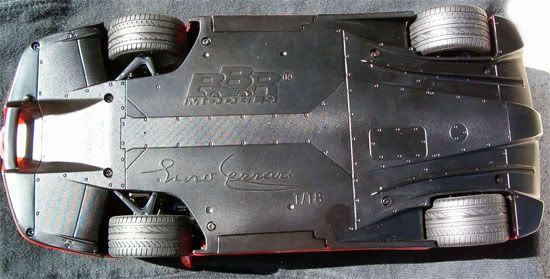 Undercarriage
Not much to see under here, but what you do see looks right. In the name of aerodynamics, there is an entire landscape of underbody diffusers and air-routing grooves. One little visual treat is the visibility of the suspension hardware.
Accuracy - 9
Detail - 9
OVERALL:
Accuracy - 9.25
Detail - 9.25
Combined - 9.25
***A very nice piece to have in any collection. This is the first high-end, modern Ferrari model that gives people hope after years of enduring the detail-choking grip of Mattel. If any car deserves expert attention to detail and craftsmanship, it is a Ferrari. Even more so, a Ferrari supercar. That supercar of the 2000s, the Enzo, has been done justice by BBR.

Perhaps a lot of the flaws I mentioned are due to BBR being new to the 1:18 market. I hope so. We'll see if the quality improves with the up-coming BBR Ferrari F430. This Enzo is definitely not worth $300, but should definitely be scooped up at the lower 200s.
Notes of Mention:
2005
Limited to 10,000 pieces world-wide
Ultra-premium
Contemporary exotic/European supercar
Tissue paper and custom-fit Styrofoam shell packaging
Premium craftsmanship and quality
Review added to the DX Model Review Database on 26-September-2005