Discussion Starter
·
#1
·
I am installing MORE glass shelves and, finally, doors on some of my Billys. I took this pic as they had to come out so I could do the work. I do not keep a list of cars that I own (I tried, but it was futile) and I ended with two of the same. Since my main thread is Mustangs, this is the first Billy that I started on.
I did not know that I had a duplicate until now. Can you spot it?
When I mean duplicate, I mean the same car (brand, year, model...). Like, there are two Bullitts, but one is an Ertl and one is an AUTOart. BTW, the cars on the top left are an AUTOart red '71 Mach 1 and an Ertl 'white '68 GT.
Also, there is about 20 more Mustangs that are not in the pic.
*warning* the pic is large*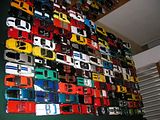 You must name the Make, model and COLOR (and year if you can).