Having seen this car face-to-face at the ALMS race at Mosport International Raceway, I knew I had to eventually add this car to my collection. Being a fan of Canadian racer Ron Fellows, I decided to add this car over the #64 C5-R from 2004 that won at Le Mans. Ron didn't drive that car. So, call me biased. :giggle
This car has 3 drivers listed on it: Ron Fellows/Johnny O'Connell/Max Papis. From the fact (1) it has no windows and (2) has those front "canard wings" (not sure of proper term), I believe AUTOart recreated this C5-R as it was setup for the 12Hr Sebring race. I'm not sure why there were no windows at Sebring, but my first guess is that the temperature was very high. So removing windows would allow for much better ventilation within the cockpit in an otherwise very hot interior. Remember, there's no air conditioning in race cars, only cool-suits for the drivers. The canard wings are for increased downforce. AUTOart's choice to make this version of the #3 is a good one as it won the GTS class at Sebring that year. :happy :happy Comparing this diecast to a
photo
taken at that Sebring race, the major details of the diecast does appear to be quite accurate. (I'll have to take a closer look later on when I have a free moment).
The exterior details appear very well crafted. All the panels and pieces fit together very well. The engine is something to appreciate. This isn't because it looks exceptionally good, but because AUTOart has chosen to make the 2005 C6-R as a sealed model. To me, that's a travesty since they entire line of race C5-Rs are all unsealed. So, it's really a terrible turn of events in my opinion.
(click for 800x530 photos)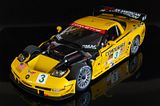 AUTOart's attention to little details are pretty impressive. If you click on the middle photo, look carefully at the colour of the headlights. They are actually yellow. This is as per the requirement that all GTS and GT car headlights be yellow. This helps differentiate them from the faster LMP1 and LMP2 class cars in the evening.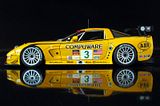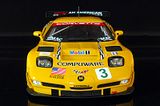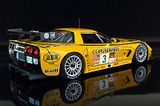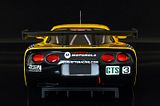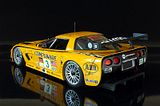 Here are some thumbnails of the car as I saw it at Mosport.
(click for 640x480 photos)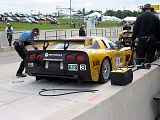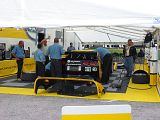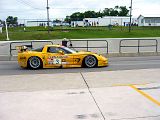 And some photos from the sister car, the #4 driven by Olivier Beretta and Oliver Gavin.