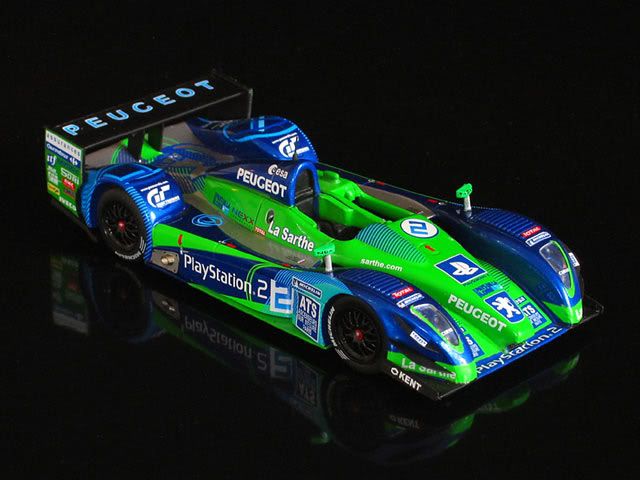 This car and livery stole my heart a long time ago. Failing to get either of the cars that entered into the 24Hr Le Mans in 2003, I found this little gem that raced in the 1000km endurance race that's part of the LMES (Le Mans Endurance Series). It finished 2nd overall.
As the only store I could find selling this car was EWA, I bought it from them. I must give a huge thanks to Jeff (Max Power) since he relayed this car to me. This allowed the car to be a 'reasonably' affordable. He was even so generous as to mail it to me at his own cost. That was his birthday treat to me. Many thanks my friend!!! :cheers :cheers
About the car....
This little gem is made by Spark. It is a limited edition as only 349 pieces were made (see outer sleeve). This diecast is quite unique as it's got a number of autographs on various places of the packaging. First off, there's that of Henri Pesacarolo. He used to be an F1 driver, has competed in the Le Mans numerous times, and entered cars into the Le Mans from 2001 onwards. His signature appears on the clear box cover. Then, there are the autographs of the drivers that appear on the base/plinthe. The one gaffe that Spark made was on one of the names. It claims J.C. Bouchut co-drove the car. It was actually Stephane Sarrazin. I have noticed this isn't the first time Spark has messed up on an important detail of that sort. :confused
Overall, the car itself is made beautifully. The paint is smooth and full of lustre. The wheels and tires are typical Spark, very good quality! This is by far one of my favourite cars made by Spark.
Race
: Le Mans 1000km (LMES)
Driven by
: Stephane Sarrazin (F)/Franck Lagorce (F)/Sébastien Bourdais (F)
Result
: 2nd Place Overall (3 laps behind the winner)
(click for 800x530 photo. Typ. 120kb)