Just came back from KB.I was just looking and I was going to buy the Hot Wheels Ford Focus rally for $12.99 then I saw the Bburago Chrysler Crossfire which I have been waiting to get imported here. I was going to get 2 but I saw this very nice caddy from maisto. All 1/18's were 2 for $20.I got both of these cars for $21.50.
The crossfire isn't bad.Exterior detail is great,interior sucks. When I took the car out the headlight assembly fell off but it was fixable. The wheel is also alittle wobbly. I think they were cars that didn't meet store standards. Some have doors drooping, headlights messed up and scratches all over. I got the best one in my opinion.
The caddy is excellent. I love the blue color.
These are just some quick pics:
Pic 1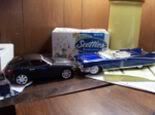 Pic 2-Size difference!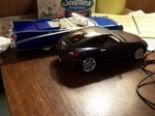 Pic 3-Look at the plate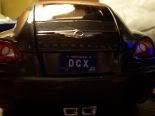 Suprisingly these are only the 3rd and 4th diecast purchases of the year.Comments welcome! :feedback :cheers