I got this model a couple of months ago and didn't even take it out of the box until yesterday. It is by Johnny Lightning and If I recall I gave $19.99 US for it at Wal Mart. If you compare it against a Bburago or Revell Bug, the Johnny Lightning version is so far ahead of them, the other two can't even see it's smoke.
The first thing that stood out to me was the door hinges. It features hinges that are like real VW Bug hinges. Two round ones on the body, two round ones on the door itself, held together with a pin. No dog legs here. The chrome trim is simply raised metal cast in and painted chrome, but it looks good. The VW emblem on the hood is only a tampo, however. The bumpers are very well done, as are the headlights. The paint is very good and I couldn't find any flaws in it, however it would need to be polished out or cleaned as the plastic strips leave some kind of residue behind. Two flaws I noticed in the back. The exhaust tips are too far apart, and I am pretty sure '63 Bugs did not have half-amber tail lights.
The engine is not wired, but it is very detailed with everything else, including the cooling hoses to the "dog house" represented. There is even a relay on top of the generator, as there should be. Sadly, there are no under-bonnet decals. The front compartment has a spare tire. It comes with a hub cap attached, and I took mine off. The spare rim should not be chrome plated. The wheels are nicely done with the VW emblem molded in. The undercarriage is very simple, but on the real thing, there isn't much to see either. The same applies to the interior, very basic, but the VW was a very basic car. If you are looking for a vintage Bug, this model is worth the money.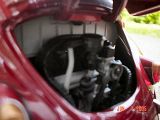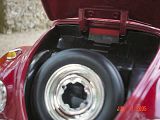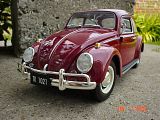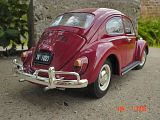 review added to the DX Model Review Database on 16-JUNE-2005