Finally!
JMC Motorsports Presents:
The Ferrari 360 Automology Edition
Focus of the Project-
When I set out to make a customized model the dynamics had to be different this time around. This car is comprised of many facets of automotive technology ranging from showroom to track. This is where I came up with a new word to describe the fusion of such ingredients, "Automology". Instead of making another track racer this model is meant to show possible buyers that they can have many different components and accessories. Similar to the concept behind the Scion except for the wealthy.
Process of the Project-
This project was started almost 6 months ago. Being one that doesn't like to start something and not finish it, this model just began to bother me. It sat on the work bench forever it seemed. For the past two weeks relentless work has been poured into it. Anyone who has disassembled a Hot Wheels knows they can get stubborn at times. The removing the seats almost prevented the project from continuing since they were almost welded on to the floor. Another difficult step was removing the upper and lower side vent plastic. The motor was also not the most compliant. After all of this was sorted out the project was down hill after that!
The following modifications have been made.
1. Carbon fiber engine tub
2. Aftermarket wheels (Thank you again on this one Gian!)
3. Painted underbody in flat black
4. Painted exhaust (Gun metal, Gold, and Chrome)
5. Painted rear engine supports (Aluminum)
6. Engine lightly detailed
7. Removed upper and lower side vents
8. Front grill removed
9. Cross drilled rotors
10. Leather upholstered door panels
11. Leather dashboard
12. Carbon fiber mirrors
13. Leather side trim on steering wheel
14. Leather upholstered seats passenger with luxury saddle trim/driver with sport trim
15. Seat belts in black fabric
16. Fire suppression system
17. Windows
18. Comm. link on steering column
19. XM Radio/Comm. receiver
20. JMC Signurature Gauges
21. Key chain
22. Car sign and stand
23. JMC Custom license plate
24. JMC custom Vinyl's/ Decals
25. Leather luggage bag with leather straps in front trunk
26. Drilled floor pedals
27. JMC cigar box in front trunk
28. Hamman style body kit front and rear in carbon fiber
29. Tow hooks with arrow decals
30. Black luxury carpet (Feels thick and plush to the touch)
31. LCD screen featuring GPS/Wireless internet (for DX) and touch screen engine management gadgets
32. Scratch built seat controllers
33. Scratch built door lock buttons
34. Floor mat on driver's side with Ferrari script
35.Didnt quite make it to 35, Darn.. Maybe next year...
To the pictures which briefly point out a few things in each photo. Note that there are more things to describe so refer to the modifications list if you like.
Enough yapping time for picutures :hot
I hope you enjoy.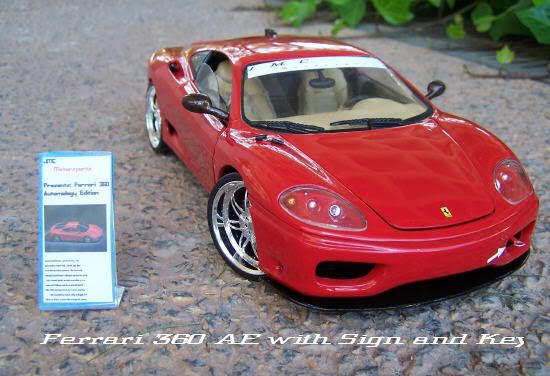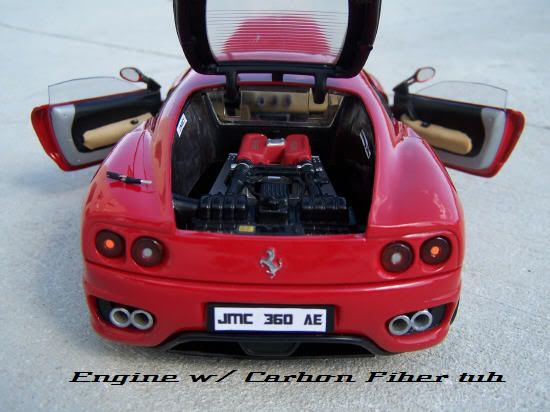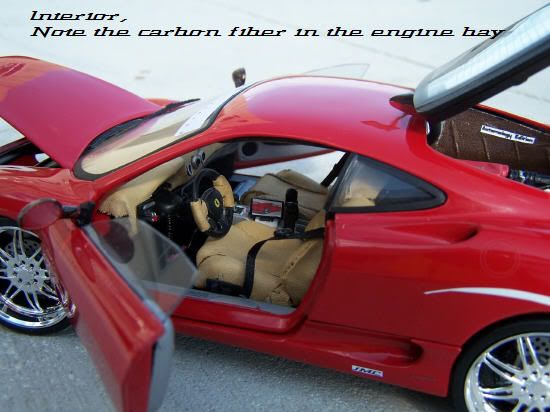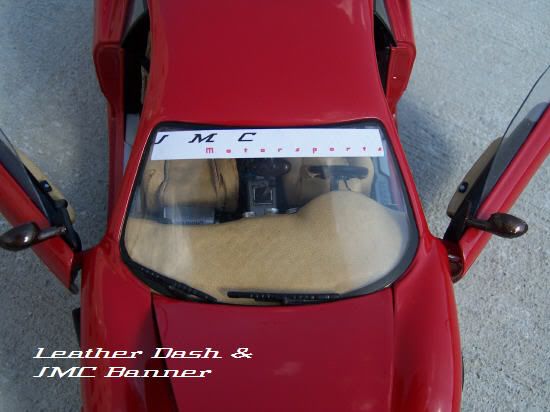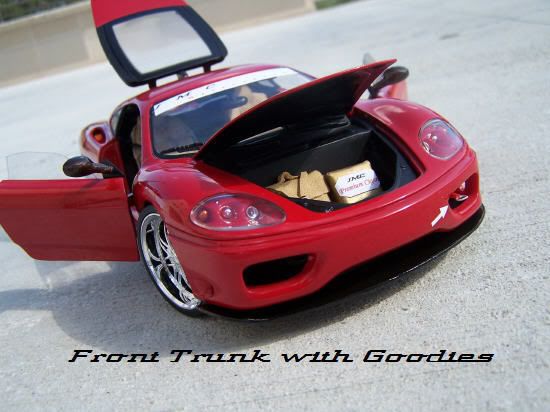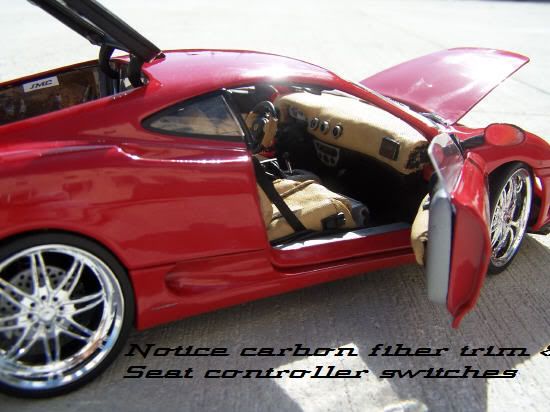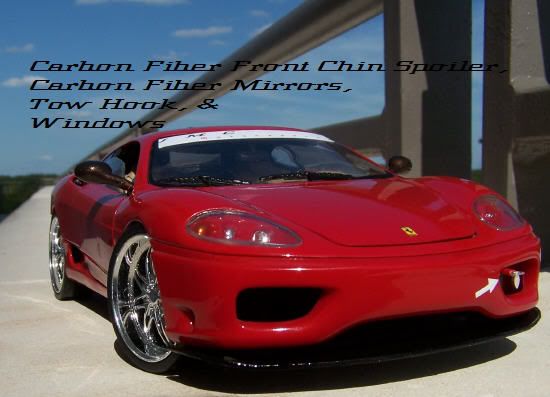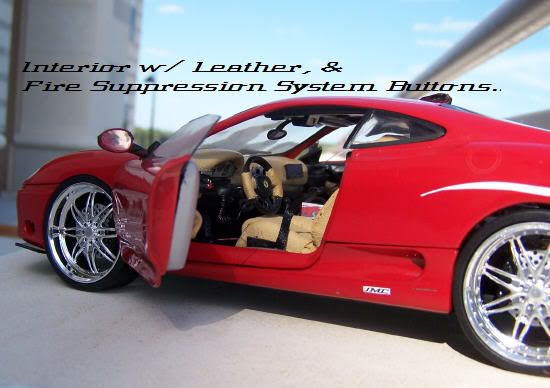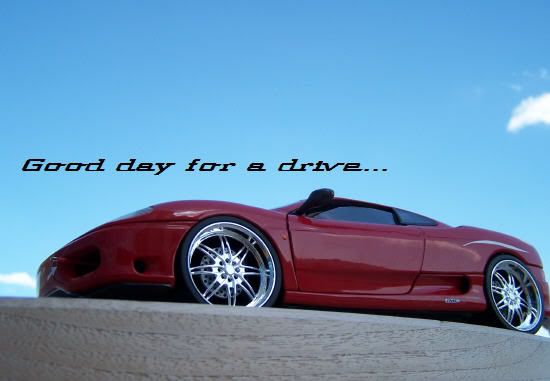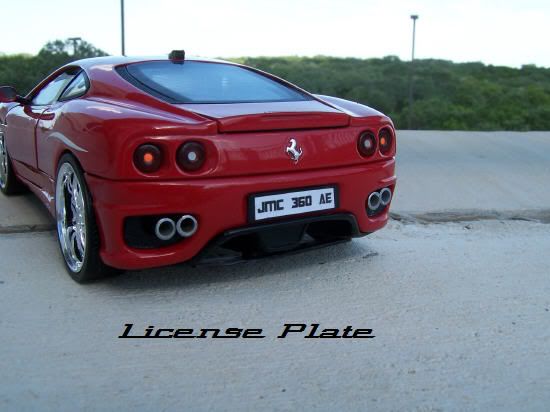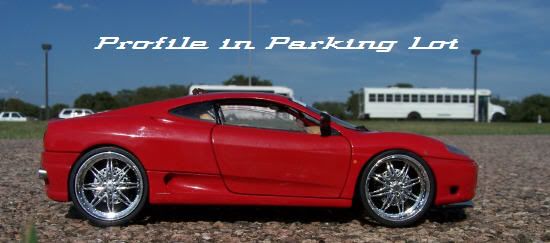 *Note my pictures arent as optimal because they were taken on a friends camera*