So glad to have had a chance to get to know Ken a little bit better.
As most of you know, Ken has a wealth of information and is not shy about sharing it.
I am still only about halfway through the airplanes myself. :wink
Anyone who knows Ken knows how great of a guy he is. I count myself very lucky to consider him a friend

Lets not waste anymore time and get right to it...

DX) You have had such an interesting life, I barely know where to start.
I grew up in the City of Oxford, England - which has over 1,000 years of history (more about that later)
It started when I was very young, I had the usual toys, but my Father, Grandfather and Uncles worked at a local Car Factory (Morris Motors). They were brought up in London during WW2 and of course, they had a lot of tales about the air raids etc, after the War, they moved to Oxford, they would also talk about their work and either make me wooden models or (if they were flush) buy me model cars. So I suppose you could say that I grew up in a 'car' environment. Another of my Uncles was a plane fanatic, when I was considered old enough, he took me to various Airshows (Farnborough and our local RAF base (Abingdon - which is now an Army base) This was in the late 1950s and early 1960s when the British Aviation was in its heyday. I can still remember seeing the Black Arrows, the V Force, Lightnings, Buccaneers, a Vulcan with a Concorde engine 'strapped' underneath, the early VTOL planes (Flying Bedstead) I could go on because the list is endless. In those days the aircraft could fly near the speed of sound in the displays (the noise was incredible, but unforgettable)
DX) Thank goodness for Uncles LOL
My schooling was nothing special, but my History teacher was an incredible woman who would tell us wonderful stories about local and national history, she would bring (it seemed to me) history alive, we used sit spellbound listening to her and believe it or not the whole class used to be disappointed when her lessons ended.
DX) Sounds like she made quite an impact on young Kenneth.
She certainly did, her name was Miss Saw (no one knew her Christian name though)
When I left school at 15 (1964), I was able to get a job in the BMC Film & Photographic Department at the Morris Motors Car Factory at Cowley (I left in 1983), which was next door to a Car Body Manufacturing Plant (Pressed Steel Limited). The MM Factory was demolished in the early 90's, the PS Factory is now BMW Oxford (making a rather popular small car)
DX) I wonder what that might be?
:giggle
So my interest in cars continued and this is where the history side rears its head again, because my place of work had an enormous archive of negatives and photographs dating back to at least 1913!!!. I was always having to search for and print images from those archives. At that time it seemed (to me) incredible that I was handling negatives that were so old but there was always a story behind then, so I used to go to the local library and find out about the history of the images I was coming into contact with.
Because of the cost of cars (in those days) all of my friends and myself used to own motorbikes (we were never scooter riders) and the fact that next door to the factory was a Honda motorcycle dealership, so it was very convenient for servicing etc.
DX) Have you had a lot of Bikes?
I have had at least 10 bikes . My first bike was a 50cc 2 stroke Raleigh Moped capable of an outstanding 25mph (well it seemed fast to a 16 year old used to bicycles), from then on I bought Hondas' gradually increasing from a C50 to a CB750 over a period of 19 years. I stopped Biking the year I got married, took a Car Driving Test (my wife had a child from a previous marriage - 3 on a bike is not practicable!)
DX) What line of work are you in now?
I have been in Car Photography (mainly in the Darkroom side) for the past 41 years, now of course it is all done digitally with computers (because of this I don't own a computer). The firm I work for now does Exhibition Printing and Press Release Printing for several Major Car Companies. Citroen, Mitsubishi, Land Rover and MG Rover (which of course is the Granddaughter of Morris Motors/BMC). So after over 40 years I still have dealings with a 'Company' that I started to work for in 1964!!
DX) sounds like a great job!
It is indeed, because we still work for Auto industry we get to see all the concept drawings etc. You would be very surprised to see some of the designs that don't get further than the drawing board (too expensive to produce) It's usually the most boring design that passes.
I am also involved in printing large format exhibition prints, the largest print (in sections) that I have ever done was 42 metres long by 3 metres high (it was a larger than real life Porsche to wrap round a tennis court)
DX) It must have been fantastic!

DX) When did you make the connection to scale models?
As a youngster I collected the usual Airfix plastic kits (planes, cars, bikes etc) and of course the toy cars (Corgis, Dinkys Matchboxes etc. (If I had kept them they would have been worth a fortune!!!) I really got into collecting models (planes, cars) after I got divorced - my Ex. could never understand my hobby.
DX) Most wives have a problem understanding
Tell me about it!!!
My first love was and still is 1:43 cars closely followed by 1:100 aircraft, mainly because of availability and the ease of being able to display the collection in a relatively small space. The cars and planes I've collected are mostly part-works (these included magazines explaining the history behind the models), OOPS, I've just given away the secret of where I get most of my 'potted histories' from. I was given an (1:18 AUTOart) Aston Martin DB5 Goldfinger one Christmas by my parents, that started me into collecting the larger scale (the exact reverse of Felix - aka StygianMax)
I don't seem to have a collection theme, I just buy models that interest me (buses included)
DX) Tell us more about your diecast collection.
Well, I know my diecast collection is not very big, but like everybody else, space and available money dictates is size. The biggest portion of my collection is 1:43s mostly Saloons with a smattering of Rally cars, no trucks though. I try to collect English vehicles (but then I'm biased). I have a lot of 1:100 Planes (again ones that interest me) I only have 1 bus, you all know what that is, but I'm going to collect another 2 in the series of 7 that will be released in this coming year. I fell in love with this bus because of its sheer size (13 inches long), it's certainly the most impressive and best detailed model in my collection, everybody passes comments about it. I don't think I will be collecting the 1:76 buses that are available (because of my display space constriction)
DX) Lets talk about your "Potted Histories" The volume of material and information you provide for us is amazing! You really have a talent for research and another for getting it from your mind to the keyboard.
Thank you. You're making me blush.
My potted histories come from my love of learning about history at school, I'm always looking for the background information to what ever model I have or want to get. I have so many books I'm sure I could fill a library! I must confess that my idea of relaxing is reading a good book (fact not fiction)
Also I find the web to be an amazing source of information, it is a great shame that it has got such a bad reputation. To me, the web is the worlds biggest library - you just need to know where to look
DX) Tell us about your coming to DX, were you active on other online forums before?
In the dim and distant past, at work, I was surfing the net and found Ronan's website which fascinated me and from there (if my ageing memory serves me right I stumbled across DX, logged on, posted my first post (I think it was a request for information regarding a certain 1:18 figure for my 1932 Maybach Zeppelin), the rest as they say is history. Until I had found DX I hadn't realised that 'out there' was a community of collectors who were willing to share their collections and knowledge and of course creating Friendships 'Worldwide'
DX) I know what you mean about the friendships. I think most of us here at DX will agree that we are part of something special here.
Where do you start about this special forum we call DX?
Literally from day one, I was welcomed in the fold. Over a very short period of time, I realised that there was this strange phenomenon happening. What I mean is that, members who have never met physically have created (to me) unbreakable friendships, through the sharing of their love of collecting diecasts and the sharing of good clean humour. I honestly feel that I know more about members here and their likes/dislikes and maintaining a far more regular contact, than my own family!!.
It is truly a special place and I1m so pleased that I 'stumbled' across DX. You all now who we have got to thank for that
DX) Any other hobbies?
My hobby, (apart from diecast collecting) is working at the weekends with a group of dedicated volunteers at the Oxford Bus Museum, situated 1 mile from the birthplace of Winston Churchill - Blenheim Palace (history again) The Museum was established in 1967 by a group of enthusiasts who had the foresight to realise that vehicles (local transport, not just buses) of potential significance to future generations should be saved before they were lost for all time. I am now very proud to be the Volunteer Curator of the Morris Motors Exhibition Hall (dedicated to the memory of William Morris - Lord Nuffield and chronicling his history from 1913 to 1960s), which is situated within the Museum. So most weekends I can be found talking to any visitor to the Hall.
DX) It must be an absolute blast to work in the Museum, I know I love Automotive themed exhibits and I'm quite sure you do as well!
What I love about the Oxford Bus Museum, is that it is a living and breathing museum. 90% of our exhibits are driveable, all our exhibits cars and buses are what we like to call local transport (what I mean by that, is that all our buses were used in our local area only (Oxfordshire) and all our cars were built at Morris Motors (sorry about the obvious plug) indeed a lot of our buses are used to give our visitors a trip back in time, because all of our exhibits are not the type you normally see on the road, our youngest exhibit is at least 20 years old. Our oldest bus being rebuilt in our workshop is a 1916 Daimler Y type, our oldest car is a 1920 Morris Oxford 'Bullnose'. Our museum is certainly not a dusty unfriendly type of place, we always interact with the visitors, young and old. Whenever there is a bus ride (journey time approx 30 mins ) we always find that we have to put on a second bus, and it's amazing to see the reaction of the people and the traffic we see on the road. It's also got a working Fire Engine (1975 Bedford Water Tender bought from the Oxfordshire Fire Service). It's certainly great fun to have a ride in that (It's the ultimate 'Boys Toy')
DX)Well Ken, it sure sounds as if you really have a full plate of interesting things going on with your job and the Museum and all that you add to DX.
I certainly have, I look forward to going to work (now you'll think I'm strange) I also look forward to my weekends (the only downside is that I don't have a computer at home, so at the weekends I cannot log on to DX), but because of my job, I have a lot of free computer time during the week)
DX)Thanks so much for taking the time to give us a chance to get to know you better
Thank you Jeff, I've enjoyed this (for me) new experience. But then that's what DX is about, you learn something new every day and make great friendships
These images are a part of my collection, even though I have been in the photographic industry for more years than I would care to mention, I am not a photographer!
some of my 1:43s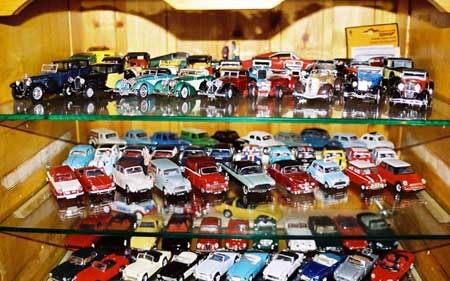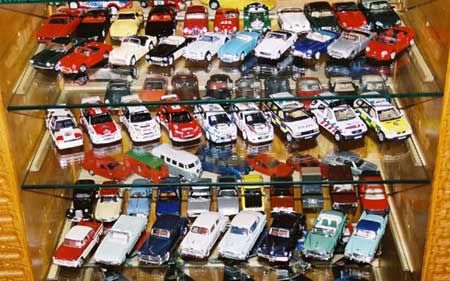 Some of my 1:100s
Some of my 1:18s




This is my favourite model - 1:24 Sunstar RM8 Routemaster (London Bus) with apologies to Luciano (LUW):giggle