MB CLK-GTR Street Version by Maisto. Ever since I saw this kit at Hobby Lobby about three weeks ago, it spoke to me. When H-L had their half price sale on diecast kits last week, it was the first one I grabbed. Over-all, a nice kit. The three faults I find with it is the front doesn't open, the seats had paper stickers to replicate the plaid cloth inserts, and it has brake discs but no calipers. I had absolutely no problems assembling it. Everything went together as it was supposed to.
What I did to it: First off, I have to thank Jeff, (Max Power) for giving me the idea for the MB star decal for the air box. After a couple failed attempts at making one, he gave me the inspiration for the final product. It took white decal paper, a pic of the emblem, a black technical pen and an hour of work for that one decal. This is a nice kit right out of the box, so I mostly just did detail painting. I made the AMG decals for the side of the air box and for the door sills. I added spark plug wires and a few hoses/lines for eye candy. I replaced the paper sticker seat inserts with fabric from wide plaid ribbon.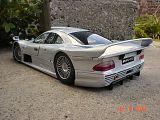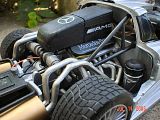 Whole album can be seen here:
http://photobucket.com/albums/y15/cobalt1959/CLK-GTR/
Also added to the Mercedes-Benz page of my website. . .