Hello all and welcome to my third review! I've gotta say, doing these reviews has increased my love for the hobby even MORE! I've got a special treat for you all today. We've all heard and seen a lot about the CMC SLR. But to date, there hasn't been an in-depth, comprehensive review of it. That's about to change. I hope to paint the fullest picture possible of this wonderful, if flawed, piece of shelf jewelry.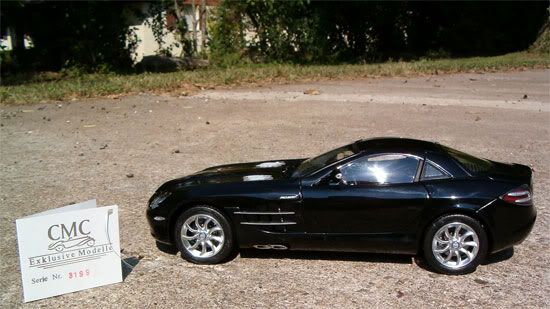 CMC Mercedes-Benz SLR McLaren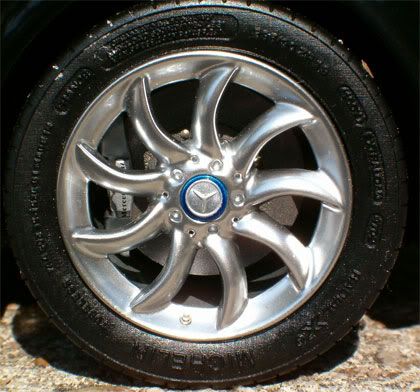 Brakes
Some nice work here. Through the wheels' turbine blades you can catch glimpses of what look to be ceramic-composite disks. CMC applied a very convincing texture to them. Aside from being convincing, the calipers with their finely printed "Mercedes-Benz" labels make your mouth water. These little touches are priceless. Just what I'd expect at this price point.
Accuracy - 9
Detail - 9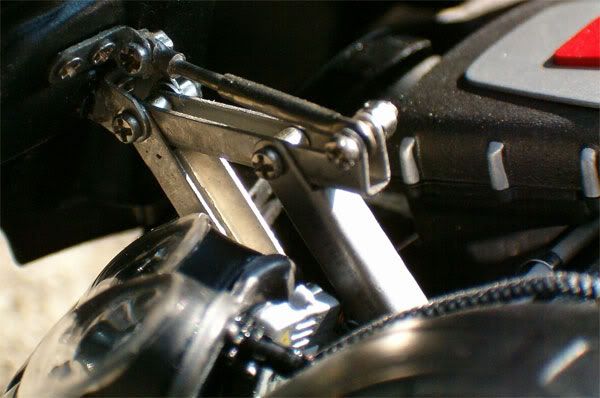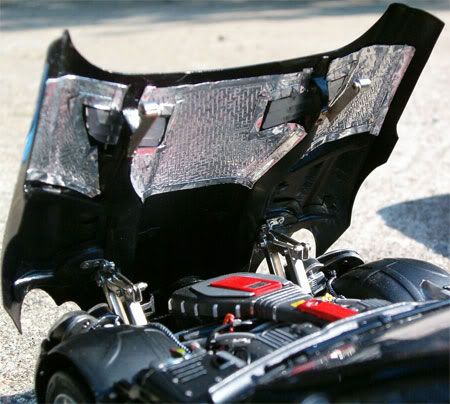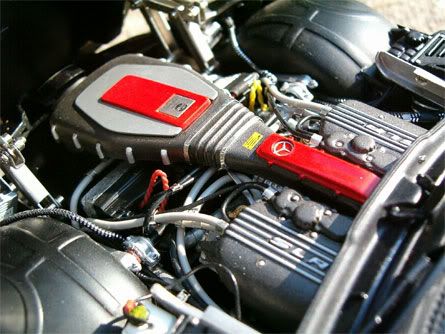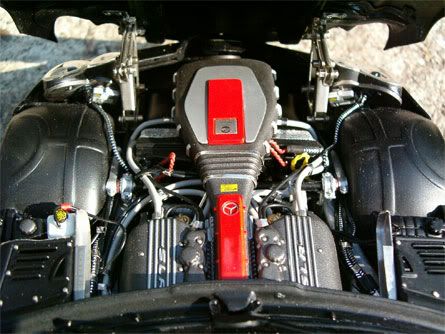 Engine
One of the most coveted orbs in the world starts out as an insignificant grain of sand. Given time and the expert craftsmanship of Nature, it blooms into what we all know as the pearl. That pure, heavenly sphere can only be obtained from the reluctant mouth of the clamshell. The same is true of this piece. What a beautiful mess. It's a Medusa of braided wires, steel lines and metal pipes exposed by sliding the clamshell hood out on its metal tracks and opening it on mind-blowingly intricate hydraulic struts. Perhaps this is nit-picking, but the arms and tracks should be black. For every hose, there is a hose clamp with miniature, expertly-simulated screws to attach it. Reservoir caps are predictably topped with the appropriate scripts. Tiny screw heads are littered all about the engine bay. If you look hard enough through the delightful bramble of wires, you can see the actual frame of the car itself! My expectations were instantly reformed and raised all at once when I saw this. The finishing touch on this masterpiece is the lovely blanket of metal-foil heat shielding draped on the underside of the hood. One thing to take off for (a microscopic thing) is the fact that the roller arms for the hood are also supposed to be covered with the heat-shielding. No bother - that does nothing to blemish this car's title as the pinnacle of diecast technology (I'm actually surprised the fluid caps couldn't be unscrewed and removed!) If ever a model car was born at the hands of an expert model craftsman and a veteran Swiss watch maker, this piece serves as proof of that partnership. This is what CMC has made a name for itself with - museum quality.
Accuracy - 9.5
Detail - 10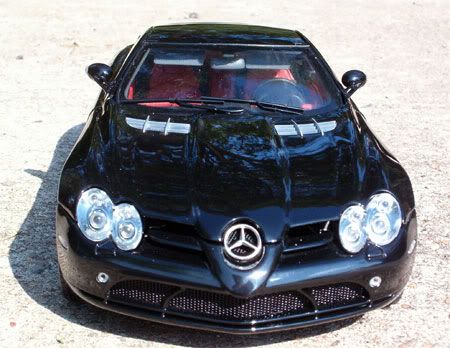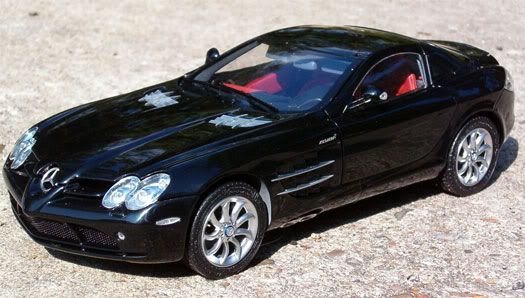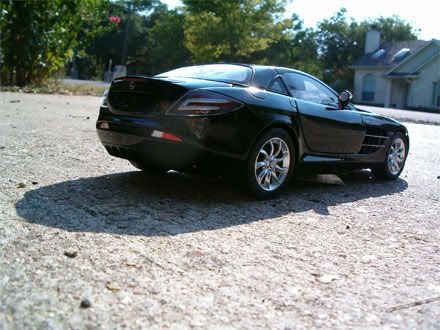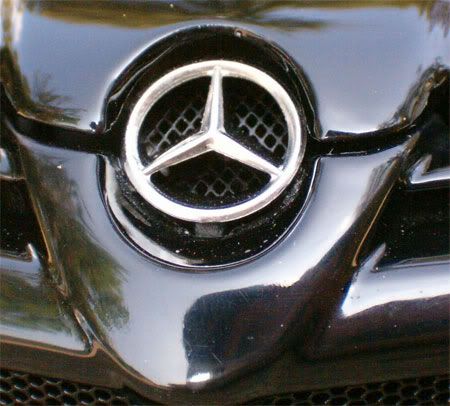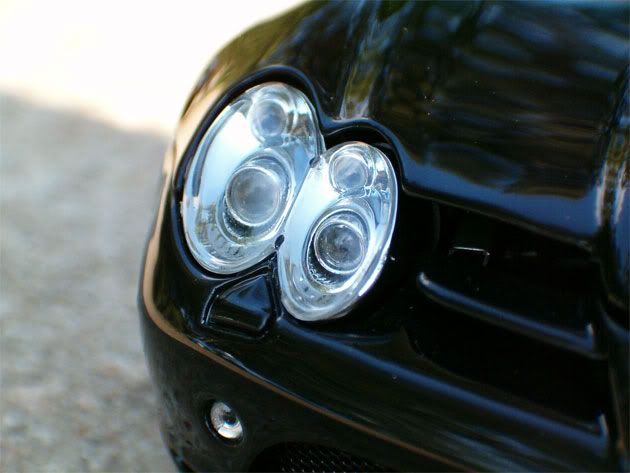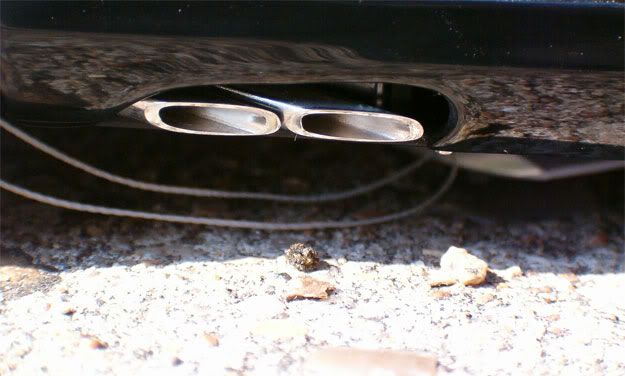 Exterior
And the extolling of virtues continues! So much to love, so much to love. Perhaps the front end is the best place to start. I've heard many horror stories about poor fit and finish. That is certainly regrettable, but, fortunately, I have no reason to complain. The three-pointed star is perfect. It's very sturdy looking and crisply executed. To draw another parallel to jewelry, it looks like it would make a great charm for a necklace or the bracelet of a very lucky girl. Behind this is a backdrop of perforated mesh. Flanking this legendary symbol are some of the best headlights the model car industry has ever known. The lenses are very lucid and the bulbs catch the light like fine crystal. The scalloping under the main lens really put a smile on my face. The lower part of the front grill is filled with more delicate mesh. To the sides of this are tiny lights with what can only be identified as connecting pins. Not good, but far from a deal-breaker. The reflectors ahead of the wheels are astounding. They're oval-shaped slivers of reflecting material with what almost looks like a tiny bulb up front. Moving to the side, there are a set of breathing "gills" screened with even more mesh. Moving below, you can't help but notice the side exhausts. It's a good thing they're only figuratively "eye-catching," as these are so exactly hewn that you almost fear cutting yourself by running a finger along them. CMC definitely capitalized on one of my favorite features of a high-end model. My enthusiasm waned when I spotted the connecting pins on the mirror turn signals This is one of those quirks that you find in every high-end model, it seems. They did so great on everything else, why did they flub on something this small (and noticeable)? It gets better, though. If you look past this shortcoming at the windshield, you see a very nice feature - the tinting fade around the windshield. I immediately loved this. The wipers are good, too, but nothing to write home about. Now we come to the rear end. The taillights are gems adorning what is already a piece of jewelry. A section of reflective, textured red material is topped by a bracket encrusted with tiny "LEDs", all encased by clear plastic. Gems do have their flaws, though. I would have appreciated a straighter cut to the silver bracket. And I don't know whether or not those attachment pins on the cover should be there. At the bottom is another strip of perforated mesh, book-ended by reflective lenses. I don't know if it's just me, but their pattern seems a little out of scale, almost like a scrap piece from a full-sized reflector was put in their place. But they definitely get the job done, as does the functional air-brake. Shut-lines are great and YES - the fuel-filler door does open. While the 1:1 SLR might not be the easiest shape on the eye, CMC has done an outstanding job in replicating it, ungainliness and all. I can't help but be satisfied.
Accuracy - 9.5
Detail - 9.5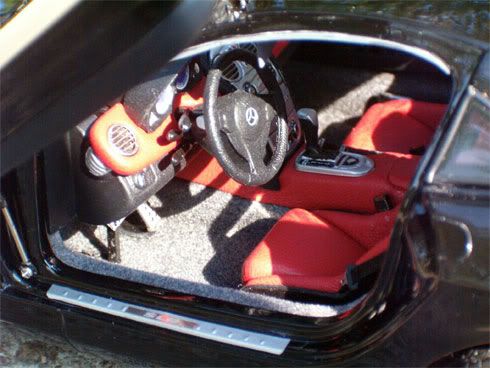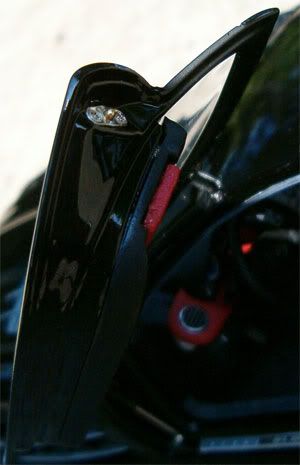 Interior
To make a long story short - probably the best interior I've ever seen for a model car. But the long story is such a tantalizing one. For instance, the seats are real leather. It doesn't stop there, though. Leather stretches throughout the interior, from the middle console, to the dashboard, to the door panels and grips, and apparently even the steering wheel. I'll say it right now - this is EXACTLY what $200 should buy you! At this price you don't buy a model car, you buy an experience and leather seats definitely help to make that experience a rewarding one. Although not as exciting, there are some nice fabric belts with photo-etched buckles attached to the seats. The buckles are special, even compared to other P-E buckles. These are not just solid metal tabs. The square in the end of the buckle is actually cut out. The leather alone is enough to please me, but CMC saw fit to go the extra mile (or two or three.) The center console buttons and controls are very well recreated. I half-expected the cover on the gear-shifter to open. The speaker on top of the dash is perforated. The carpet is of a lush pile. However, I was a little disappointed by a few things. I would have liked the gauges to be covered by plastic (I guess that's an Exoto thing), instead of being a sticker left exposed to catch my disappointment. Also, the control stalks lack definition. A little white lettering and better tooling would make a world of difference. A photo-etched Mercedes-Benz star on the steering wheel would have been nice as well. On a better note, the pedals are nicely made. And now for one of my FAVORITE features of this model - the dashboard vents are cut through! I've seen so many models that leave their vents filled and crudely molded. I don't know why but seeing that the SLR's vents are hollowed out blew me away. They just add that extra little touch of realism. Moving outside, your eyes roll over the door sills. They're nice but are just lowly stickers. The hydraulic struts that the doors open on are anything but lowly, though. Going that extra mile yet again, CMC took the time to put a realistic metal catch (attached by two small screws) on the end of the door itself.
Opening the trunk, you see the standard fair - carpet, carpet, and what's this - a separate trunk matt with black piping? Holy diecast, Batman! Niiiiiiiice.
Very little to complain about, so much to praise. What a place to rest your eyes.
Accuracy - 9
Detail - 9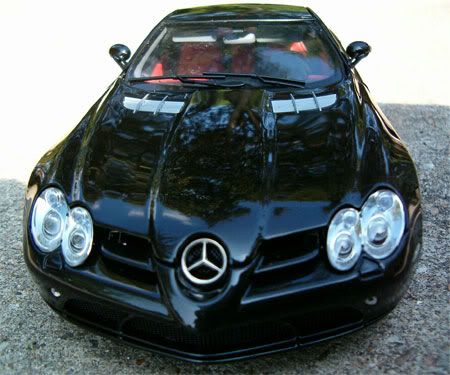 Paint
Although my pictures don't do it justice, this paint can only be described as hand-applied lacquer. Very uniform, very smooth, but because it's black, every scratch and every particle of dust is immediately visible in good light. But that obviously has nothing to do with the quality of the paint. The SLR has nothing to worry about there. The paint CMC coated this puppy in is very luxurious.
Accuracy - 10
Detail - 10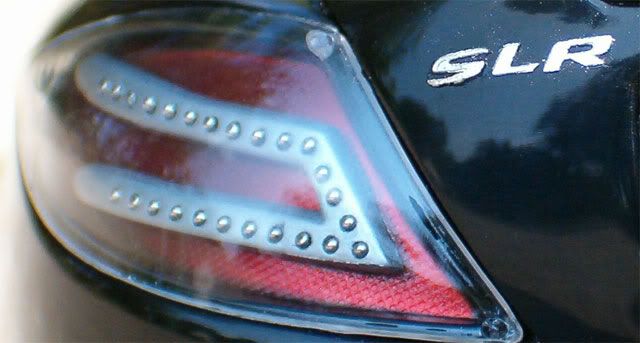 Tampos/Decals
If there's a badge on this model that isn't photo-etched, I haven't seen it. The McLarens on the front fenders and the three-pointed star and SLR on the trunk are all thin metal words or symbols. This piece truly has all the trimmings. It's pretty hard to ask for much more.
Accuracy - 9
Detail - 9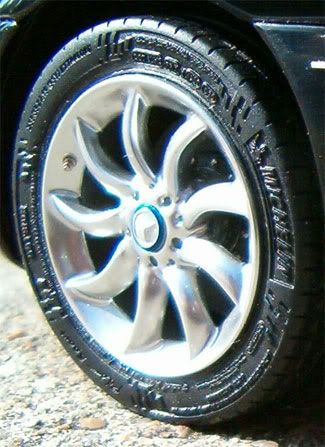 Wheels/Tires
I can already feel the disdain in the air, not that it's unwarranted. It's true - the wheels on this piece are too small. In real life, they eat up more of the wheel well. Compared to that, the model comes across as "too big for its shoes." The stance and visual impact of the SLR is therefore compromised. CMC really missed out on this. But don't let that ruin it for you. As with anything else, there's so much more than just the flaws. The wheels are made out of metal. Totally unexpected (even at this price), but completely welcomed. It makes the $200-a-ticket experience that much better. The finish on them smacks of alloy. Even better. The requisite valve stems are here. On the flipside, I wish they would have made the lug nuts separate, removable pieces. They are almost crudely molded in here. Perhaps I'm asking for too much? Anyway, the tires let you know what is possible in replicating tires in 1:18th scale. I have never seen so much detail on a sidewall before. EVERYthing is here - tire size, brand name, even all the other overlooked stuff. The tire may look a little "busy", but it's a good busy, if you ask me. If only they were a little softer. CMC can learn something from GMP.
Accuracy - 9
Detail - 9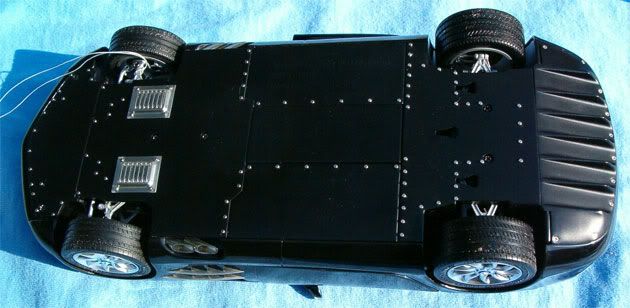 Undercarriage
Very simple, yet very complex. It's like Frankenstein's monster down here. The spread is riddled with dozens of tiny bolt heads. Towards the front, you see a pair of heat-extracting vents. Good things to have for a 617 horsepower, fire-breathing, supercharged V8. If you had a 1:18th scale block of cheese, you could probably grate it on these things - they're that delicately machined. You can even spot the suspension setup.
Accuracy - 9
Detail - 9
OVERALL
Accuracy - 9.25
Detail - 9.44
Combined - 9.35
2005
Premium model
$150-$200
Modern exotic/supercar
Custom-fit, tissue-packed Styrofoam packaging (includes CMC silk polishing/handling cloth)
There is a slight gap where the hood meets the rest of the body on mine, but I was lucky to receive one with a straight star up front and my door hinges haven't broken.
***Anyone who is able to have this piece in their collection is to be considered fortunate. CMC gives each owner the privilege of having a museum-quality replica in their own home. While this is far from a perfect model, you shouldn't be surprised. NO model is perfect, no matter how much you pay. What matters is if it's perfect for your collection, and if you crave a maze of detail and meticulous craftsmanship, this one has your name on it. The CMC SLR McLaren epitomizes a luxury item.
Review added to the DX Model Review Database on 14-OCT-2005