Discussion Starter
·
#1
·
Mitsubishi Lancer Evolution III GSR
Item Code:
IG1544
Color:
White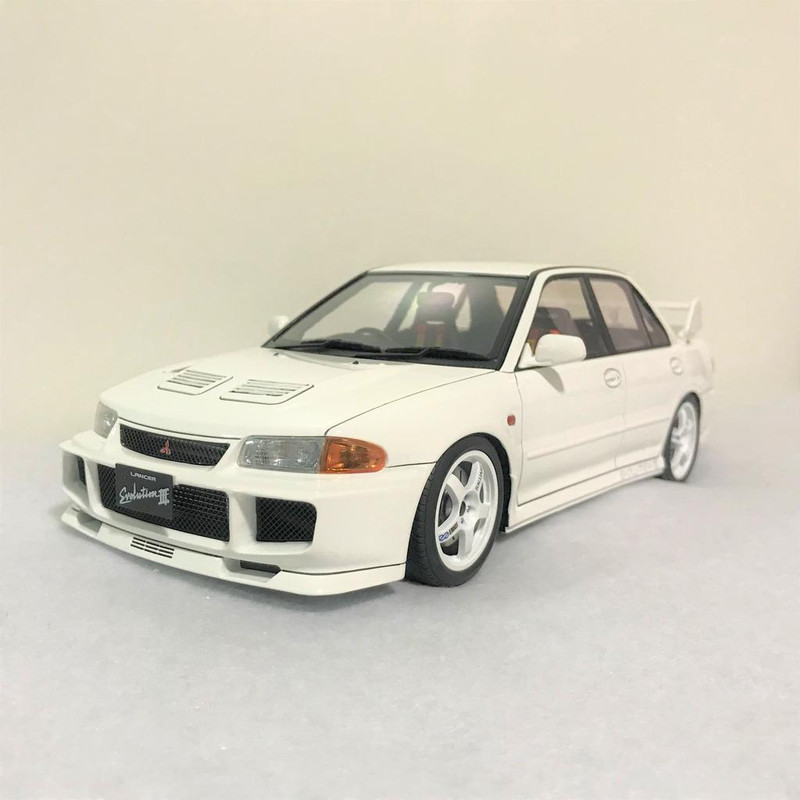 The Mitsubishi Lancer Evolution, known popularly as 'Evo', was produced between 1992 and 2016 spanning 10 official versions distinguished by the Roman numerals. During this time, Mitsubishi released 4 generations of the standard (read: boring) Lancers. The first iteration, the Evolution not Evolution I, was introduced in 1992 to compete in the World Rally Championship and to the succeed the Galant VR-4. The powertrain that comprises a 2.0 DOHC engine and 4WD system was lifted straight from the Galant and to a Lancer chassis. The transition was motivated by the European rally stages becoming narrower and more demanding. The fact that Mitsubishi's Japanese rivals Subaru (Legacy to Impreza) and Toyota (Celica to Corolla) downsizing to smaller and nimbler rally platforms was also a key factor.
The combination of the legendary 4G63 engine and 4WD would remain a staple of the Evo diet until the Evo X, a true testament to its engineering thoughtfulness and prowess.
Almost 3 years after the first evolution, the Evo III arrived in January 1995 looking a little more serious than its predecessors. The more aggressive styling was lent by its aerodynamics kit that both reduce lift and improve air flow to the engine bay. A new turbocharger boosted the engine output by 10 hp to 270 hp. Remember, we are talking about a 4-door sedan that weighs less than 1.3 tons.
If I could pick any Evo, the shortlist would be down to the Evo III and the Evo VI (Tommi Mäkinen Edition or not). The Evo VI stands out at first because it was my introduction to the Evolution world. Since I am no longer in my early 20s, do not wear my cap backwards and do not wear oversized trousers at almost knee height, I prefer something a little less shouty.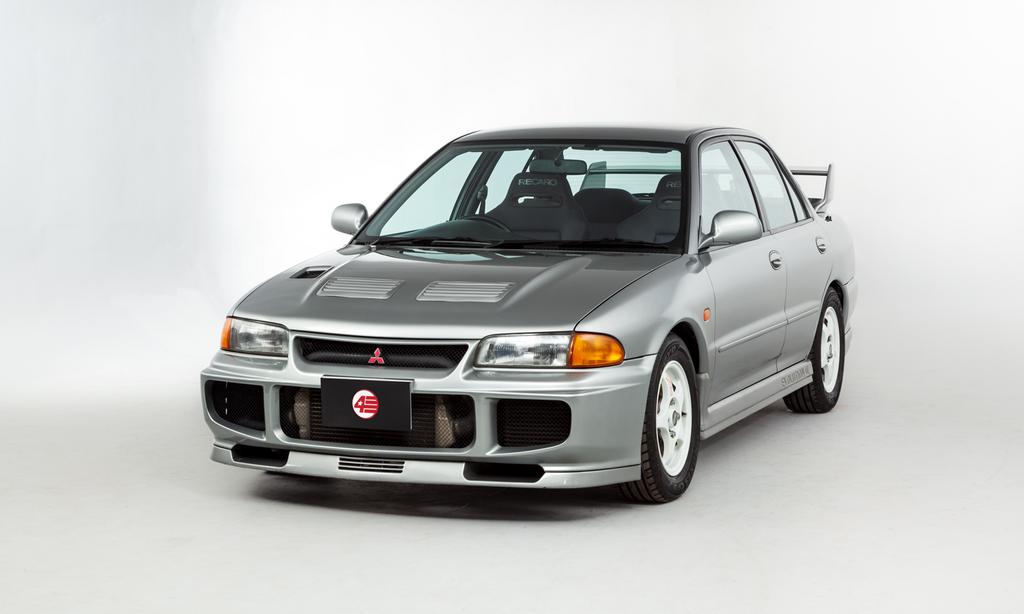 Make no mistake about it, I still salivate over the Evo VI but to my eyes, the Evo III brews the perfect blend of Japanese minimalism with just the right flavor of aggression born out of its rally credentials. Visually, it looks strikingly clean yet not plain. With no massive rally lights on board until the Evo IV arrived, your eyes fully take in the crisp lines that seem to start from the red triple diamond. Your gaze then extends to the surrounding dominated by the air intakes with the radiator clearly visible though slightly obstructed by the license plate. You then adjust your view up towards the hood with its rich array of vents while at your peripheral, you sense the presence of the amber indicator lights. A sweep along the flanks brings your attention to the embossed "EVOLUTION III" of the side skirt and gorgeous OZs before you finish off by admiring the rear spoiler and tell yourself:
Pretty sure my father-in-law will not judge me for having that spoiler on a Mitsubishi sedan!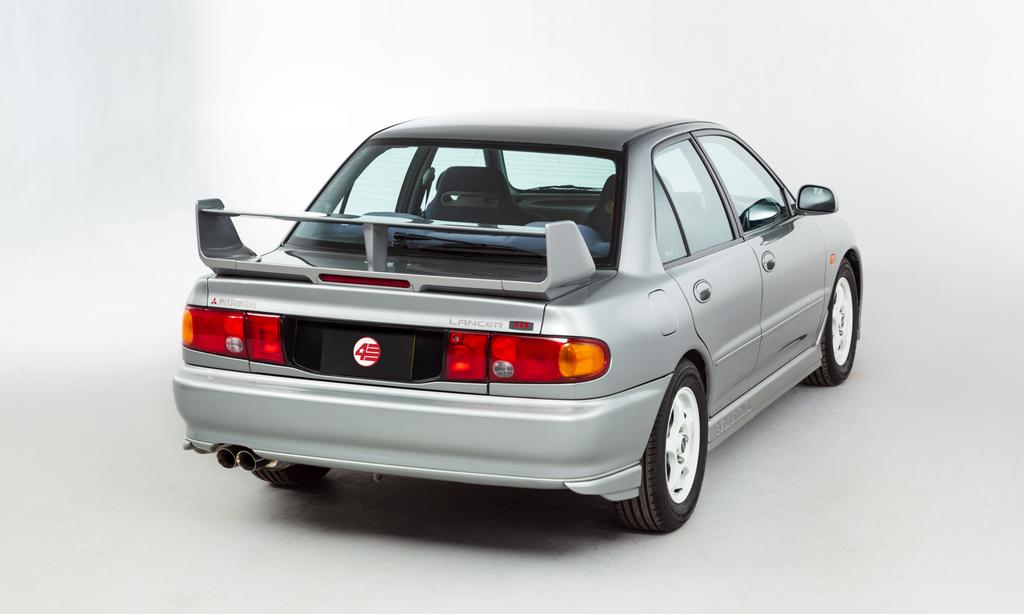 Even from the back, it looks clean yet not plain.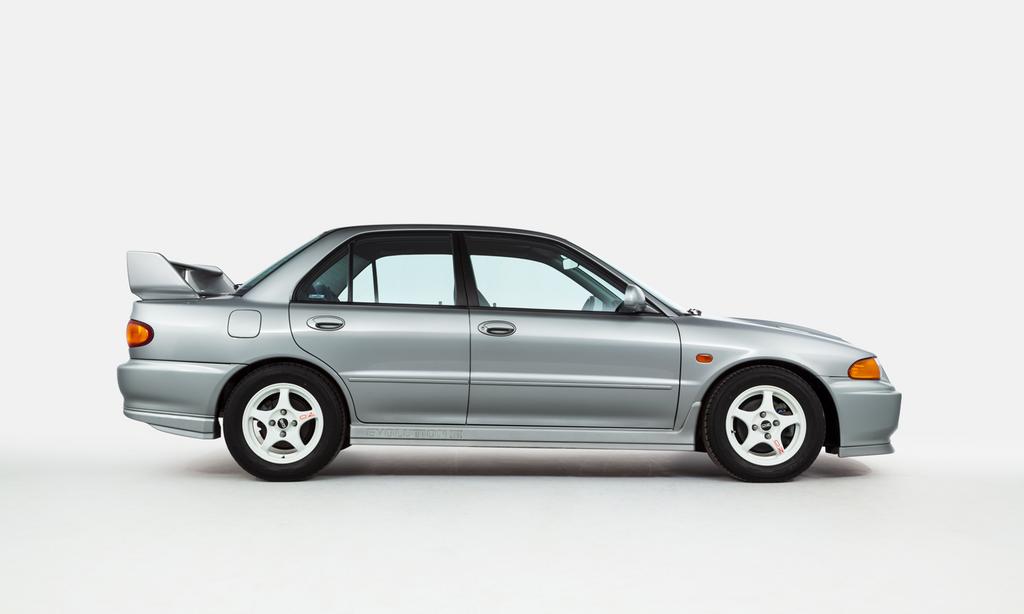 The embossed "EVOLUTION III" on the side skirts remains, to me, one of the most iconic design touches on a vehicle. Perhaps the engineers knew decals would not last long on the rally stages so a more robust solution is preferred.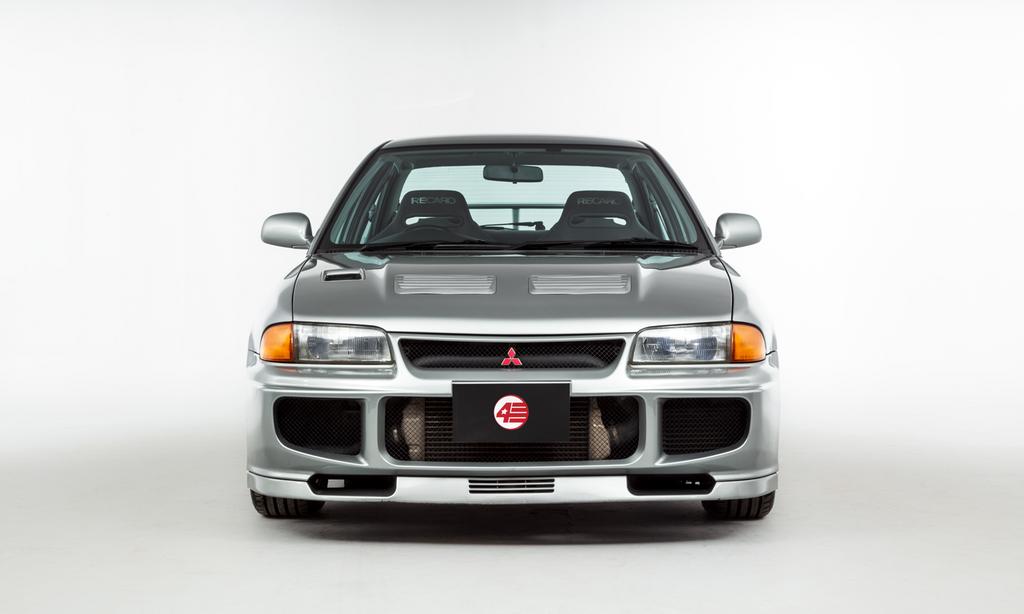 In today's world of fake vents, complex light clusters and fussy designs, the Evo III's mug shot harks back to the late 90s and early 2000s when most cars have the cleanest designs yet iconic characteristics that are individual.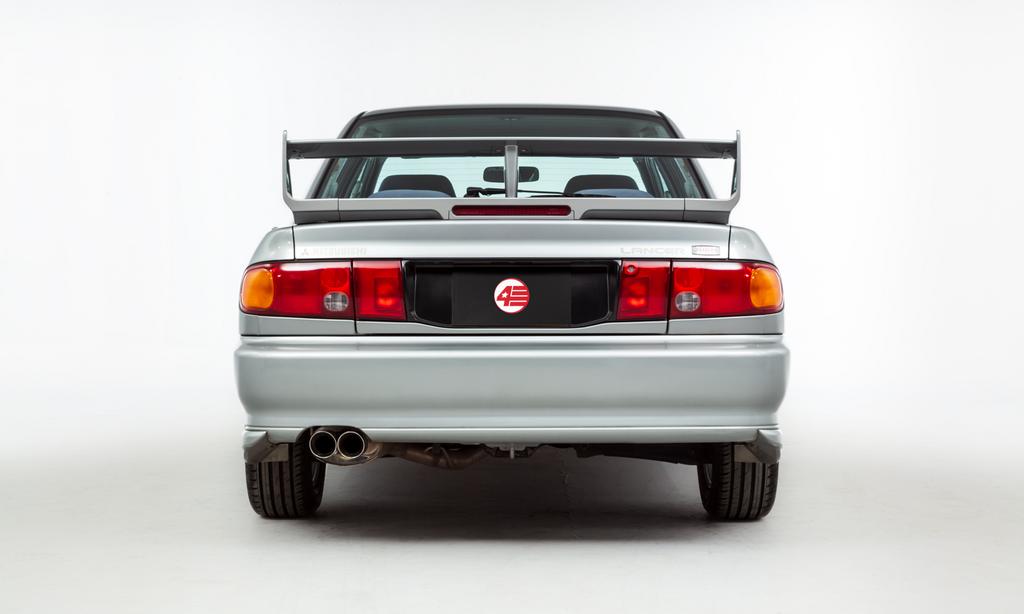 With a rated 0 to 100 km/h at around 5.5 seconds, most drivers will recognize the view above.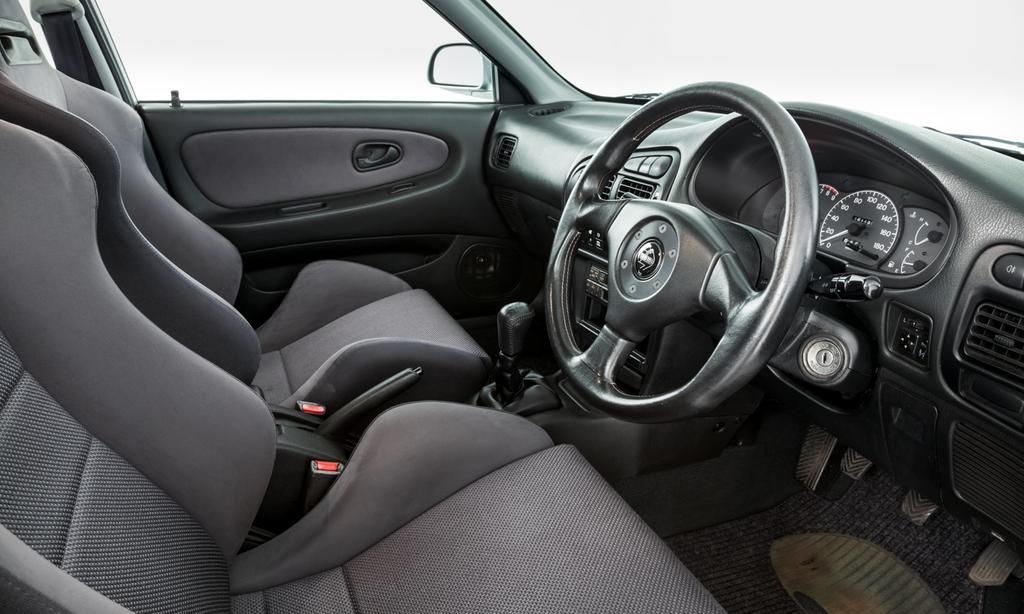 The interior is what you would expect out of a 90s Japanese car; a black and shiny plastic dashboard, disposable-looking carpets, plain-looking shift knob and a very plasticky and squeeshy steering wheel. In the Evo III though, life is a notch better with that iconic MOMO wheel and those Recaro seats.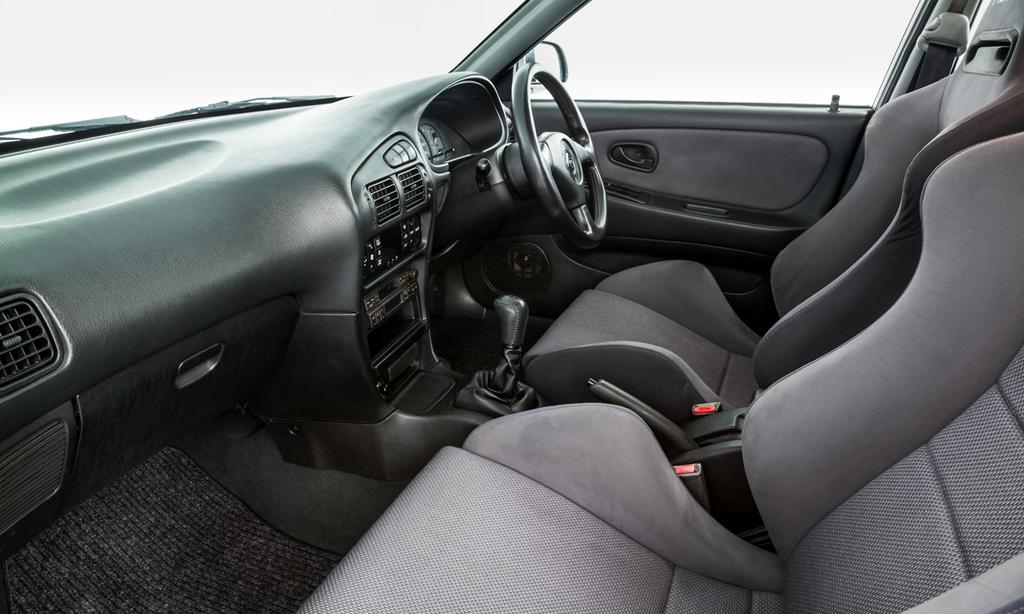 Fun fact: I grew up driving something similar, a Proton Wira 1.5 GLi. What on earth is a Proton Wira you ask. The Wira, '
hero'
in Malay, was manufactured by Malaysian brand Proton from 1993 to 2009 and based heavily on the 4[sup]th[/sup] generation Mitsubishi Lancer. During its formative years, Proton was chiefly a manufacturer of rebadged Mitsubishis via a joint venture between the Japanese brand and the Malaysian government. Another fun fact: Proton owned Lotus between 1996 and 2017.
Do the math and that equates to 16 years of production. Basically, it was the car most kids of my age were driven in to elementary school and when we were about to finish our degree, they were still making these things! With such strong mechanical links, it is no surprise most modders like to dress up their Wiras with Mitsubishi kits. The most popular being a Mitsubishi badge at the front or those "EVOLUTION III" side skirts.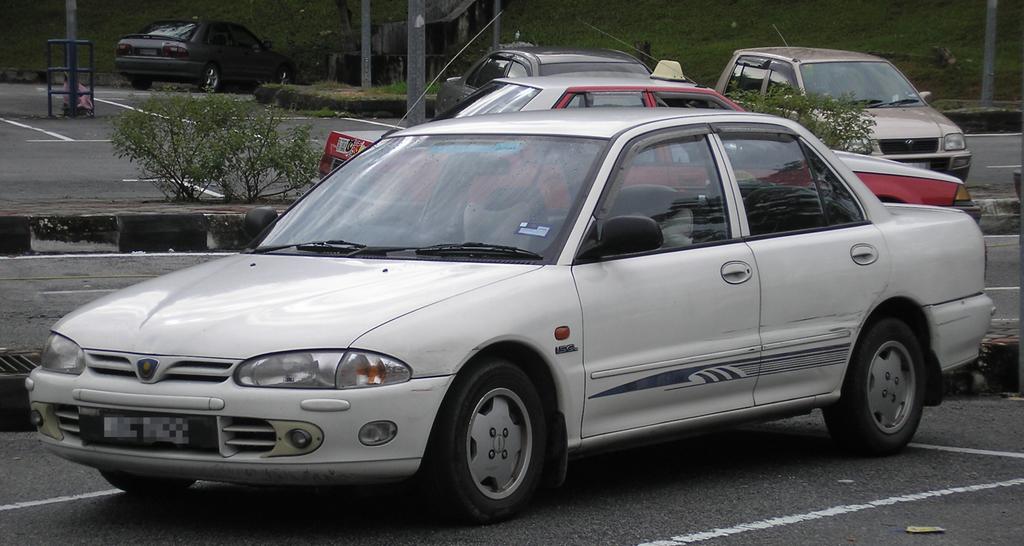 The Proton Wira that my family used to own was in light blue. It also came with the same side graphics and chunky rims. The changes made from a Mitsubishi Lancer was mainly on the headlights, taillights, bumpers and dashboard. Hence, it is not a stretch to proclaim that I used to drive a distant cousin of the Mitsubishi Lancer Evolution III.
So much for the basic facts, let us shift to the 1:18 Evo III as created by Ignition Model. Frankly speaking, I never had the intention of getting this so soon. It was more seizing the opportunity and less a spur of the moment. Not an impulse purchase but pretty close.
There were 2 factors in play that influenced my decision making; (1) It is a sealed resin piece. I have never liked resin since it was metal that got me into the hobby in the first place. My stance has soften these past few months due to the realization that some of my wanted models may never be replicated in metal. Case in point, I just do not see any manufacturer doing the first 2 Lancer Evolutions in die cast metal with full accessibility based on the current market trend. Sure, you can always count on brands like Sun Star to realize your dreams but would you settle for a subpar diecast metal or a much better crafted resin model. Let's face it, you are not going to roll the car on an imaginary track nor accessing the interior with your fingers all day.
And then there was the selling price. I was only doing a cursory internet search when I discovered that a local dealer was listing a final piece of the white Evo III at almost 5% less than the suggested retail price. At that price, it was very hard to ignore what a great opportunity it was as an entry point to the world of resin. The time I spent on the 'cursed-sory' search, to contacting the seller and meeting him to seal the deal was less than half a day. That was the quickest procurement process I have experienced. What I got was a discounted retail price with free shipping and instant delivery.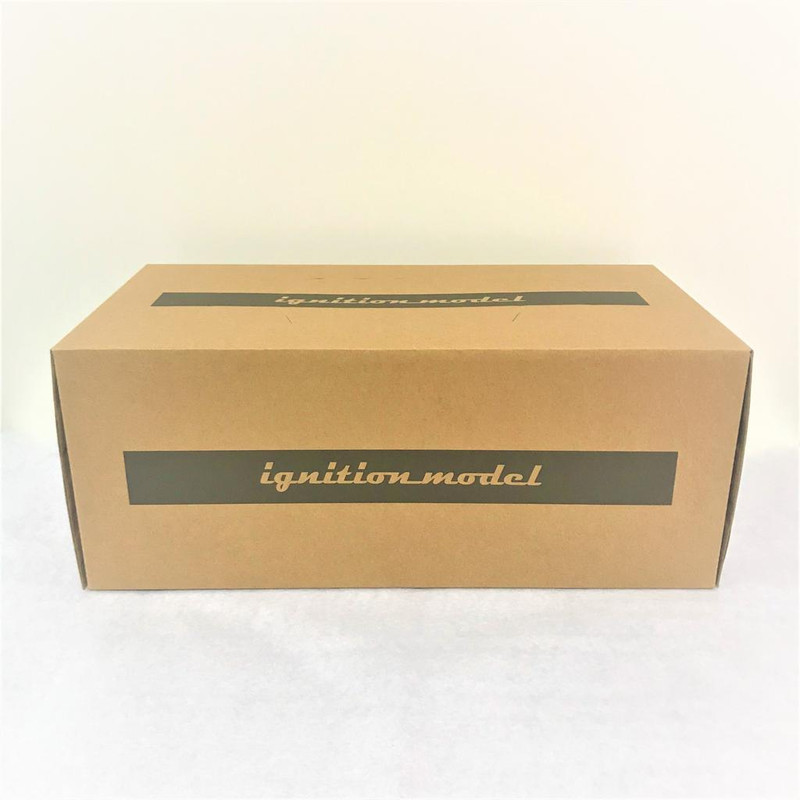 The packaging has a very minimalist vibe to it. Almost like a box of shoes. There are cutouts on the top which you can transform into a pair of box handles. Since the last item that I unpacked was the Almost Real Land Rover Defender 90 Camel Trophy Edition, you can imagine the contrast in emotions when unboxing this.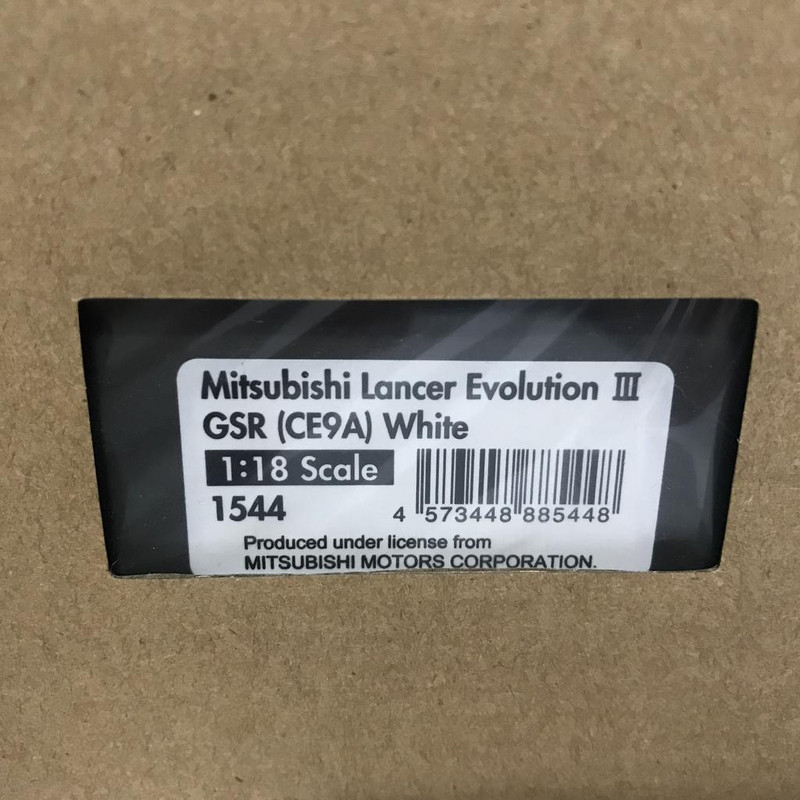 The only way to tell the model contained is by looking at the cutout underneath the packaging. Here you can read the essential details as shown above.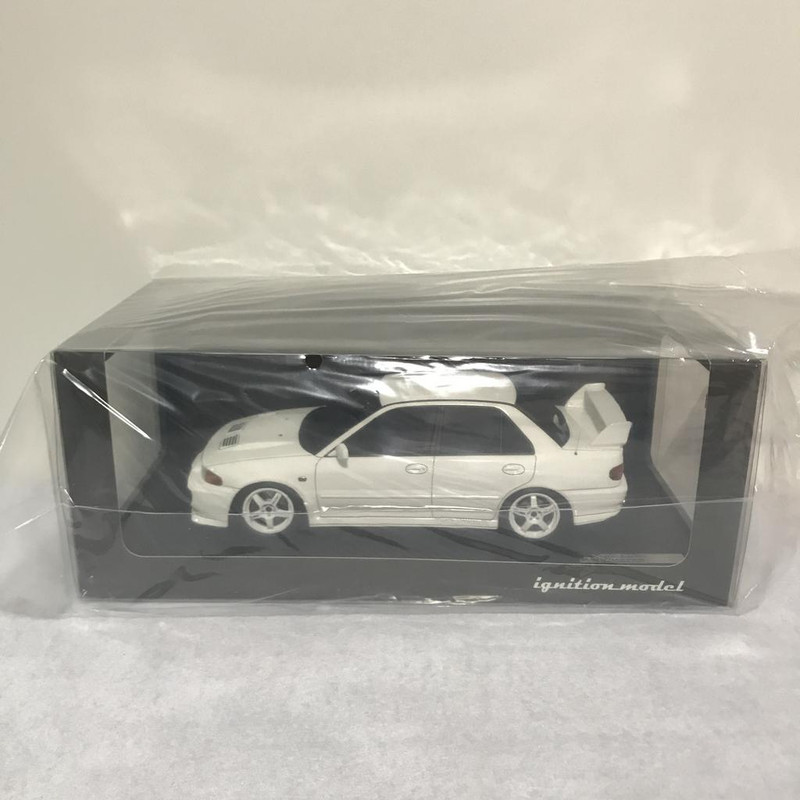 Usually I do all my unboxing when my missus is not present because while she does admire some of my collection, she will no doubt question my financial management at times.
"
You don't understand. These things don't show up that often. Now how much did you spend on those organic cleansing fluids?"
For this Evo III, I was confident that my excitement could nullify any potential trepidation.
"
Trust me honey, these things are dirt cheap. See! The wheels do not roll and the doors do not open!".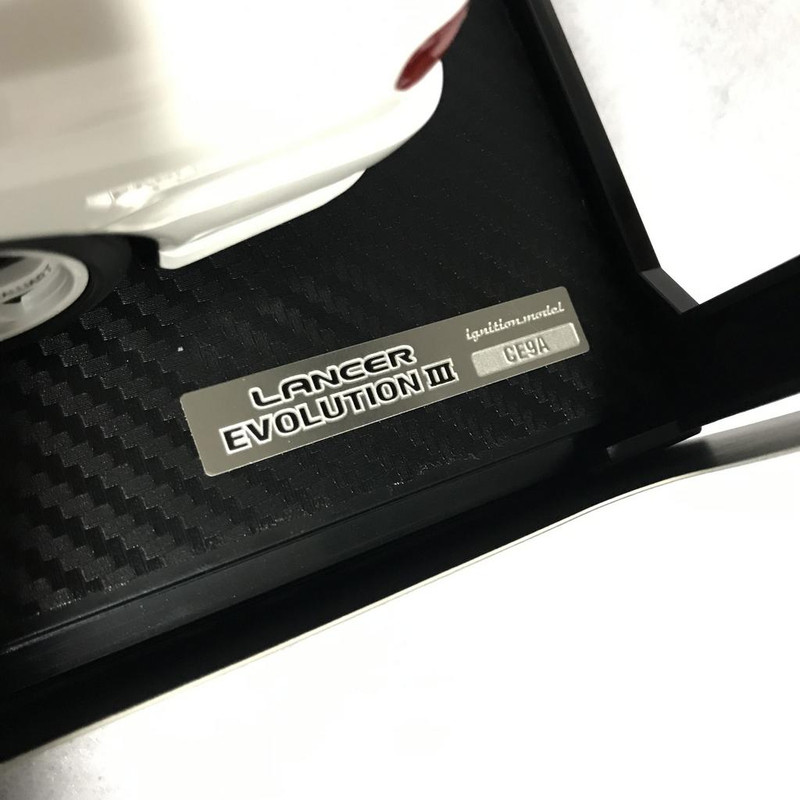 As you can see, there is nothing spectacular about the base holding the Evo III apart from some carbon effect. You do get a metal plaque placed near the left rear wheel though.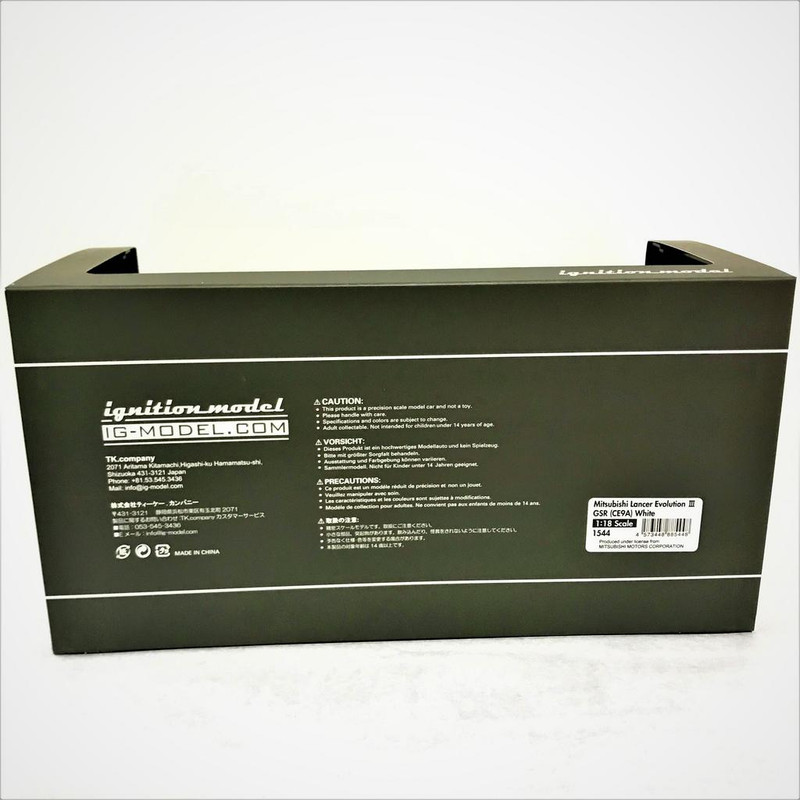 Just in case you are curious about how the base of the inner packaging looks like.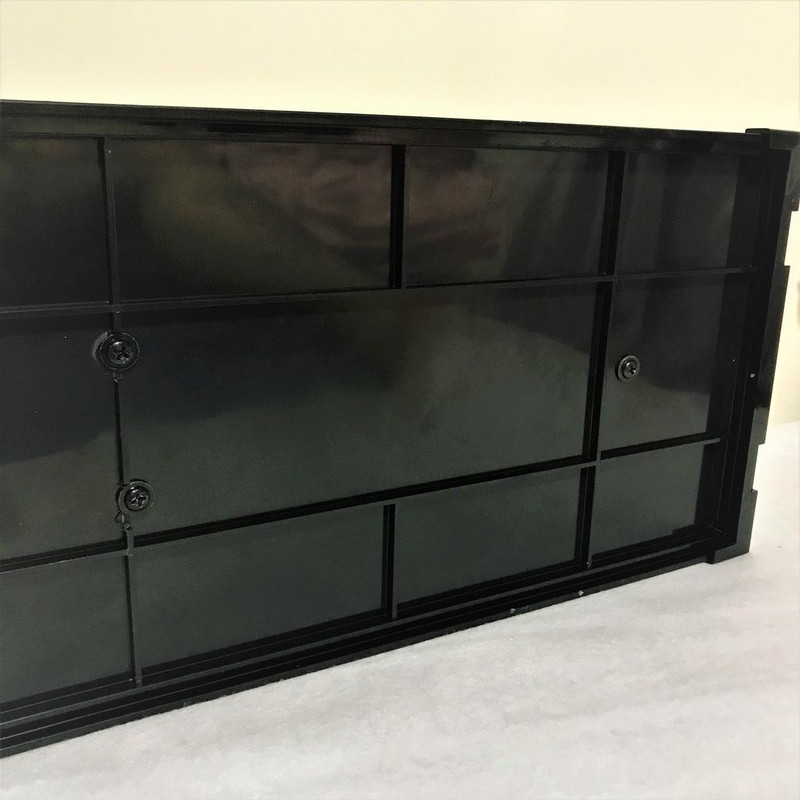 The Evo III is held in place by these 3 screws. Unfortunately, my sample was too tightly screwed and caused some indentations on the plastic base! Apart from that, the contact points of the tire are starting to loose thread. The perfect excuse to set loose the Evo III.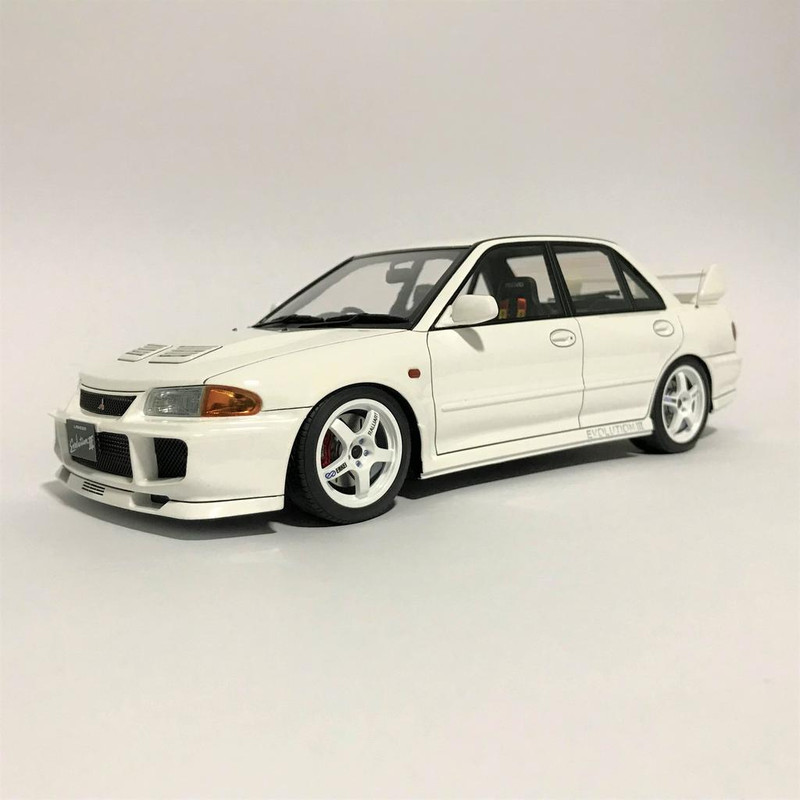 First impressions? Very good. What I held in front of me looks exactly like how it looks on the internet. One of the worst things you could experience in this hobby is getting catfished by manufacturers with their overly enhanced studio images. Not the case here. The model also has some weight to it at a measured 513 grams (~18 ounces). That is just a touch or two lighter than an AUTOart Lotus Esprit Turbo.
Another aspect of the model that exceeded my expectation was how solid it felt. Prior to this, I have never held nor touched resin models. I had this incorrect idea that they must feel flimsy, especially on the pillars and flanks. This totally gave me some newfound education. The weakest part is the glass areas which are made of transparent foils or sheets. You should not touch them if you have not cut your finger nails and file them smooth.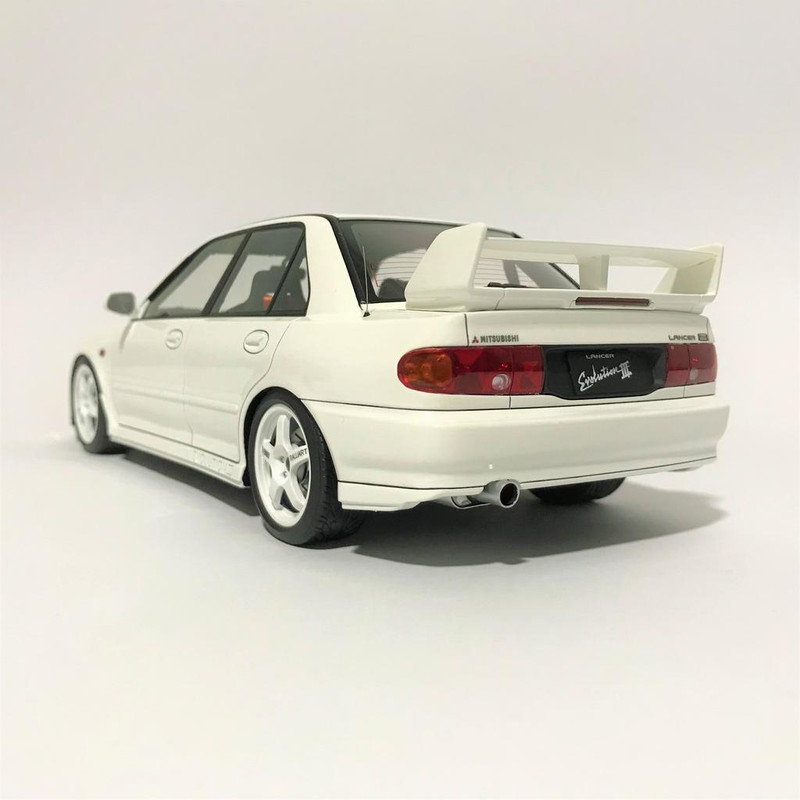 A thorough tapping around the body will reveal that there is a general consistency in the material thickness. The solid thud emanated when you tap on the roof is almost identical to what you hear when tapping the doors. As far as material quality is concerned, the body shell is ace.
This may be based on a modified specimen, the modifications appear very subtle and you can still compare it with an actual and bone stock Evolution III. The stance is amazing, something I truly admire about Ignition Model's offerings. All the clean lines and gentle curves evident on the actual car is fully replicated to scale here. This is by far one of the most car-like models in my collection.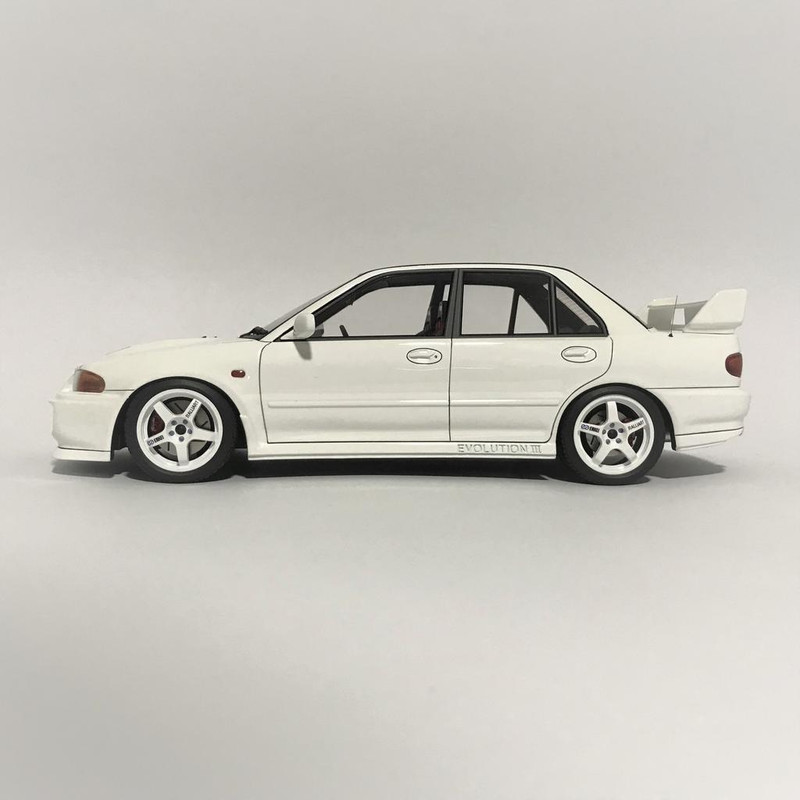 Ride height looks to have been lowered from original specifications. Coupled with a set of low profile rubbers and the 5-spoke Enkeis, you get a very beautiful side profile. In my opinion, an enhancement of the original without taking away its uniqueness.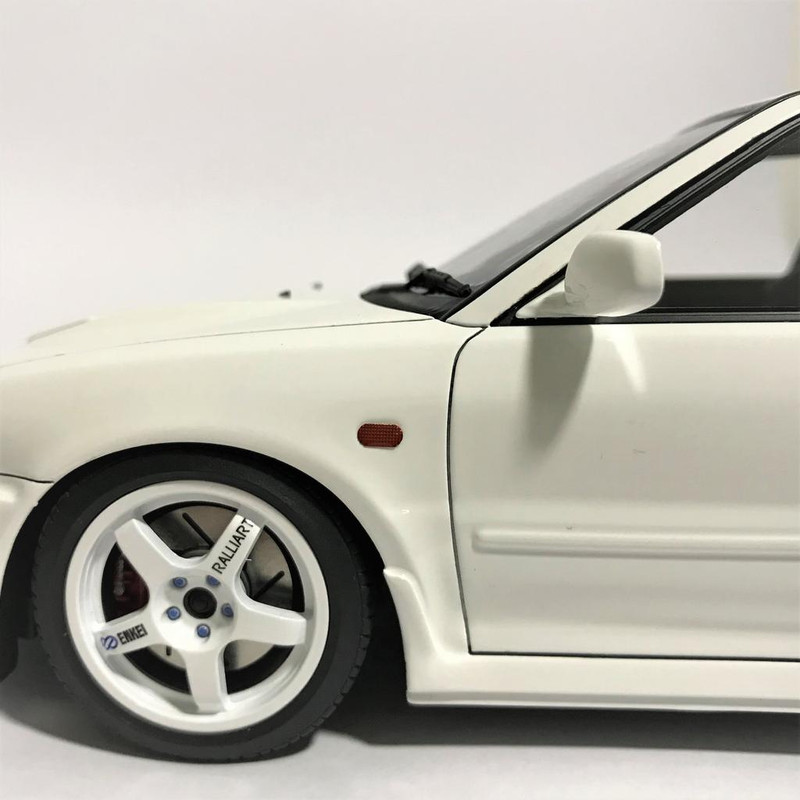 As I held the model closer, the flaws began to surface. Starting with the fender indicator lights. They are not painted on but applied with amber-colored films as representation. The application on my sample was slightly out of position. Not a major issue but something you cannot unsee once you see it.
By the way, if you really want to roll the front wheels, even the brake calipers will rotate. I did not try this on the rear axle though.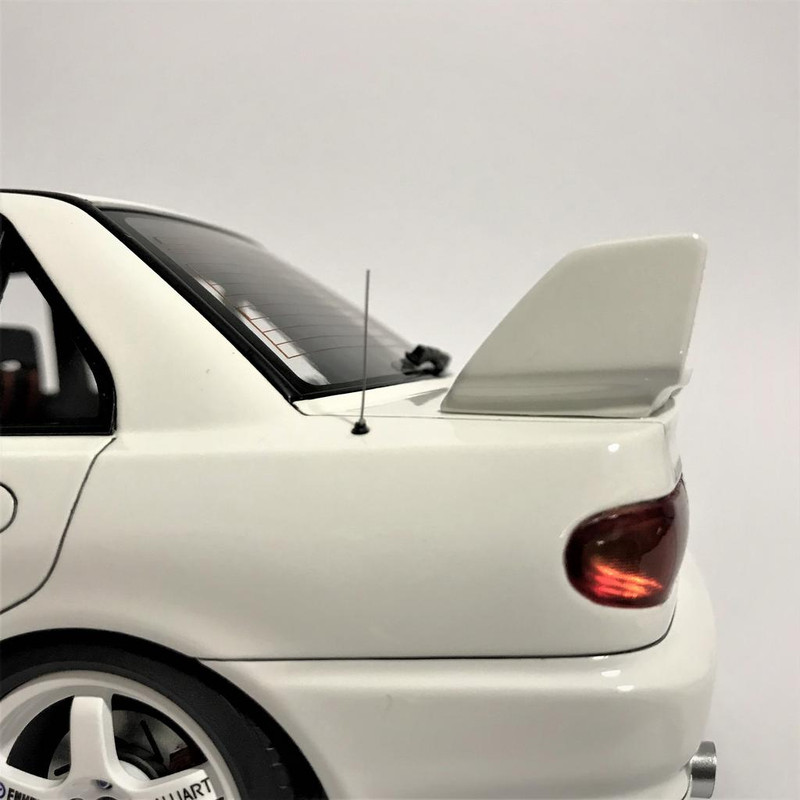 The antenna is flexible in nature but feels delicate. Best handle with care.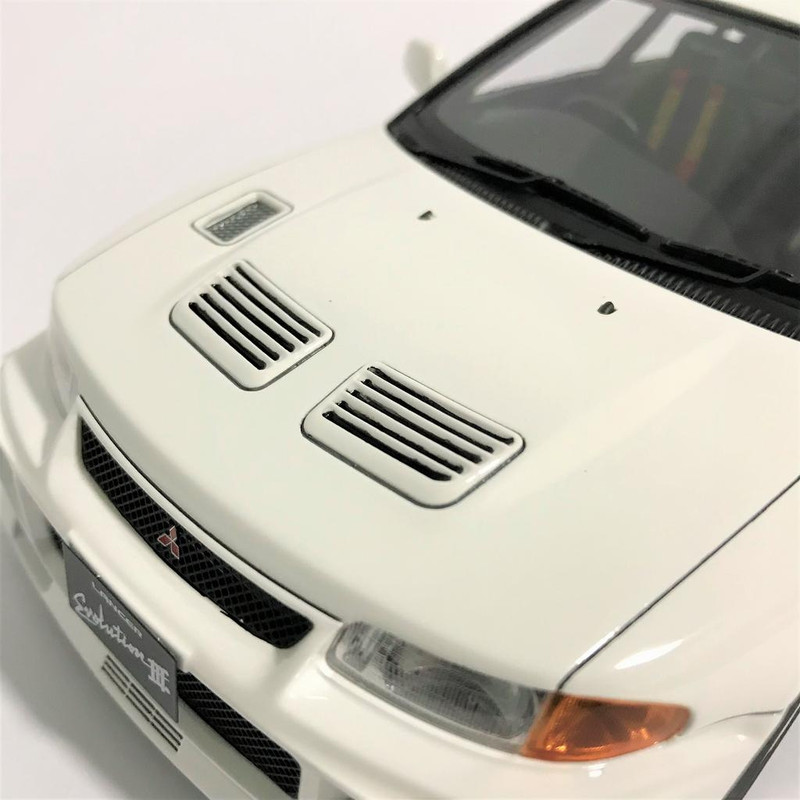 Disappointingly, the hood vents do not see through. The twin vents dominating the center appear to be hand-drawn with the delicacy of a man applying an eyeliner. This is undoubtedly the most disappointing part of the model.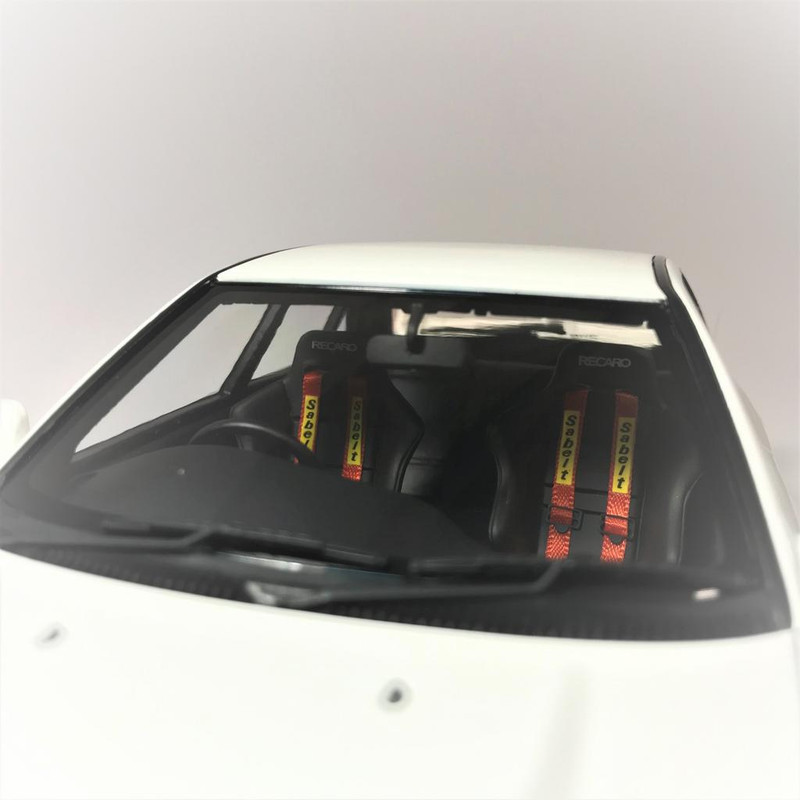 As the standard Evo III interior is a massive ocean of black plastic, the red Sabelts are such a delight. Bonus points given as the seat belts look like they are made from fabric and not rubber or plastic.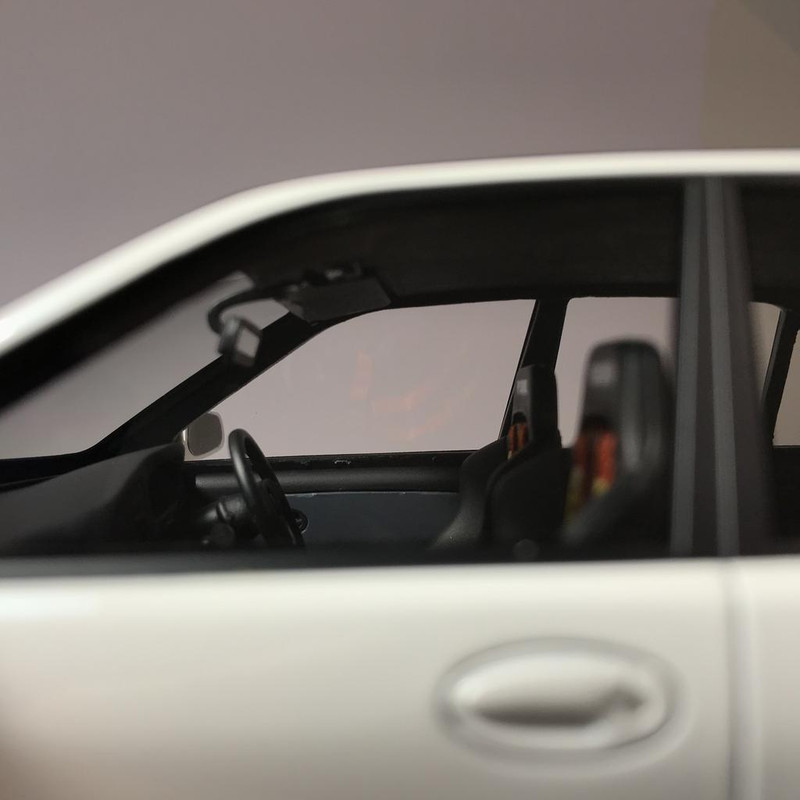 As I shifted my gaze over to the driver's seat, I noticed something very peculiar. There is presence of excess adhesive on the door cards. The same was found on some of the other door cards. What I have observed so far is some excellent quality and top notch manufacturing but with very questionable human craftsmanship.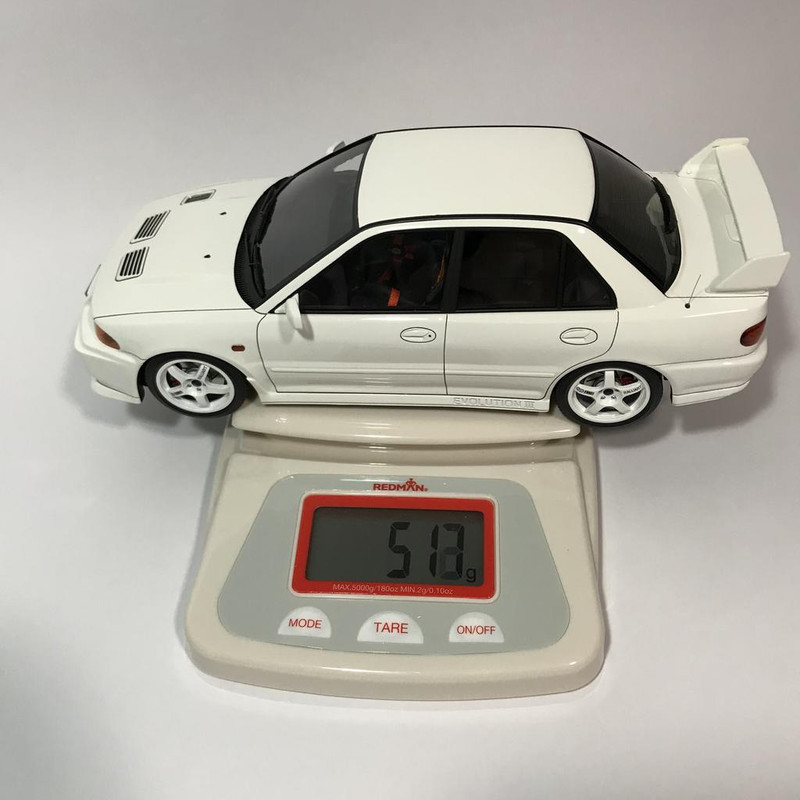 As mentioned, this Evo III checks in at 513 grams, which is heavier than I was expecting? This being my first resin model, I have no indication of what the typical weight should be expected.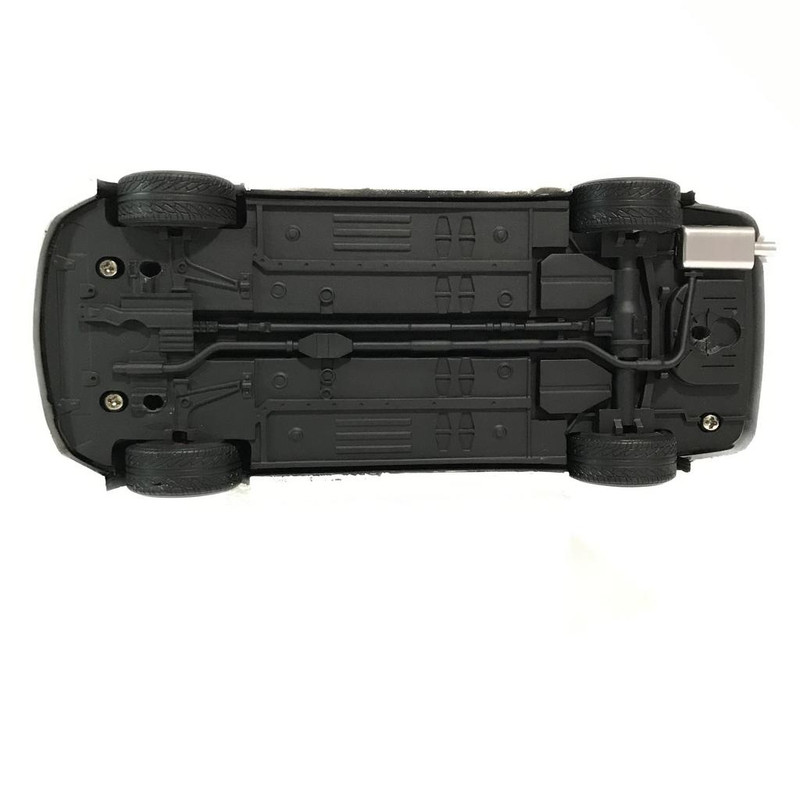 Flipped over underneath and I saw a very boring undercarriage, which is expected of course. From this perspective, I was hoping that the paint application on the underside of the side skirts could have been better. You see splashes of white and some splattering of black.
Also, I was hoping to unscrew the chassis from the bodyshell and check out the interior. Unfortunately, 1 of the 4 screws is hidden by the muffler. There is no way I could unscrew it without forcefully removing the muffler and then reattach it, something I want to avoid. Anyway, I reckon there is nothing extraordinary to be expected from the interior so I discarded the whole idea.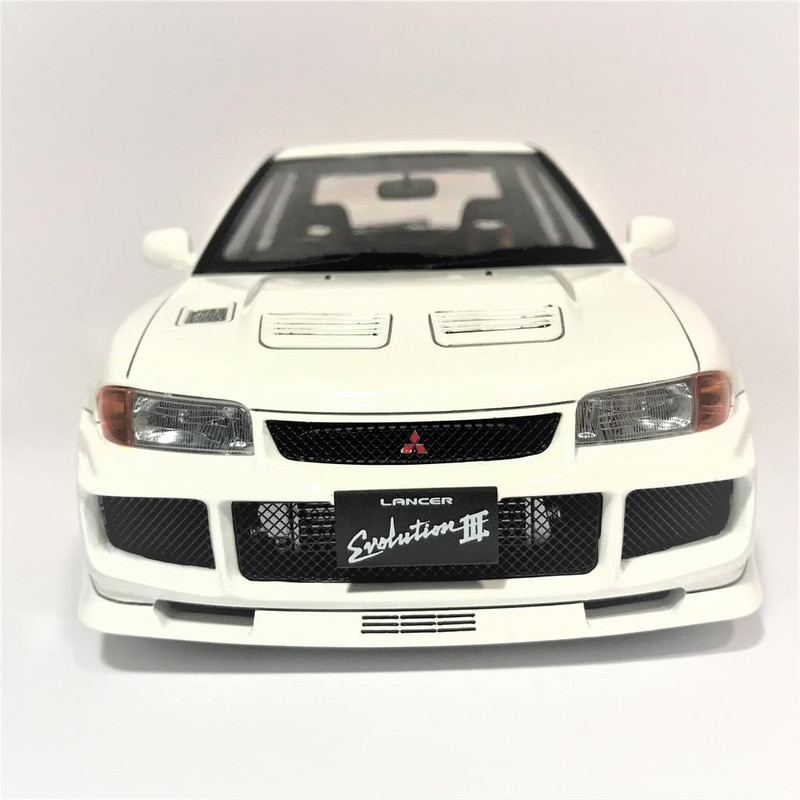 In my opinion, this is the best part of the model, the view from the front. All the air intakes can be seen through and allows you to admire the radiator placed further behind. Detailing on the headlights is very intricate and well finished. Such a shame that the lines on the hood vents are not better penned.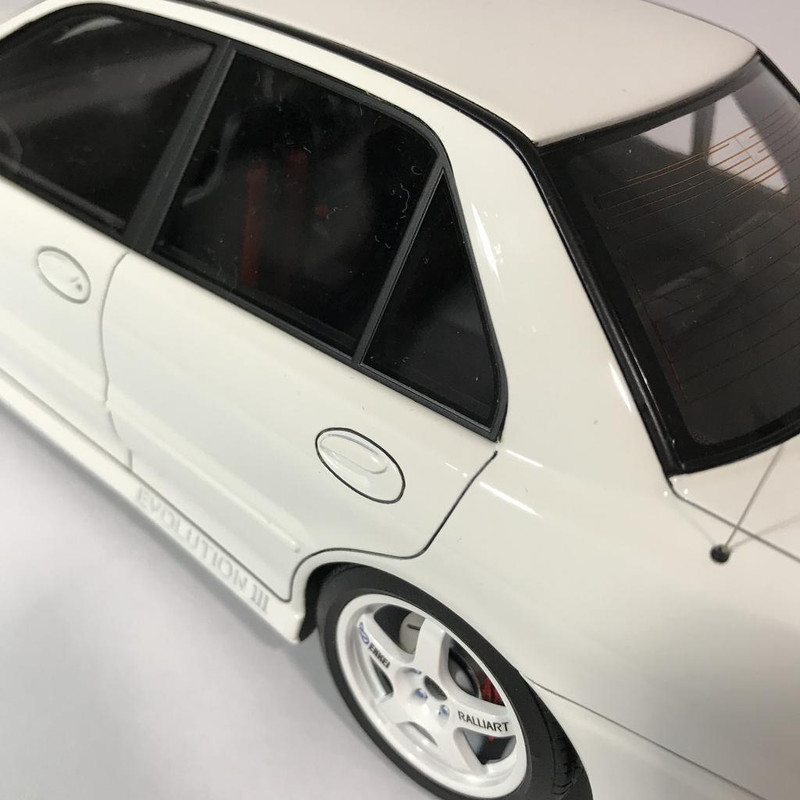 Speaking of lines. What happened here? Did the crafter suddenly ran out of ink halfway through drawing this? Another perfect example that cannot be unseen.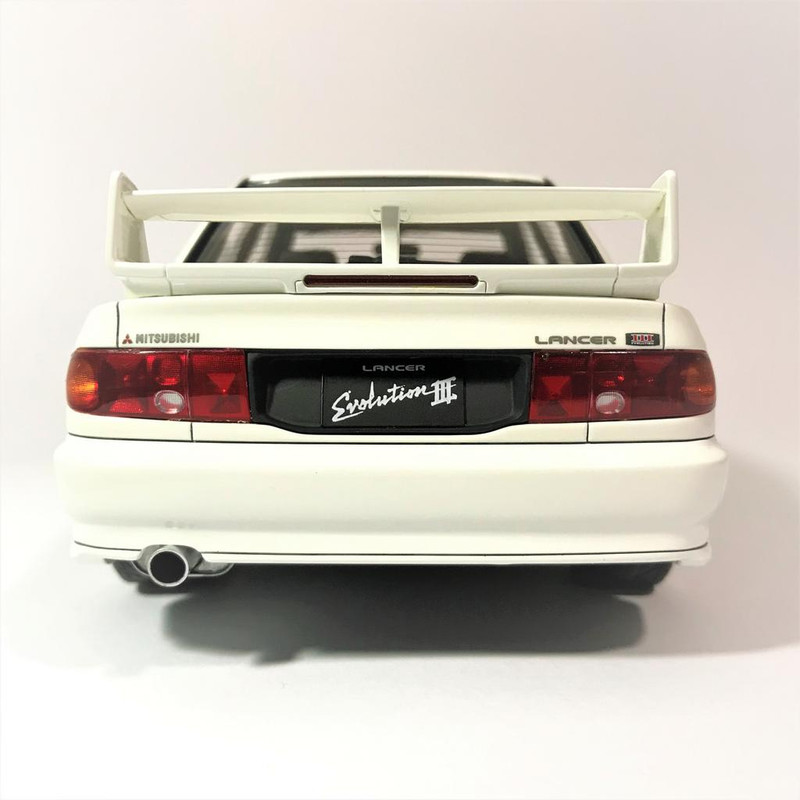 Moving to the rear, I am slightly disappointed at the finishing of the rear lights. Compared to the actual vehicle, the light clusters here appear 'flat' with not much depth bestowed upon the entire assembly. In other words, they should look more three dimensional. The single large exhaust is a nice touch and the decals applied on the trunk are flawless.
On a more positive note, the rear wiper is there along with the "4WD" decal on the rear windscreen.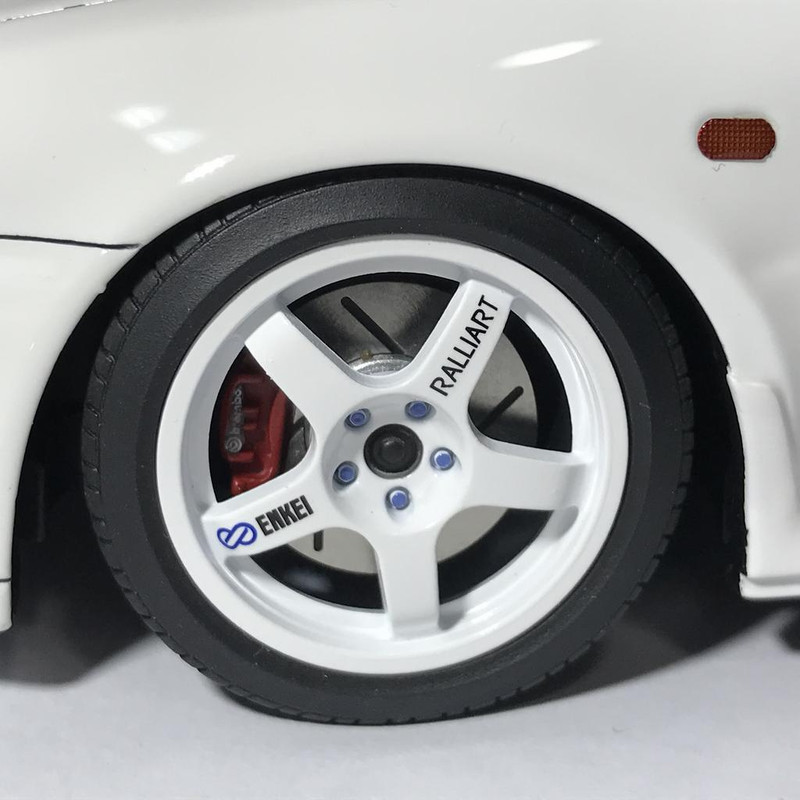 The wheels here are based on an actual Enkei Ralliart set which you can compare with below.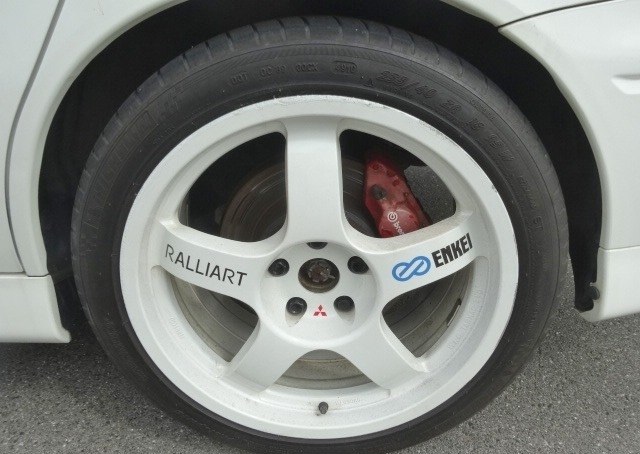 While searching for the actual rim piece for comparison, I also discovered the valve stems were overlooked or ignored.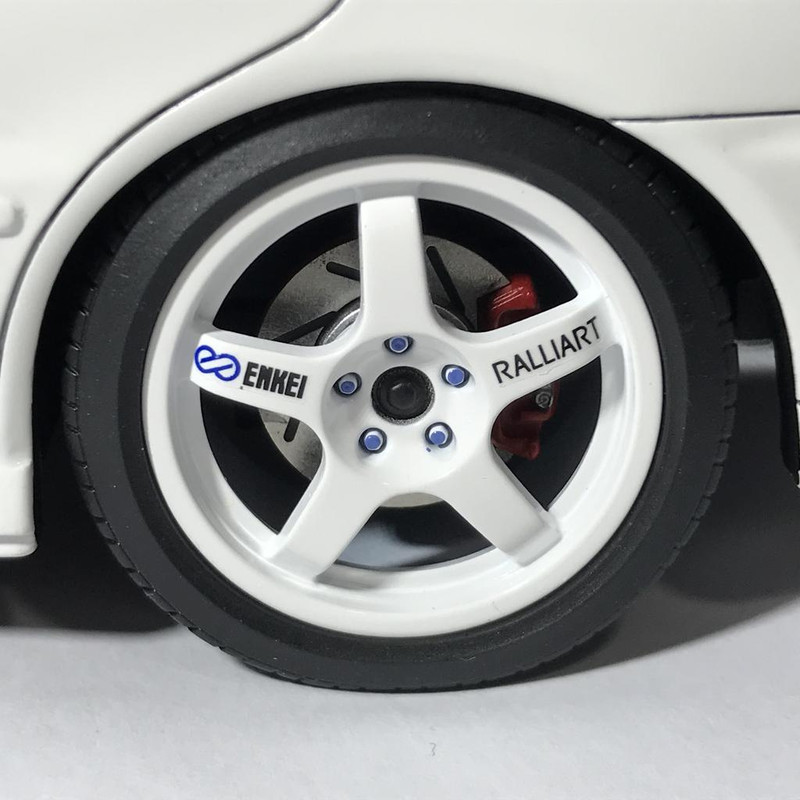 I found 3 issues here: (1) The Enkei logo should be in a lighter shade of blue. (2) While the brake calipers appear very realistic, the Brembo decals look poor with the transparent parts clearly visible and even cause some distortion to the calipers when applied. They look like poor quality stickers instead of the usual water-based decals. (3) Lastly, the tires feel cheap. At this price point and given the approach, Ignition Model should have opted for some licensing and have a set of scripted and better quality rubbers. This would have improved the overall look so much more.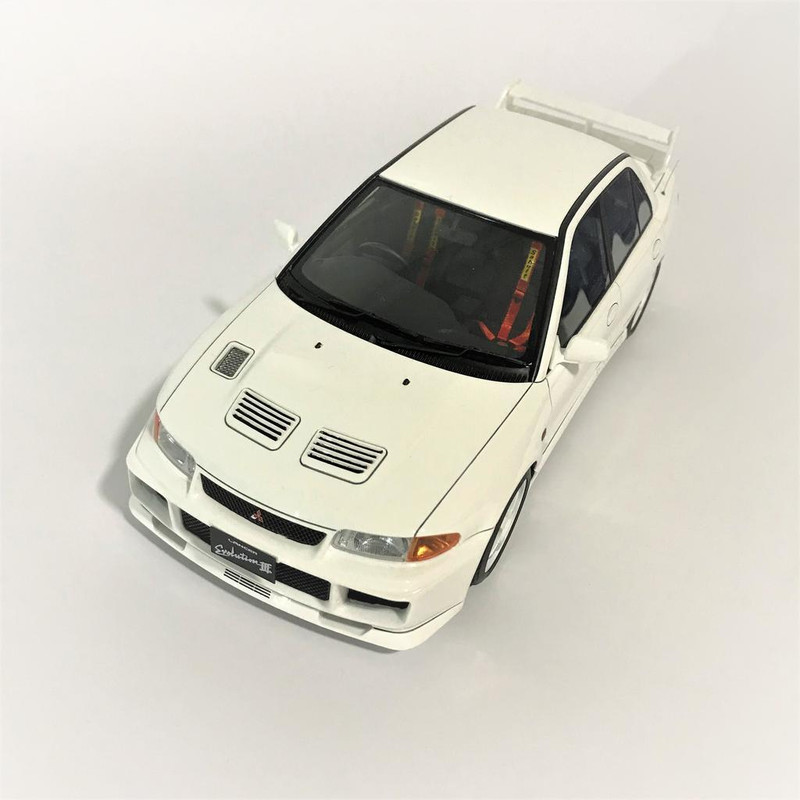 In spite of the glaring flaws that were pointed out, I am still pleased and relieved that, all things considered, I do like my very first resin model. I also think this is a fantastic canvass for anyone who are into customization and wishes to elevate the model a few levels above. Solidly built (if a little clumsy in other areas) but not difficult to fully disassemble.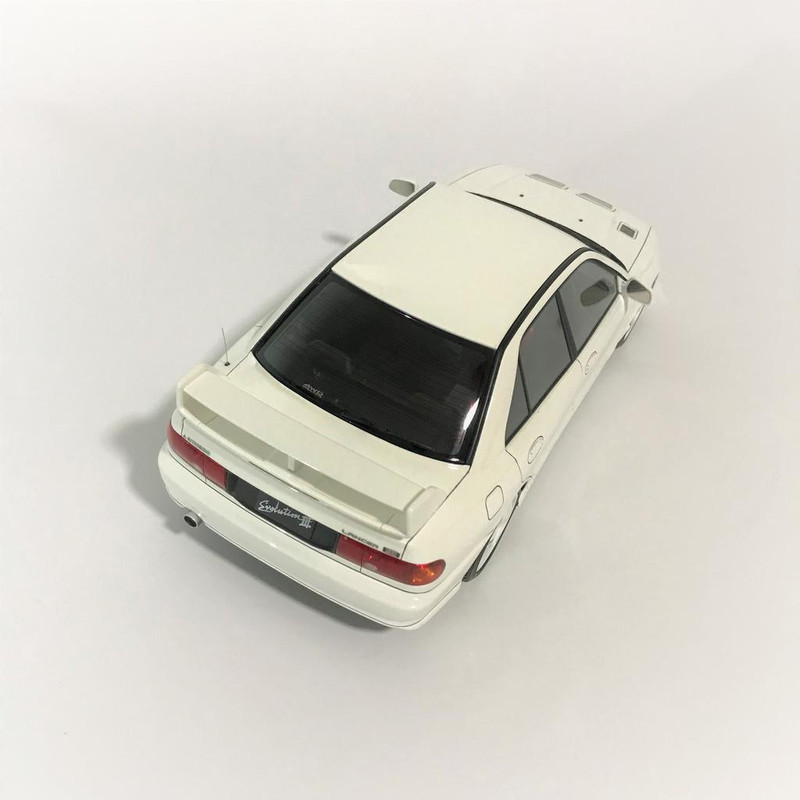 At a suggested retail price of ¥ 28, 620 (~U$D 255), this is certainly not cheap, especially for something that is meant for static purposes. It will not be my only resin piece but given the financial outlay required, I will reserve this sticky solution to only the models that are and will not be made in diecast metal.
Writing this review serves a few purposes. It is mainly to convey my thoughts on acquiring a very first resin model, from a collector who had been strictly on a diecast metal diet. This is absolutely not a transition from one material to another but rather a change of mindset to embrace resin as a supplementary option. In my opinion, diecast metal remains the undisputed choice but I welcome the addition of resin when options necessitate.
Finally, writing this review allows me to understand better the history of the Mitsubishi Lancer Evolutions. The model was, and still is, the crowning achievement of Mitsubishi's illustrious history and also a dismal reminder of how great the brand once was.
The Evolution III has always been a relatively obscure or unknown entity due to very little public coverage. It has had very few but significant pop culture credentials thanks to the Initial D anime series and most importantly, in Jackie Chan's
Thunderbolt
. Halfway through preparing the draft, I even took some time off to rewatch
Thunderbolt
for nostalgia sake. Because I only have a basic understanding of Cantonese and it didn't help that the subtitle was so out of sync, I was doing car-spotting more than trying to understand the plot. My goodness, there was a time when you could walk into a triple diamond showroom and collect a key to a Lancer Evolution, 3000GT, FTO, Pajero or Galant VR-4! Need more seats, how about a rad-sounding Space Wagon?
And now? All you get are these…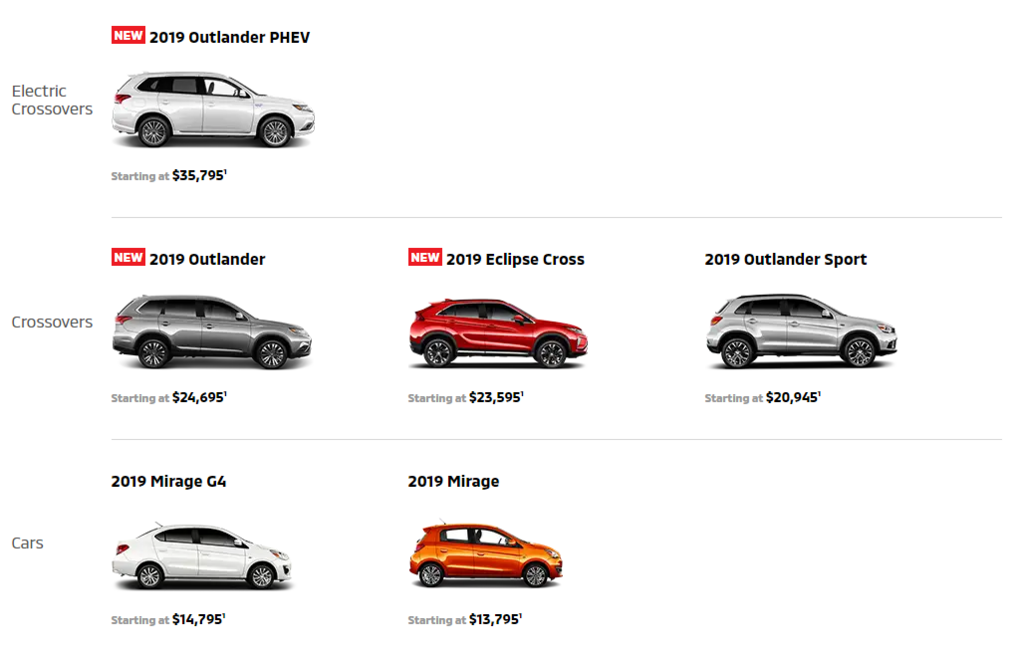 A 3-row crossover that is okay I guess, a smaller crossover that was a sportscar in its last incarnation, a much smaller crossover with a face that reminds you people stopped buying the Evo X and some cars that people buy because they think public transportation is for losers.
I actually wanted this review to focus solely on the 1:18 scale model. However, it is hard not to draw parallels between the actual vehicle and its cultural or technical significance on me. There was a time when I simply collect something 'that looks nice'. Well guess what, most things nowadays 'look nice'. If I keep buying things because they 'look nice', a marriage crisis is sure in the pipeline.
If you have read until this far, I applaud you and thank you. If a model does not motivate me to do such research and writing, it does not deserve a slot on my very limited IKEA shelves. This is one way for me to restrict my collection expansion.
If you like Japanese performance cars and are open to resin models, I think this non-revolving Evolution III deserves a place in your collection, provided you can stomach the pricey costs.
Thank you for reading.