Discussion Starter
·
#1
·
Alrighty, today we have photos of anime figures, of the coldcast variety. Coldcast figures are basically porcelain, and very VERY SUPER DUPER fragile. However, I really love these figures because:
1) the skin tones are much more realistic (not shiny like PVC figures)
2) no mold lines like PVC figures
Anyway, without further ado, let's start!
Firstly, I must apologize for not putting this figure together. As there are many parts, I'm afraid I can't put her back into the box afterwards :cry So please don't hate me for not finished shots :scared She's made by a company called Epoch.
Let's take a look at the box then. Looks average sized...
Maybe not! Look at that 1:18 Pagani box next to it! This is my BIGGEST coldcast ever purchased. It's Morrigan from Darkstalkers. It of course, cost a pretty penny :giggle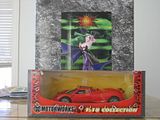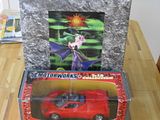 some more pics: