I'm actually kind of excited to post my first review. Hopefully, this will answer any questions for those who are considering buying this piece.
Motorbox 1967 Corvette Stingray 327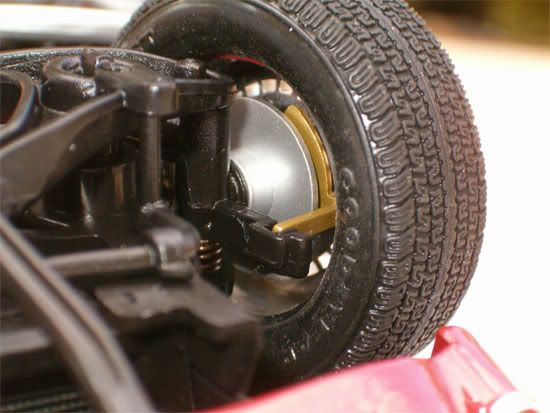 Brakes
While not incredibly visible from behind the gorgeous, almost roulette-style wheels, the brake hardware is present. It just takes a little searching - behind the wheel. And that's OK because it's just the nature of these wheels to hide the brakes. Once you find them, though, it pays off. You can definitely tell effort went into making them, although you can't see TOO much. Exoto could've very easily skipped town on including this feature, but they didn't. Hard to tell if they're completely accurate, so I'll stick to the middle of the road on this one. I say 5. A decent amount of detail, despite the lack of brake lines, so, again, I vote 5.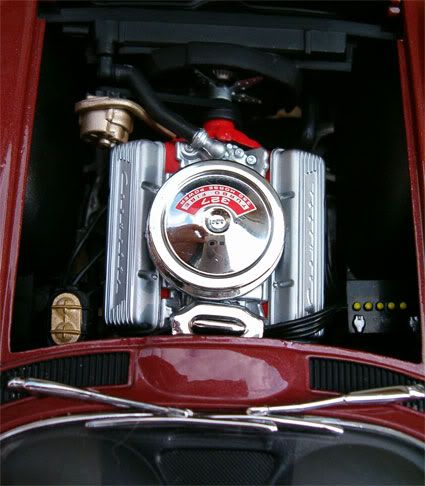 Engine
More detail than I expected at this price range. Definitely not as detailed as a regular Exoto release, but on the same level as a new AUTOart. A lot of almost crudely molded plastic components. However, the chrome air cleaner and wiring make up for it. The fact that the battery doesn't seem to have been an afterthought is a real turn-on, as is the detail-painted engine fan. Being a member of Generation Y, I don't know these engines all that well, but this one looks like it'd be accurate. I give it a 7. A good amount of detail, as I pointed out. Another 7.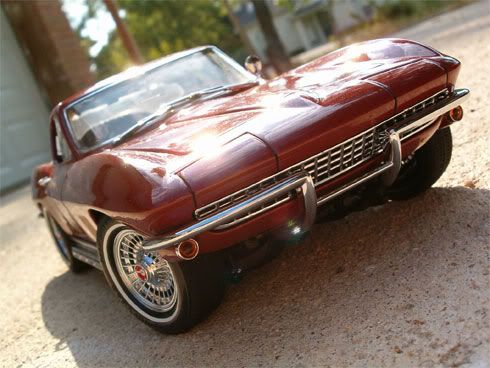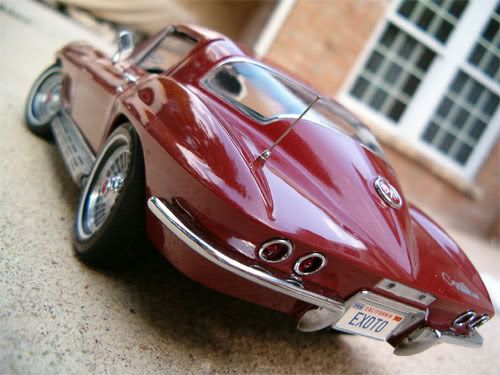 Exterior
Looks great to me. Top notch chrome work and even a finely detailed antenna. They could have just stopped at a metal rod, but they went the extra mile and capped it off at the top just like the real thing. Very impressive. The only downside is the all-too-obvious connecting pins in the white reverse light. It sticks out like a sore thumb amid all of the surrounding beauty. Too bad the front lights are sealed. That definitely doesn't improve its scores. 7s for both accuracy and detail.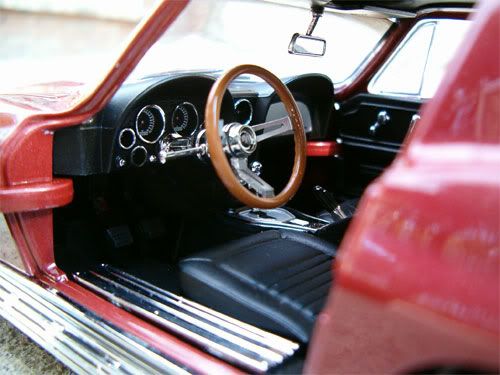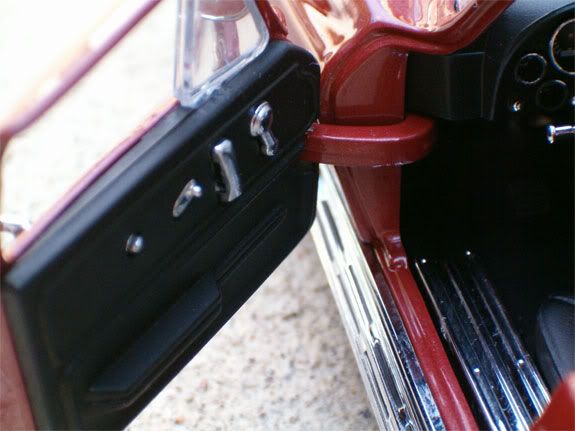 Interior
Now we come to the area that further sold me on this model. After I saw the chrome rings around the gauges on a similar Motorbox Stingray, I knew I made the right decision when I ordered this one. There is a lot of high quality chrome almost every where you look. It might sound like a Bburago, but it definitely doesn't look like one. The shift knob is nice and delicate and obviously to scale. The steering wheel even looks like it's a cut above those of other models. It imparts a sense of solidity and precision. However, there is no carpeting and the dog-leg hinges are painfully noticeable. Also, the seats are stationary. Accuracy is rated at 8 and detail gets a 7.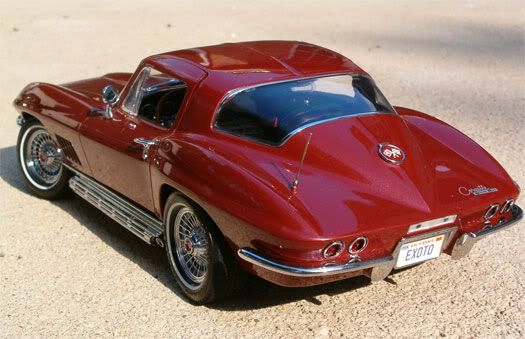 Paint
Delicious paint, plenty of luster, and appropriately scaled metal flake. This Marlboro Red makes me want to get a pack and light up just from looking at it! "Red" reds are always nice, but at least one of these reds should be included in every collection, as they add a sense of old-school class. Unfortunately, I've spotted a few blemishes in my example. However, they are very minute and their effect on the overall aesthetics of the paint are negligible. Accuracy - 8. Detail - 8.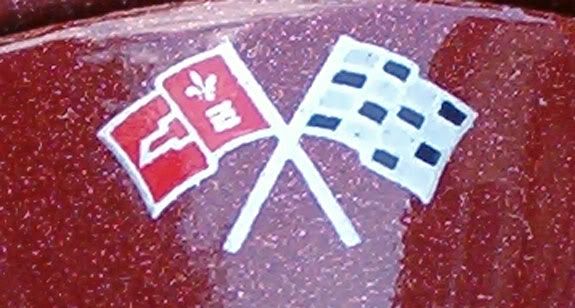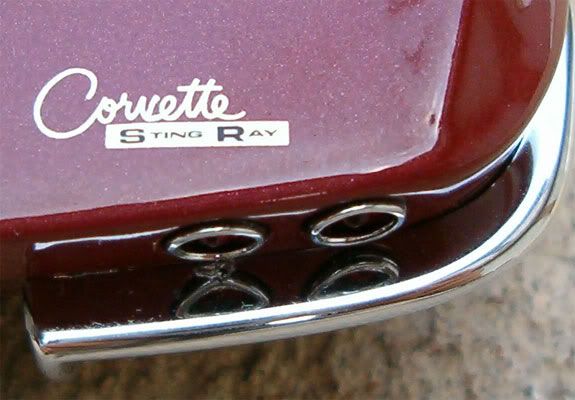 Tampos/Decals
Thankfully, there are no cheap stickers here. Only tampo printing. And good tampo printing at that. There're not that many spots to use it on, though - only the front and the rear. I was hoping the rear badge would be a separate, photo-etched piece, but it's not. Not the worst thing in the world. Accuracy and detail both get 7s.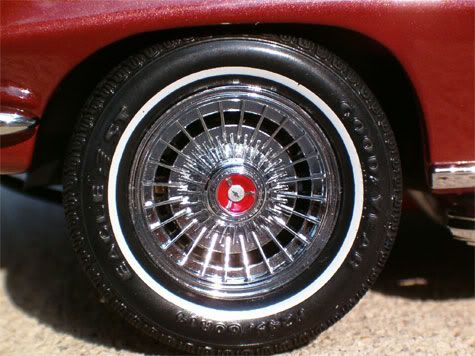 Tires/Wheels
A very pleasing set-up, over all. The wheels just glint at you from miles away, enticing you to come a few steps closer and marvel at their shimmer and shine. Nice pieces to me, although they would benefit from valve stems. The tires are nice, too. They're labeled with both brand AND tire size. I've only seen that on one other model - my CMC SLR. They're not perfect, though - they seem a little too shiny and toy-like. Accuracy gets an 8. Detail gets a 7.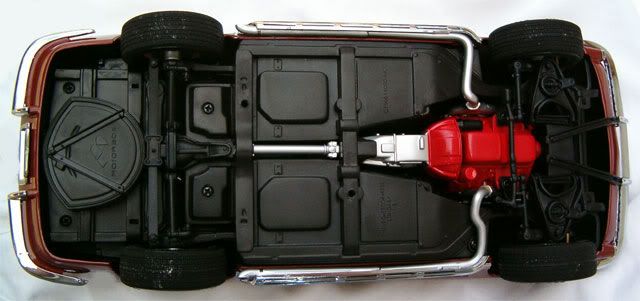 Undercarriage
Motorbox did a pretty decent job down here. Every thing is painted the way it should be and the exhaust pipes are actually separate from their shrouds. Another thing that Motorbox didn't have to do, but did. One thing I was disappointed by was the lack of brakelines and the lack of detail painting on the oil filter. This may not be a GMP, but it gets the job done. Two 7s.
OVERALL:
Accuracy
- 7.125
Detail
- 6.875
Combined
- 7
Review added to the DX Model Review Database on 16-SEPT-2005