I had been looking on and off for this car for nearly half a year when lo and behold, I found a local shop that had this model in stock. Luckily for me, it was their last one. Hopefully, they will re-stock it for other collectors to enjoy.
This car was driven to victory at Daytona in 1992 by the trio of Hasemi/Hoshino/Suzuki. Beyond that, I don't know any more of the story behind the car. If anyone could provide any information, that wouild be much appreciated!
With thanks to Gary, here's some good information about the car/team:
The Japanese-crewed Nissan R91 ran a virtually flawless race on the way to an overpowering record victory. Co-drivers Masahiro Hasemi, Kazuyoshi Hoshino and Toshio Suzuki beat the second placed Jaguar XRJ-12 by nine laps on the 3.56 mile circuit. The R91 gave Nissan its first international 24-hour victory averaging 112.897mph over the 762 laps beating Jaguar's old record of 112.857mph. The Nissan R90 of Geoff Brabham, Chip Robinson and Bob Earl was forced to quit with a seized engine.
(click for 800x600 pics. ~100kb)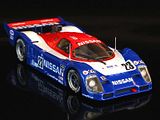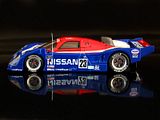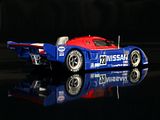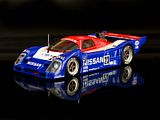 (click for 640x480 pics. 60-80kb)