Well, here are some photos of the car as promised. These were all lit up with diffused sunlight so the blue would turn up a little better.
Most of the linked photos here are 800x600 (95kb to 125kb). Wheel shots are 640x480.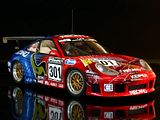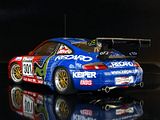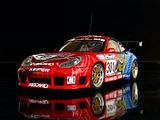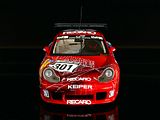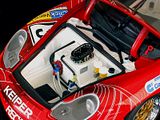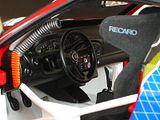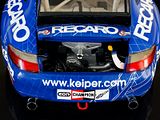 Notice the front brake discs are cross-drilled and the rear ones are slotted.
You can even see the Brembo logo on the calipers.
Details like this really grab my eyes!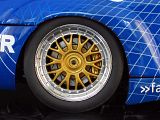 The End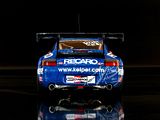 Here's the text from the rear of the box:
The 996 GT3 RS is a Porsche built to FIA GT3 standard (for races such as Le Mans) and modified to 24 hour Race standard for Nurburgring Nordschleife. The racing spec ABS permits a constant high level of deceleration at the same time preventing tyre damage due to braking error. A roll cage is welded into the vehicle to protect the driver in the event of a crash and to provide the necessary body rigidity. The numpers, bonnet and boot, wings and doors are made of carbon fibre. As in Formula 1, the wheels are secured by one large nut (central lock). The built-in hydraulic lift permits even faster wheel changing. Racing fuel consumption is around 45 litres per 100km.