I found this at K-Bee Toys today for $16.99 US. The box was in pretty bad shape, so it was marked down. I've had my eye on it for a few weeks and broke down and bought it today. This is the first diecast model I recall seeing in a store, way back in 2000, so I thought I would break down and do a review of it, since there isn't one in the database.
Brakes: 0 The brakes get a big fat zero, because there are none, period. No discs, no calipers, nothing.
Tires/Wheels: 8 The tires and wheels are done very well. The wheels are nice, crisp castings and the tires have alot of molded-in side wall detail.
Undercarriage: 1 Undercarriage detail is very poor. The wheels are sprung, as with most Maisto's, but there is only one seperate piece on the undercarriage, that being the exhaust system.
Engine: 7 The engine is very well done, from what I can see. It is pretty much buried in the engine bay. The side draft weber carbs are extremely well done, beautiful castings! The valve cover is also nicely done, but for some reason, Maisto put their trademark spark plug wire piece under the valve cover when the spark plug leads should be coming out of the valve cover. :confused
Exterior: 7 Chrome trim on the nose and bonnet are seperate plastic pieces while on the side they are molded into the body and painted silver. The headlights and driving lights have noticable mounting studs. The windshield wipers look kind of flaky, and the quarter windows have noticable mounting studs top and bottom that look poor.
Interior: 6 The interior looks ok. The doors have dog legs. There is, of course, no carpetting. The instruments are a sticker, but they are pretty well done. There are no seat belts that I could find. Under the front bonnet is the fuel tank and a spare tire/wheel.
Paint: 8 The paint looks very good. Nice and glossy metallic blue, and the flakes are not too big. The paint is smooth and I could find no noticable blemishes.
Tampos/Decals: 5 Maisto really confused me here. The Renault and Alpine emblems for the nose and tail are nice tampos, while the 1600S emblems on the front fenders are stickers and they are very bad. Obviously stickers and poorly applied.
Over-all, I'd give this model a 6. It would be really nice if Maisto hadn't skimped on some of the details like stickers instead of tampos, put some brakes on it and more undercarriage detail. Considering the unique subject matter, however, it's a good model to add to your collection.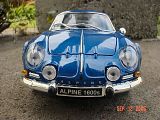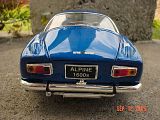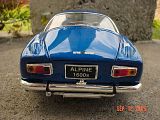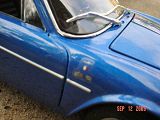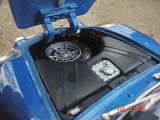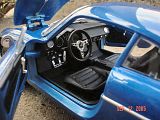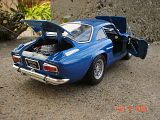 Review added to the DX Model Review Database on 16-SEPT-2005