When I was ayoungin' my papa bought me a Yat Ming 1957 BelAir on account of the fact that'd done well in my academics in elementary school.
Henceforth from then, I not only became amotivated to do well in school. seein' as how there were tangible rewards, but I became an unknowin' hobbyist.
I still refuse to call myself a collector, I think the distinction is to froofy and Im a salt a the earth type a guy, I figure at least.
When I was in the midst of my youthful years my pa got a job out in the Middle East yonder.
I was about 12un when we left the states on a jumbojet. I took my 30 someodd diecasts with me to the land of wonders.
Over the course a settlin' in and gettin' acclimated to the perspirin', my diecasts remained boxed up - for 15 years.
They're a still in a big shippin box sittin in a dusty corner of my room.
In June of 2013 I was fortunate enough to win an expense paid business trip to Stuttgart - now that's in the land of the ole Kaiser for those of us with a weakness in the cartographic knowledges.
While in Stuttgart I was fortunate enough to get the opportunity to visit the Mercedes-Benz Museum.Now bein' as scholastic as I am I ventured in the spirit alearin'.
The Museum was a wonder. Filled with pretty cars as far as the eye could see, and then some if you happened to peak out into the dealership across the byway.
I wondered into the gift shoppe and laid my eyes on diecasts the likes I'd anever imagined in this foreign place.
After a thorough paroozing I procured the three cars below and awoke my dormant diecast hobbyist.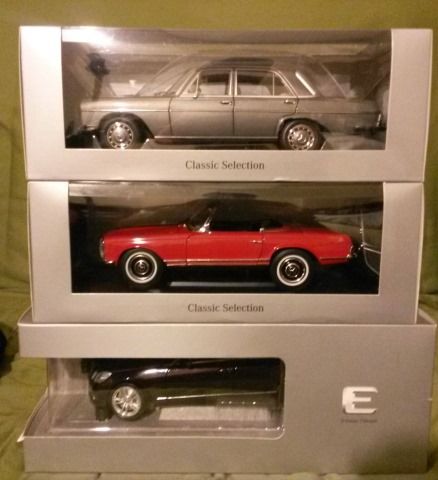 I hope you all enjoy the photos. I'll come by now and again with updates in the near future.
Faithfully yours.
mkhabbaz