Brakes
:
Very detailed calipers and rotors an improvement from the more unrealistic set ups Exoto has done on other models. Calipers are fixed and rotors spin freely. From the looks of it there is very little to improve on.
Accuacy
: 8
Detail
: 8
Engine
:
Underneath the easy to remove engine cover you are greeted with the finest in detail. A beautifully replicated V-12 Ferrari engine with full wiring ranging from spark plug cables to battery cables leading to just above the drivers head. The motor is surrounded by reflective paneling to further show off this work of art. Cooling lines and hoses do their thing and small suspension components intermigled with the rest of the motor are similar to fine jewelry. There are many parts and all well replicated with attention to all detail and studyous delivery of next to perfect molded pieces. Radiators are P/E and can bee seen as they should.
Accuracy
: 9
Detail
: 8.5
Exterior
:
The outside panel gaps are tightly shut like a Mars research base escape door should be if there were 23 cyberdemons on the opposite side. Stance and ride height are dead on. Suspension bars are detailed and solid. Scoops and vents work. Rear brake light has no connecting pin and is detailed. Windshield is constructed as if it were jewelry and is tinted.
Accuracy
: 9.5
Detail
: 9.5
Interior
:
Much detail is packed into this department. Steering wheel has prancing horse emblem, and buttons/read-outs are all displayed on the gauges. Driver is wondefully painted and detailed as is he was just as important as the model. The helmet is also packed with even more detail and a wire is attached to the car and to the helmet. Seatbelts are made of red fabric and buckles are replicated. Headrest has simulated leather material and is stamped with signurature Cavalino marking.
Accuacy
: 9
Detail
: 9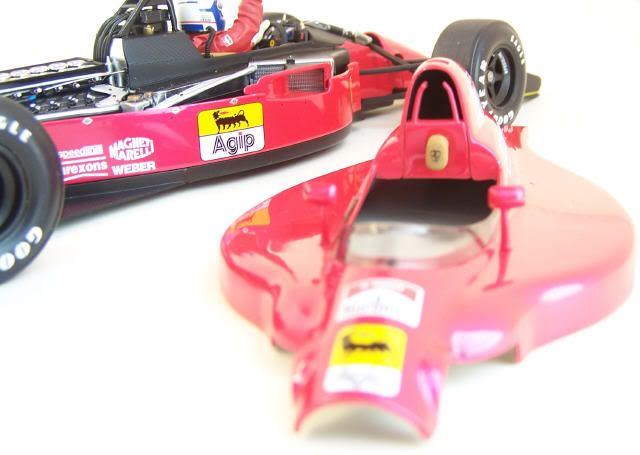 Paint
:
Is nothing short of beautiful and almost nothing to improve on so far as quality/finish. Since the color is Standox this model will not suffer any deductions for accuracy.
Accuracy
: 10
Detail
: 10
Tampo/Decals
:
Tampos are expressed clearly and all are in tact with plenty of accuracy and color. Ferrari badges are tampos and all other markings through out the model have nothing lacking.
Accuracy
: 9
Detail
: 10
Tires/Wheels
:
Gloriously replicated racing slicks and a fine matt black rims make up the wheels. Including valve stems and tire markings as in the real racer. Wheels are staggered width which is a must. Tire shine is just right and everything is executed well.
Accuracy
: 9.5
Detail
: 9.5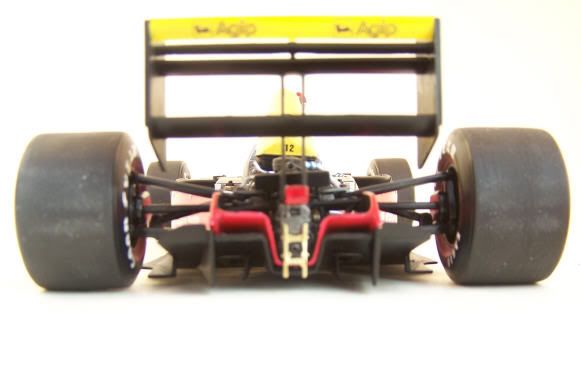 Undercarriage
:
Simple yet effective the under side mainly draws ones attention to the exhaust outlets near the back. This part may be too simple. However I may never see the underside of the 1:1 so that may be a factor.
Accuracy
: 8
Detail
: 8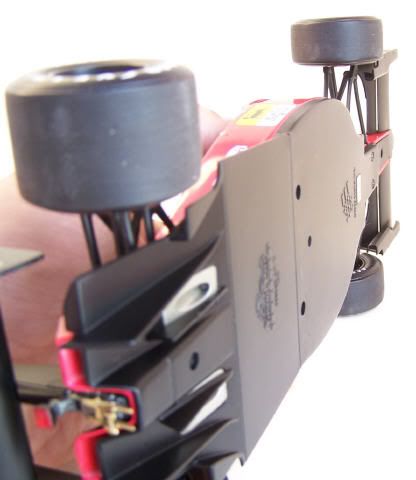 Overall
: Besides it being obvious to any F1 fan that this is a stunner, things that stand out are: simulated head rest, rear suspension, V-12 intake, battery cables, wiring, various P/E parts, wheels are realistic, paint is astounding, racer feels light, body panels all fit well, meticulously detailed driver/helmet, and tampos all look great.
Acuracy Total
:9
Detail Total
:9.0625
Total Score
:
9.03
Notes of mention but not scored
:
Year produced
: ???
Price(budget/premium)
: $120-260
Subject matter
: Gran Prix
Packaging
: What you would expect from Exoto, every measure is taken to insure your model gets to you unharmed and in style.
Craftsmanship and Quality
: Excellent quality all the way around. The car feels light and sturdy. Exoto aims to please with this spectacular Gran Prix classic.
Review added to the DX Model Review Database on 11-OCT-2005