Here is yet another review.
To break away from the furiously detailed models I have been reviewing lately.
I hope you enjoy.
Brakes
:
Calipers are detailed and stay put as the rotor spins. Rotors look like they have been lightly used and are amazing.
Accuracy
: 8.5
Detail
: 8
Engine
:
There is not much engine detail here to replicate since the 1:1 is compact and covered. Underneath, the hood hinges are not as accurate but not all that obtrusive. Very close with few flaws, for example slight problems with molding and fitment.
Accuracy
: 8
Detail
: 8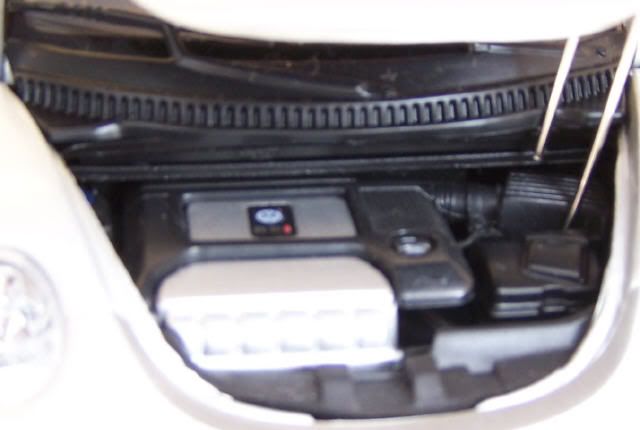 Exterior
:
Front turn signals are finely detailed and with out connecting pins. Head/tail lights are nicely put together and have no connecting pins. Front and rear bumpers have acccurate mesh vents. By looking at the VW badges its hard to distinguish them from the 1:1. The hood gap is not perfect but is not terrible. Door and trunk panel gaps are right on. Body proportions are a perfect emulation. The key hole is detailed. Exhaust tips are properly aligned and shine just like the real car.
Accuracy
: 9
Detail
: 9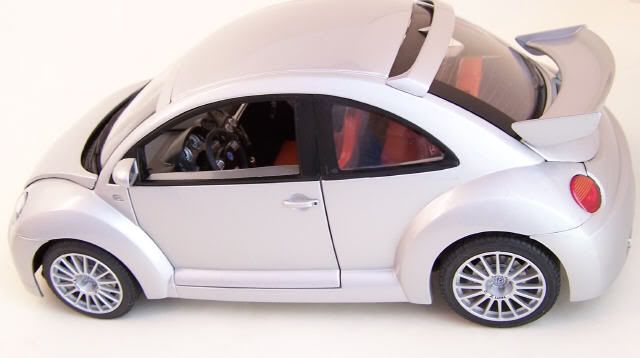 Interior
:
Being the most committed part of the model there are a few suprises. The driver side floor has the RSI logo in shiny metal on the right and left of the transmision tunel copying the 1:1. Seats are just one notch from perfect in that they do not have the same breathable look as in the 1:1. Floor pedals are relatively accurate but do not look exact. Steering wheel gets points for simulated material. All nobs, buttons, vents, and aluminum trim are faithfully replicated. Shifter is a joy as it is put together well. Sun visors are of the same trim as the rest of the model. Headliner and overhead controls do not detract from the model. Door panels are painted well and molded like the 1:1 and have no dog legs. Carpet is colored correctly. Carbon fiber trim is applied in all the right places for example the gauge cluster. The only major things that could be missing are cut through air condition vents and vented audio speaker mesh.
Accuracy
: 8.5
Detail
: 9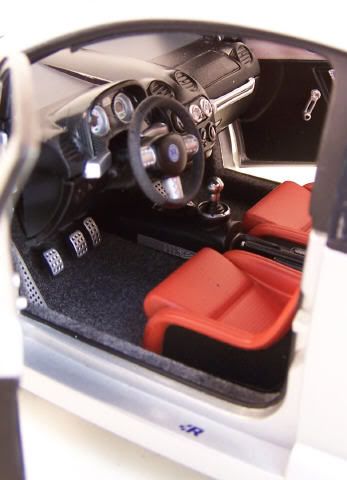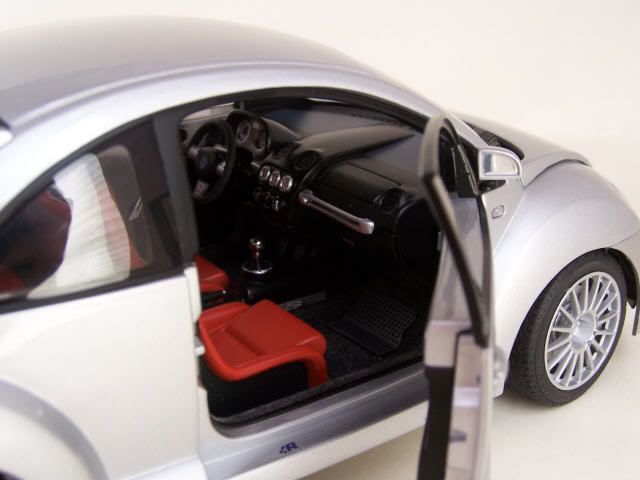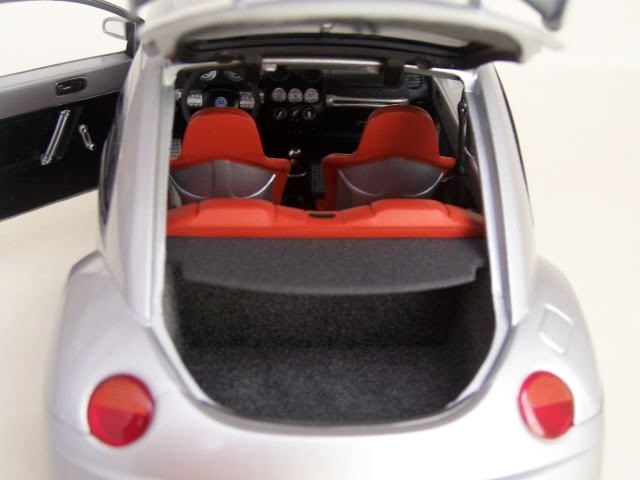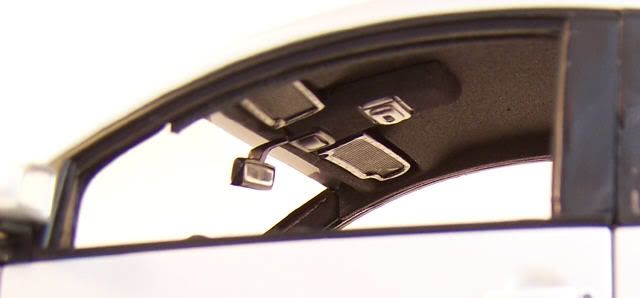 Paint
: Metal flake is to scale and leaves no complaints. The finish and thickness of the paint is proportionate and of high quality.
Accuracy
: 9
Detail
: 9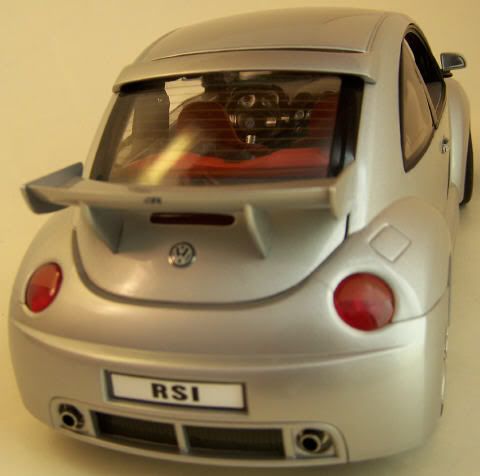 Tampo/Decals
: Tampos are applied well and really add more detail. There are few for example the rear wing has the RSI logo stamped on and so do doot sills.
Accuracy
: 9
Detail
: 9
Tires/Wheels
:
Wheels are replicated as if a shrink ray was taken to all four of them. Side walls are low profile just like the 1:1 and are detailed with tread and wording. Rims are detailed with proper brand and paint. Each spoke is straight and well molded. This is quite possible the best part of the car with only detailed valve stems lacking.
Accuracy
: 9
Detail
: 9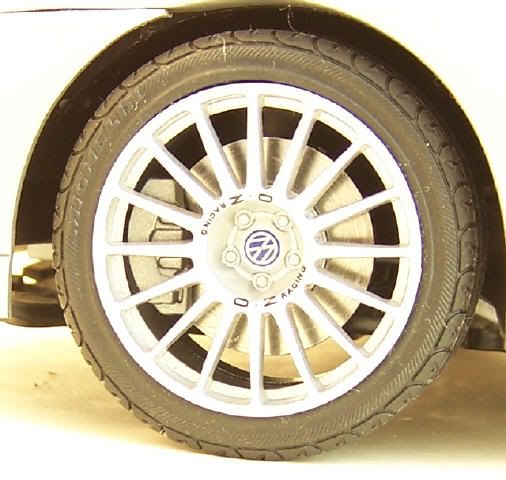 Undercarriage
:
Much detail is added here but some paints may not be as accurate. There are suspension workings with brake lines(minimal detail) and other components. Exhaust is painted well but not the industries best. Some parts are molded in and could be better. Not a bad effort.
Accuracy
: 7
Detail
: 7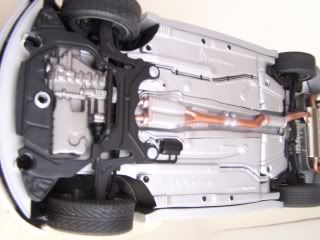 Total Accuracy: 8.5
Total Detail: 8.5
Overall Score: 8.5
Overall
:
This model gives the owner very little to complain about. There are many highlights to mention but this model shines from all angles. The best part are the wheels and interior. Being that this is not a common model its worth the review. If you enjoy modern replicas that stand out and are in limited production in 1:1 you will like this one.
Notes of mention but not scored
:
Year produced
: ???
Price(budget/premium)
: $25-50
Subject matter
: Contemporary Limited Run (Only 250 1:1s made)
Packaging
: Standard fair for Auto Art. Clear display with special box featuring information on the 1:1.
Craftsmanship and Quality
: Construction of this model was successful and this one has high quality at every corner. Impressive to say the least.
Review added to the DX Model Review Database on 22-OCT-2005